I know your jaw dropped when you first read that you could get paid $100 per survey, and yep, such surveys do exist.
But before we begin, a little backstory.
When it comes to making money online, believe me when I say that I have come across a ton of time-wasting endeavors!
Looking to Survey sites was one of the many ways I started out, in my making money online journey before I concentrated fully on blogging and affiliate marketing.
But, when I started out with surveys, I had to go through a ton of survey sites that had me sitting in front of my computer for hours a day, filling out surveys.
When payday came, I found out that I had been scammed.
And this went on for quite a while.
When I wasn't getting paid anything, I was getting paid next to nothing.
I mean, some survey sites I found were paying extremely low.
The hours a day I dedicated to them, would have been better off used for something else.
After I went through a few learning curves…. actually, they were quite a lot, I found top-paying survey sites, where you get paid $100 per survey.
Finding out these survey sites changed my mind about how I felt about taking surveys for pay in general.
If you got to this article, it would mean that you were specifically looking to find $100 per survey site, and that would also mean that you may have come across more than a handful of the nothing and next to nothing paying sites.
If the above is the case, then welcome, and let us break the jinx together!
Survey Sites That Pay $100 Per Survey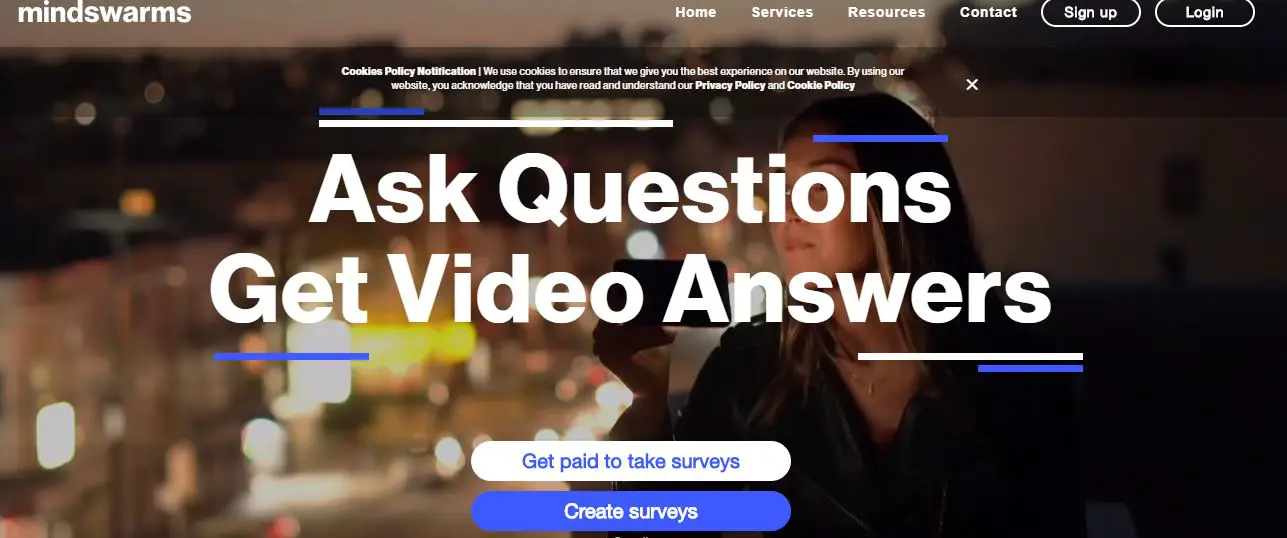 Mindswarms is a site that carry researches that will pay you up to $100 per survey, which are set up to help work their studies on a number of topics.
If you get accepted into the study, you could make up to $15 in just a few minutes, and up to $100 in a few hours.
Their payouts are via PayPal and have a payment threshold of $50.
I particularly find the studies at Mindswarms interesting, as they have a number of surveys covering a good range of topics on their website.
You get to pick what topics interest you from your dashboard.
The one thing that gets most people turned off by Mindswarms, is that their surveys have to be taken via video.
This is quite different from your typical survey taking.
If this video hitch doesn't leave a bad taste in your mouth, then you are well on your way to making your first $100 taking surveys.
I know we were here looking to score $100 per survey sites, but what if I told you there were surveys that paid up to $400?
Yep, mind blown!
Probe market research would pay you up to $400 per survey you take with them, and you know what's better?
Signing up is totally free!
All you need to do is sign up for free, and if you meet their requirements, they would reach out to you to begin.
Probe market research is a company that pays people to give their personal takes on stuff like skincare products commercials, and a bunch of other everyday things you and I should be knowledgeable about.
The surveys they typically have you take, are usually ones that require generic answers, and nothing about rocket science.
Respondent.io would offer you $100 surveys and sometimes, even more!
The sign-up process is easy, but you do need to sign up with either your Facebook or LinkedIn account.
It is true that most people do not like to link their social media accounts to third-party websites, but this step is just to be sure of your employment history/status.
But, if you still don't feel good about linking your account, then you best skip this one as there is no other way to sign up.
After the social media step, you would be required to fill out a form with your employment and demographic information.
There is never a lack of these surveys to take at any point in time, but bear in mind that they don't always pay $100 and above, but the least I have seen is $50.
The sign-up process takes only a few minutes, and also keep in mind that some of these surveys have very strict requirements, and you have to meet them to be eligible to take the survey.
Though most survey sites offer surveys that are strictly online, some are also done offline.
But when they are offering $100 and above per survey, we won't blame survey companies that require you to come onsite and take said surveys.
SiS international is one of those survey companies, but still, they let you take some of these surveys online.
Joining SIS international is free, but you are required to reside in one of the cities listed below:
Boston
Houston
Atlanta
Dallas
Baltimore
Chicago
Los Angeles
Washington dc
Miami
San Francisco
New York
Most times, this requirement is for you to come in person to receive your payment, and not to take the survey itself.
They sometimes send you emails about new surveys you may be interested in as being part of their database, but you can also decline if it isn't something you are interested in.
If you do not live in any of the places listed here, then don't feel too hard on luck, as there are lots more on this list that offer $100 per survey online, including receiving your pay.
The brand institute can pay you up to a whopping sum of $250 per survey, and always have offers available that pay $100 per survey for their participants to take.
But their cup of tea is strictly pharmaceutical and consumer products. i.e., that's what they base their surveys on.
Signing up is also free here, and you can get more hands-on information on their official website.
Fieldwork is one of those research platforms that offer $100 per survey, and sometimes, even more! They operate out of the united states, and their researches and surveys are both online and offline.
Everything is perfect about this platform except for the fact that only people that reside in a select few states in the united states can benefit from their $100 per survey option.
When you become part of their database via sign-up, this platform would send invitations to you from time to time, for you to take this survey or that. But, you can always decline if it isn't something you are interested in.
Your demographic will be a huge determiner of the number of surveys you are invited to take part in.
Also, now and then, a few $100 per survey offers do come up for people who do not reside in the select states or even in the country.
Survey voices is a platform that redirects people who are always on the lookout for high-paying survey sites to where they can be sure to find tons of such survey offers.
But, you should keep in mind that they direct you to sites that offer you surveys that come with a wide range of pay tags, which aren't always $100 surveys.
They do not carry any of these $100 per survey offers themselves, or any surveys at all, they just redirect you to sites where you can find them.
Believe it or not, they even promote survey sites that pay up to a whopping $300 per survey!
But you will need to be careful working with the survey voices platform because they don't thoroughly vet all the websites they redirect people to and some of those sites are scam sites.
According to Reedit, 20/20 panel research would pay you up to $300 per survey! Yep! you can get that much for your effort.
In addition to these $300 surveys, they also offer $100 per survey and other amounts.
Their sign-up process is free, and in a month, you can make up to $1000!
Remember to look out for many high-quality, and high-paying surveys/studies as possible on this platform.
Focusgroup.com is a research group that can pay between $75 to $150.
The only issue here is that their surveys mostly require you to come to a certain location to take said surveys.
Because of this requirement, your location might be a limitation. Their locations are usually in very busy cities in the united states like Chicago, Los Angeles, New York, etc.
Their sign-up process is free, and pretty much requires you to fill out your profile information. Invitations to join various surveys/studies, are sent to you based on your demographic.
So, if you are looking for a good pool of $100 per survey offers, this would be an excellent platform to sign up to.
You are even given the option of checking out their kind of studies before you sign up, so you don't waste your time signing up.
Here, you are only required to give your honest opinion on a wide range of products you probably already use daily.
They offer both online and onsite survey options, and some of these pay up to $100 per survey.
You would be sent invites from time to time to take part in an online survey or focus group.
You have the option of accepting or declining the invitation at any time.
Signing up is easy and free, but you would be required to answer a few questions first.
Research.fm is known to offer $100 per survey, and their surveys are based on music.
All they require is your input on the music they present to you, and that's it.
Signing up is also free, but they only send you an invite to take a survey, if you meet their qualifications.
You will be required to listen to and rate music samples uploaded to their servers, and afterward, you get paid.
This payment usually comes in the form of an Amazon gift card.
With user interviews, you don't necessarily need to be part of their focus groups to take part in their $100 per survey options.
Sometimes, you can even make up to $250 for an hour of taking surveys. Though there are more $50 surveys, earning $100, and more is possible.
The sign-up process only requires you to fill out your profile.
Whenever your demographic meets a survey's requirement, you will be sent an invite to go over a list of such surveys/projects.
When you spot a survey or project that interests you, you will be required to fill out another profile specifically for that survey/project, and after you complete the survey, you will get paid the stated amount.
Whenever you are filling out your details to kick off a project, always ensure that you meet the demographic requirement before you proceed, so you do not lose your pay.
Always be on the lookout for great paying surveys, as the available slots get taken up fast!
You can sign up to begin immediately.
With the survey club, you get paid $100 per survey and even higher on a good day!
The first step is to set up your profile which is free to do, and from your sign-up date till whenever you decide to leave the program, you would be sent regular invites to take part in surveys that are situated for your demographic.
They offer a lot of market research survey options. If that is up the alley of your interests, then you should sign up as soon as possible.
But before you do, please note that they only accept people from the UK, the united states, and Canada.
Stan's gig is a curated portal filled with the best-paid focus groups and online surveys. It provides an opportunity to get paid up to $400 for a survey.
Most of the focus groups offered by Stan's Gig are help online, so you can make money without leaving your home. Convenient isn't it?
To register on the site, you only need to enter your email address. After that, you will receive offers of relevant research once in a while.
15. One Opinion
The market research firm OneOpinion is owned by Crucial Mix. They provide opportunities to take part in online polls as well as test new products.
Each poll takes between 5 and 20 minutes to do and pays $3 to $5. More surveys paying $15 or more may be available to you if you're fortunate.
New products will be sent to you so that you may evaluate them and provide feedback.
You are not only paid, but also given free stuff. 
You may cash in your points for a monetary prize. The minimum amount to cash out is $25 or 25,000 points. The sum is available for PayPal withdrawal.
I haven't found $100 surveys on this platform, but it's possible to make $100 a day doing surveys on some rare occasions.
Conclusion
Getting paid $100 per survey is a real thing, and some people have been known to make a decent amount of extra cash in a short while by taking part in a good number of these surveys and research.
So, if you know anyone who is skeptical of offers of $100 per survey, kindly refer them to this article.
But if you would like to make a sustainable and steady income online, surveys are not designed to provide that.
High-paying surveys are quite limited in supply, and neither are they a consistent gig.
Affiliate marketing is a make-money-online business model that can help you achieve financial freedom and you can get started with the training for free on renowned training platforms like Wealthy Affiliate.
You will be thought everything you need to know about making passive income online and also all the guidance you need to launch your first money-making affiliate marketing website for free.