According to this report, affiliate marketing spending is expected to reach $8 billion by 2022. Now, who doesn't want a piece of that? Affiliate marketers can make thousands of dollars a month just for promoting products.
There are so many companies running affiliate programs that there's an affiliate program for every niche.
If your niche is web hosting, then you've probably come across Bluehost.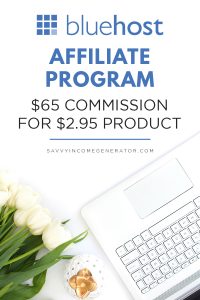 You may even use their services. However, not many people know that Bluehost also runs its own affiliate program.
You just get people to sign up with Bluehost, and you get paid a commission. Easy as pie.
However, that's not all there is to it. Just like any other affiliate program, Bluehost has way more to it than just a simple transaction.
Before entering into an affiliate program, an affiliate marketer should have a clear idea of what they're getting into.
But that's what we're here for. Today, we're going to inform you of everything you need to know about the Bluehost affiliate program. We'll discuss rates, company, conditions, payments, tools, support, etcetera.
By the time we're done, you'll understand what the Bluehost affiliate program is about. And most importantly, you'll be able to decide if it's right for you.
What Is Bluehost?
Bluehost is one of the largest web hosting companies in the world. They play host to over two million websites and come with a full recommendation from WordPress.
If you own a website or a WordPress account, or you know a thing or two about web hosting, you've probably heard about Bluehost before.
But if you haven't, allow us to make the introductions.
Bluehost offers five products.
WordPress hosting
Cloud sites
Shared hosting
VPS hosting
Dedicated hosting
Under each of these products are various plans ranging in features that you can buy. If you're looking for web hosting services, of the five products offered on Bluehost, at least one should fit your needs.
Shared hosting is a great beginner's choice, and it only costs $3.49/month for the first year. Then it goes back to its regular price of $7.99.
Other plans are more expensive, with the most costly being dedicated hosting. At $180/month, this plan is meant for large companies looking for dedicated sites and full control of their resources.
Bluehost is well-known and has an excellent reputation for great uptime and straightforward controls. They also have a responsive tech support team to help customers with any issues they might have.
If you're not tech-savvy, there'll always be someone to fix things up for you.
How Does The Bluehost Affiliate Program Work?
Now that you're more familiar with what Bluehost does (if you weren't already) let's get down to the main topic: the Bluehost affiliate program.
The Bluehost affiliate program isn't hosted on many affiliate network sites. The affiliate's page runs on Bluehost itself, and you can directly sign up from there.
However, if you have an account open with CJ Affiliates, you can sign up there.
For the price of promoting Bluehost's web hosting and domain plans, you get a commission on every sale you make. You also get dedicated support and tools to help your advertising become more successful.
Some Bluehost affiliates use Bluehost themselves for their websites and domains. If you do, you're in an even better position to promote the company's products.
Since you have personal experience, you have firsthand knowledge of what you're selling to your audience.
You don't have to be worried that you're selling your audience an inferior product. Bluehost is popular because it delivers its clients' demands.
This program also gives members loads of support and a steady supply of income.
Don't believe us? One guy made over $27000 in a single month from commissions paid by the Bluehost affiliate program. Pretty good for a month's work, eh?
How to Join The Bluehost Affiliate Program
Joining the Bluehost affiliate program is easy, with a Bluehost login or without. Like we've said before, you can join through the official Bluehost website or CJ. Honestly, we prefer joining through CJ.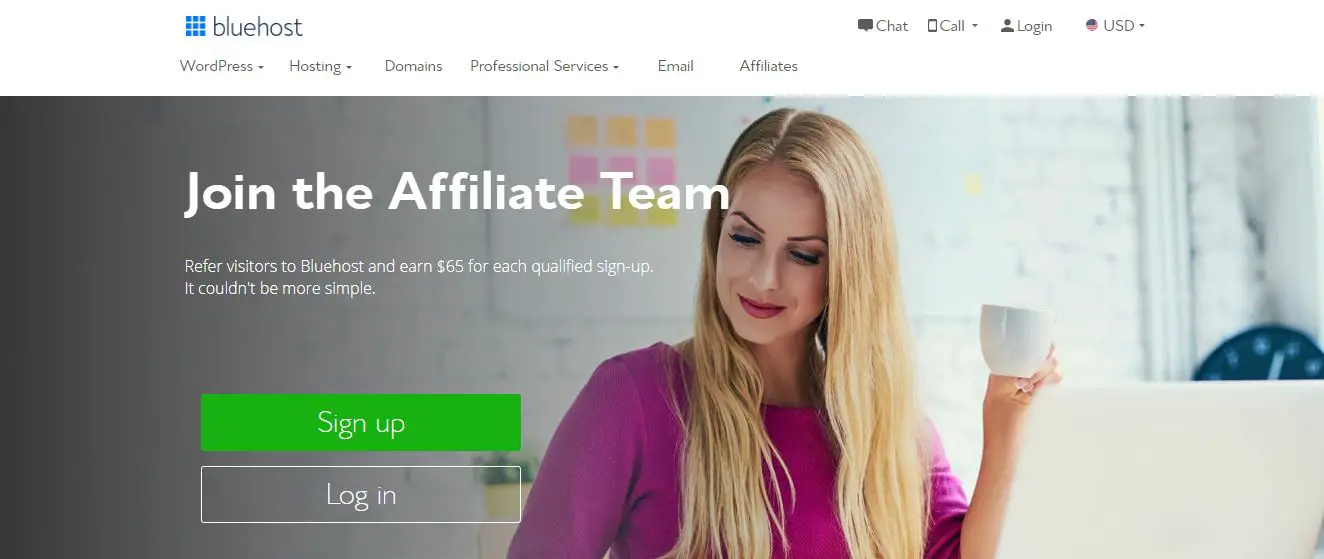 We'll let you know why in a little bit.
You don't need to pay any money to join the Bluehost affiliate program. All you need is about ten minutes and a blog/website.
Having a blog/website is compulsory; there are no ifs or buts. No website, no affiliate membership, and definitely no commissions.
You can check out how to start a blog/website here.
But even if you do have a website, that doesn't mean you gain automatic entry. For your application to receive approval, your website must not contain any of the following content:
Porn
Cashbacks
Incentives
Gifts
Warez
Rebates
Apart from this content, Bluehost doesn't really require much. Just apply, and you'll almost certainly get an approval.
Once you've applied, you'll get a confirmation email along with a link to the page where you'll monitor your commissions, and input your payment option, tax information, and other necessary details.
Depending on what site you register with, the tools you receive for advertising may not be the same. But they're all Bluehost tools.
Bluehost Affiliate Program Rules
The Bluehost affiliate program doesn't have a lot of rules. The ones it has are pretty standard for a large company's affiliate program.
You'll need to notify them of every site you plan to promote them on.
You must not use any of their trademark keywords such as Bluehost, Blue Host, bluehost.com, www.bluehost.com, blue hosting, blue-host, bluhost, blue web hosting, bluehost web hosting, bluehosting, www bluehost com, blue domain, blue host.com, www.bluehost, bluehost com, blulehost.com, bluehosts, www bluehost, bluehost inc, web hosting blue, www. bluehost.com, bluhost.com, bluehosted, and bluhost. These keywords or any variation must not be used in any ads or campaigns without Bluehost's written approval.
You can't use any credit, discount, or refunds coupons on any Bluehost Products and Services or other content concerning Bluehost without Bluehost's prior written consent.
Not cookie stuffing
No redirecting sites to Bluehost
Affiliates have to follow their government's disclosure laws
There are a couple more rules, but these are the easiest to trespass unknowingly.
Breaking any of these rules can result in Bluehost arbitrarily withdrawing your membership, closing your affiliate account, and withholding your commission.
They have systems to catch people who break these rules, so don't be a wise guy.
Commission
Now for the big reveal – how much does Bluehost pay its affiliates? The Bluehost affiliate program will pay you $65 for every new customer you bring in.
That's $65, no matter what kind of plan they buy. If they buy the plan worth $8/month, you get $65. If they buy the plan worth $210/month, you still get $65.
Frankly speaking, Bluehost has one of the best commission rates in the web hosting industry. You can quickly rack up some serious cash every month.
And if you can't, you can still make a couple of hundred dollars every month. More and more people want to create websites every day, and Bluehost is already a trusted web host.
However, the fact that you can't earn bigger commissions on bigger plans is a bit of a bummer.
But most people that need web hosting services or domain names or SSL aren't people that can afford to spend hundreds of dollars a year on these things.
Most of them are entrepreneurs or start-ups or bloggers. Ideally, your content should be targeted at these people to make the most out of the Bluehost affiliate program.
The difference between registering through the official Bluehost website and CJ is in the cookie duration.
Some of your audience members need a bit of time to decide whether they want to purchase a plan and which plan they want.
Once they click your link, even if they don't buy anything, they're marked with a tracking cookie.
If they buy a plan through your link within the set cookie duration, even if they don't do it through your link, you'll still get your commission. So, the longer the cookie duration, the better for you.
The CJ site has the Bluehost official website beaten with a 120-day cookie duration. The Bluehost official website has a 90-day cookie duration.
Not a massive difference, but even one day extra can decide if you're making or losing money in affiliate marketing.
How Do Bluehost Affiliates Get Paid?
The payment method is through PayPal. There's also a payment restriction. If you haven't earned up to $100, you won't be able to withdraw your money.
However, this restriction only holds true for the first withdrawal. After that, you can withdraw no matter how much you've earned.
Payments are calculated 45 to 60 days after the referred customer has registered. They're usually calculated between the 16th and the last day of the month.
For example, if you referred someone in June, your payment will be calculated between the 16th and 31st of August.
Tools
Bluehost has one of the best affiliate programs available right now. What makes them one of the best is their constantly updating toolbox.
No matter what platform you choose to register with, you'll still get access to different tools to help make your campaigns easier and more effective. Bluehost provides you with:
Links
Deeplinks
Banners
Texts
In addition to all these, there are also regular promotions, discounts, and coupons available to your audience.
Whenever these events are held, there will be accompanying banners and texts. These tools come in many different designs and sizes.
This is to ensure that affiliates can pick the one that most complements their websites or social media.
Bluehost Affiliate Support
Immediately you get approved as a member of the Bluehost affiliate program; you get an affiliate manager.
This affiliate manager's job is to make sure you have everything you need to promote Bluehost and its products successfully.
You can communicate with this manager through emails, and they have to respond to your queries.
In this way, you get full support from Bluehost in your marketing campaigns. The affiliate marketer is there to listen to all Bluehost affiliate-related problems and provide solutions.
You can also ask them if you have any problem with your links or affiliate account or commissions.
Apart from the affiliate manager, you also have a knowledge base you can visit if you need answers to any questions related to the Bluehost affiliate program.
You can visit the Affiliate FAQ to learn more about the conditions surrounding your membership or where to find so and so within your account.
No matter where you ask, you'll find answers. Now that we've taken an in-depth look at the Bluehost affiliate program let's summarize it all with its pros and cons.
Pros and Cons
Pros
1. Reasonable commission rate
While the Bluehost affiliate program uses the CPS (Commission Per Sale) payment model, $65 is a fairly generous payout.
This is especially so when you consider the fact that the majority of customers referred may not spend as much as $10 a month on hosting fees.
2. Long cookie duration
What's even more generous is the cookie duration. Four months is probably enough time to get you your commissions.
3. Good rate of conversion
Bluehost is already well-known. It has cheap plans and a 30-day money-back guarantee. It also has regular discounts and promotions available for new and existing customers.
For these reasons and others we haven't mentioned, Bluehost converts pretty well on its own. You just need to get your link and some good content out there to profit off of the steady conversion rates.
4. Great tools and support
The Bluehost affiliate program allows you to choose between many ads and pick the best one for your site. You also get a responsive support team.
5. Few application requirements
Many affiliate programs have precise requirements for their affiliate program. Your website must be about a specific niche, have a certain number of subscribers, and a certain amount of web traffic each month.
Bluehost needs none of that. You only need your website, and you're nearly guaranteed entry as long as you don't have any banned content on it.
Cons
1. It might be difficult for new affiliate marketers
Because Bluehost is such a popular hosting service, there are many people already marketing this company's products. These individuals probably already have an established readership or viewership.
Because of this, ranking for any keyword associated with Bluehost might be very difficult.
2. No increased commission
$65 is a reasonably good commission. But it'd be better if there were a tiered commission structure. It would provide more incentive.
3. Competition
Bluehost is a well-known site for web hosting. However, that doesn't mean that there isn't any competition. The competition within the web hosting industry is fierce, and this can bring your conversion rates.
How Can You Promote Bluehost?
1. Use email marketing
Email marketing is one of the best ways to promote a hosting service. Creating content reminding people of why they need a website will also remind them of why they need a useful web hosting service and domain.
You'll need to create catchy topics and headings, though. You can even use Bluehost's partner Constant Contact to run your campaign.
2. Use your tools to your advantage
If you have a website, Bluehost banners, and a few deep links, you already have most of what you need to create a rousing, call-to-action post, or proffer a solution to a problem some of your audience members might be having.
You can build content around the links and banners you've chosen and use them to draw in your audience.
3. Review Bluehost
Reviewing Bluehost is a great way to drive traffic to your website. The only catch with this method is that there are already hundreds of reviews.
To cover up this fact, look for an interesting angle to come from. Maybe some news about Bluehost or web hosting in general.
4. Comparisons
As we said, Bluehost has fierce competition. The likes of GoDaddy, Siteground, Hostinger, etc., have their own customer base.
An in-depth comparison between them will keep your audience informed while giving you more traffic and credibility.
5. Social Media
All this content creation should not be restricted to your website alone. You can create content on your social media page and create discussions around Bluehost.
You can even answer questions for people if you can. While doing this, you'll be directing them to your website and posting your link.
6. Ads
After a certain point, you might be making enough money to consider putting out a few ads with Google or some social media apps.
Make sure to inform your affiliate manager to avoid a breach of the Terms of Service.
What Are The Alternatives?
While Bluehost is one of the best hosting affiliate programs, it still has a bit of competition, even in its affiliate program.
There are a few web hosting sites that could give Bluehost a run for their money when it comes to commission rates, tools, support, and cookie duration. These are the four criteria we'll be focusing on. Here are the alternatives:
1. HostGator affiliate program
HostGator has an affiliate program that's run by Impact Radius and CJ Affiliate. It offers its members a tiered commission, where they can earn between $65 to $125 per sign up depending on how many sales they've made.
Like the Bluehost affiliate program, their cookie duration depends on the platform you sign up with. They have a knowledge base, and you can create deep links.
2. Siteground affiliate program
This affiliate program also has a tiered commission structure. Here, affiliates can make between $50 to $100 per sale.
There's also a 60-day cookie duration and many tools to make your advertisement better. You also get a dedicated support team.
3. Hostinger affiliate program
Hostinger is one of the few web hosting affiliate programs that don't use the CPS payment model. They offer 60% commission, but they do not pay commissions on o monthly subscriptions.
Your audience has to buy longer-term packages, or you won't get a dollar. Their cookie duration is 30 days, and they do offer banners and links.
4. GoDaddy affiliate program
The GoDaddy affiliate program offers its members a rather low 10% commission. They also have rather stringent rules for their affiliates, and their approval requirements are quite rigid.
They have many banners that you can use to promote them. They also have deep linking on their CJ platform. Their cookie duration is 45 days.
Who Is The Bluehost Affiliate Program for?
If you have a good following and people who trust what you say or post, the Bluehost affiliate program might be for you.
A good following in the web hosting niche would be even better.
As far as your content is internet-based and you have a good audience and credibility, you may be able to make steady cash from the Bluehost affiliate program.
The web hosting niche is crowded and already has some outstanding figures. To make something from the Bluehost affiliate program, you'll need to have carved something of a spot for yourself.
This will be hard to do for someone with a new website or no following. Difficult but not impossible.
However, it will take some time before you start to earn large sums. If you're starting from scratch, you might want to lower your expectations a bit because you won't earn big in the first few months.
But, since Bluehost is popular and has an excellent reputation, it may not be that long before you make your first significant withdrawal.
Can You Make $1000 Off of The Bluehost Affiliate Program?
Yes, you can. You only need to get 16 new customers a month to make $1000. Once your content is good, you've optimized your SEO, and your web traffic is high; you can earn double that in a month.
Conclusion
Bluehost is one of the best affiliate programs available. Its only major flaw is that it uses the CPS payment method instead of a tiered or recurring one.
However, the commission is enough that, with enough work, you can also start making thousands off of it. A passive salary is just within your reach.