Indeed there are several ways to make money online today. However, few of them compare to the sheer number of potentials that affiliate marketing has.
It provides a win-win situation for the business and the affiliate marketers as both help each other make money.
The modern version of affiliate marketing with links, banners, and whatnot, started around the same time as the internet came into existence.
However, since then, it has grown so much that several of the world's biggest companies are using it. Among others, popular users of affiliate marketing are Amazon, eBay, Adobe, and even Shopify.
Being one of the biggest and most rewarding players in the game, we'll be talking about the Shopify affiliate program today.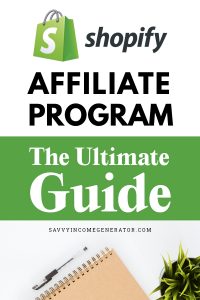 We'll guide you through everything you need to know. In no time, you, too, can be raking in a reasonable amount of passive income.
About Shopify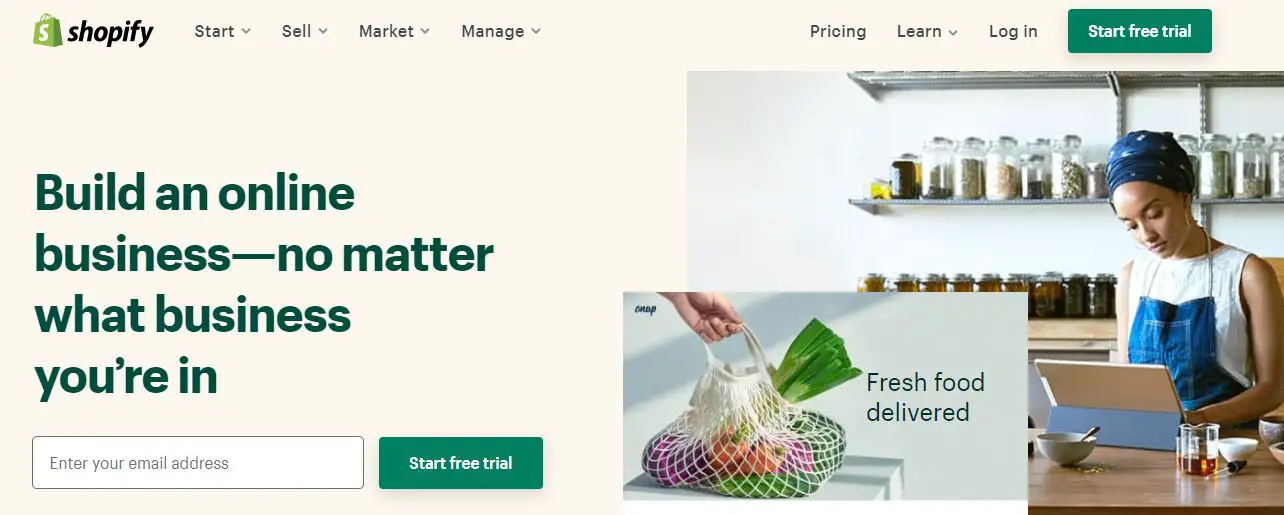 If you are here, the chances are that you have an interest in working with Shopify by becoming one of the many Shopify affiliates in the world. With that being the case, there are a couple of things you should know about Shopify.
Three different people are credited with the company's birth in 2004 – Scott Lake, Tobias Lütke, and Daniel Weinand.
The company has its headquarters in Ottawa, Ontario, Canada.
The company has about five different offices in North America.
Shopify has upwards of a million active stores on the web.
It has billions in terms of GPV (Gross Product Volume).
Shopify Affiliate Program – A Detailed Review
About the Shopify Affiliate Program
The Shopify affiliate program operates similarly to most other affiliate marketing programs. There are products and services for you to promote as an affiliate.
When you promote through your website, or other means of promotion that does not require a website and someone patronizes Shopify, courtesy of your promotion, you get a commission.
Shopify is one of the few brands that can earn you a relatively significant amount of income with its affiliate marketing program. Knowing this, let's take a closer look at some of its finer details.
Host
In the world of affiliate marketing, some companies choose to entrust their programs to third parties. (Third parties like Viglink & CJ Affiliates have made quite a name for themselves in that regard.)
However, some are self-hosted and handle all operations regarding the affiliate program by themselves. Shopify hosts the program itself and also partner with affiliate networks like Viglink.
Cookie Duration/Referral Period
The Shopify affiliate program meets the industry standard for cookie durations. It provides its affiliates with a thirty-day referral period.
That is, when someone clicks on an affiliate link on your website, they can linger for thirty days before they become a Shopify customer through you. If they eventually sign-up within those thirty days, you'll get your commission.
Sometimes, customers might need a bit more than thirty days before deciding to purchase. However, this referral period is still worlds better than the 24-hour window you have on the eBay affiliate program and Amazon affiliate program.
Promotable Items
Shopify, as a platform, offers a service. It provides a place where people can engage in buying and selling online. Store owners can even set up affiliate programs for affiliates to sell their products on Shopify. 
As such, on the Shopify affiliate program, you can promote Shopify's services. There are different plans and pricing for each of them. They are:
Shopify Lite: This comes at the cost of $9 per month.
Basic Shopify: This is capped at $29 per month.
Shopify: The cost of this is $79 monthly.
Advanced Shopify: This plan is priced at $299 per month.
Shopify Plus: This plan is reserved for huge businesses with a rather large amount of transactions. There is no fixed price. Instead, both parties negotiate based on different variables and requirements.
Commission Rates
Shopify is incredibly generous with their commissions. In fact, they offer much better rates than many other affiliate programs in the business.
The Shopify affiliate marketing program gives you 100% commission on the first and second payment of a referral who chooses to sign up. That is, if someone signs up to the Shopify plan, you can get $79 for the first two months.
This commission rate applies to all Shopify plans apart from Shopify Plus. With Shopify Plus, you'll get $2000 for every conversion you make. These numbers make Shopify one of the best high ticket affiliate programs on the internet today.
How to Join
By now, you're probably planning to sign up as an affiliate on Shopify. It's only logical considering what it has to offer. Thankfully, the process is quite simple to go through.
Firstly, you can go to the Shopify affiliate website by clicking here.
As soon as you're in, click on "Apply Now."
After clicking on that, you'll be required to fill a form.
Fill the form and submit.
When you're done with all these steps, simply wait for Shopify to review your application to become a part of the Shopify affiliate program. This often takes about 15 working days.
If you get approved, you'll get a Shopify affiliate login as well as a few Shopify affiliate links. From that point on, you'll be a Shopify affiliate, and you can start earning too.
But approval while applying directly from the Shopify affiliates page is a bit difficult if you are without a huge social media presence or don't have a massive amount of traffic to your website. Joining the program through the Viglink affiliate network is quite easy.
How to Promote Shopify as an Affiliate
Indeed, Shopify has attractive rates. However, if you don't put in any effort, you're not likely to gain much from it. As such, here are three ways you can promote Shopify as an affiliate to earn a reasonable amount of income.
1. Put out useful and relevant content.
In this regard, Shopify specifically advised that you put out unique blogs ranging on different Shopify topics. Additionally, you can share Shopify guides, resources, and business tools.
Within those relevant pieces of content, embed your affiliate link.
2. Use email marketing.
After gathering a significant number of subscribers to your blog, you can then use emails to nudge them in the right direction. However, ensure that you do not spam, and you don't force it down their throats by being overly persuasive.
3. Use social media wisely.
Not every social medium appreciates affiliate links on their platform. However, you can still use it to drive traffic to your site. Ensure that you encourage your followers to check out your blog.
When you have useful content waiting for them, as explained in the first point, things should go in the right direction.
Shopify affiliate is one of those affiliate programs you can join without owning a website and if the social media platform allows the promotion of affiliate links, you can include your Shopify affiliate links within your social media content.
What Are the Advantages of Joining the Shopify Affiliate Program?
There are many reasons you can hit that sign up button today. A few of them include:
1. Attractive commission rates 
There is hardly any other that compares to the Shopify affiliate program in terms of commission rates. Most of the time, what you'll get with many companies is a 7% commission, give or take a few digits.
However, very few others can offer you up to 100% twice for the same sale.
2. 30-day referral period
Compared to the durations that are a lot less significant, Shopify has a pretty generous referral window.
3. Payment is easy and convenient
Shopify pays its affiliates with PayPal, one of the most widely recognized platforms in the world. Related to this is the fact that Shopify only needs you to make one sale to get paid.
As soon as you can get someone to buy something, you're eligible to get paid.
4. Shopify has good branding
When promoting the products and services of another person/company, their image is very important. If they are not particularly well-known, you'll have issues convincing people of their credibility and excellent services.
However, with Shopify, you don't have to worry too much about that. Because people already know the name and trust it, they're more likely to click on your link and sign up.
5. Excellent landing page 
When signing up for an affiliate program, the landing page should provide you with a reasonable amount of information. Some companies get this wrong, but Shopify isn't one of them.
The Shopify affiliate program has a landing page with the right amounts of information for you to get started.
6. It is easy to use
The ease of usage we're mentioning here refers to the affiliate portal. The dashboard on the platform is quite easy to navigate, bringing up little to no obstacles. Alongside that, there are statistics and relevant data for you to choose if you need it.
7. An abundance of affiliate apps
One of the best things about Shopify's program is that they have a lot of functional applications. So much so that there is an entire app store dedicated to Shopify affiliate applications.
With a Shopify affiliate app, it is incredibly easy for you to keep track of your affiliate marketing. This is not an extremely popular feature in the affiliate marketing industry.
8. Appealing promotional material 
If you have any past experience with affiliate marketing, you'll be well aware that visuals matter. If your audience doesn't like your affiliate banners' look, they're not very likely to click.
To prevent this from happening, Shopify has excellently designed marketing banners.
9. It allows you to track what you want
Shopify allows you to make specific links that have unique identifiers. These can then be used to track such things as the source, campaign name, content, medium, etc.
10. Solid customer support
There's an affiliate manager who is always available. Whenever you run into challenges, and you need an email responded to quickly, Shopify comes through.
Alongside this, there are course materials created specifically for you by Shopify. They help you to learn and understand how you can make the most out of the program.
What Are the Drawbacks of the Shopify Affiliate Marketing Program?
Despite being significantly more rewarding than some other affiliate programs, it still has places it can improve on. Below are some advantages of the Shopify program.
 1. Disorganized deep linking system
Deep linking is a feature that a lot of affiliate programs are starting to embed in their portals. It allows you to create specific links to pages that you want your potential clients to see.
It helps boost conversion rates because it saves customers the stress of navigating generic pages and looking for products. Shopify has a deep linking system. However, it's not very organized.
2. Relatively short referral period
This part might cause a bit of confusion but allow us to clear the air. Indeed, the 30-day referral period is good, and it meets the industry requirements. However, Shopify's services are a little more peculiar.
Signing up is not a decision many people take in a hurry.
Most will not want to get an online store until they're sure they have everything figured out. Seeing as some people take more than thirty days to make decisions like this, between 45-90 days, is an excellent time range for Shopify affiliate marketing.
Should You Join Shopify's Program?
Considering the number of choices there are for affiliates, deciding which one to join can be a bit tedious. However, we would recommend that you join this program.
As seen in our article, the advantages far outweigh the disadvantages. If you put in the effort and you are just lucky enough, you can make up to $1000 per month.
However, if you're still doubtful, there are plenty of alternatives. One of the most notable is eBay. The best part is that you don't have to stick to one affiliate program. Eat your cake, have it, and join the Shopify program.
Conclusion
Shopify provides an excellent way for you to make a reasonable amount of income with its affiliate marketing program.
In this guide, we've explored everything you need to know. All that's left is to sign up and add Shopify to your list of passive sources of income.