You probably have an idea of how affiliate marketing works and have decided to start an affiliate marketing business.
Found a couple of good products to promote, but you don't have a website or blog and you are wondering… is it possible to do affiliate marketing without a website or blog?.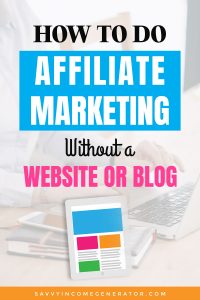 The answer is YES! and in this post, we will be discussing a number of ways you can promote affiliate links without a website successfully.
If you are completely new to affiliate marketing, you will find my blog post on How To Start Affiliate Marketing for Beginners helpful.
Affiliate marketing is one of the easiest ways to make money online because you don't need to create any product or fulfill orders for products and services.
What Is Affiliate Marketing?
Affiliate marketing is a business model whereby you promote other people's products and earn a commission once a purchase is made through your affiliate link.
There's another type of affiliate marketing where you can earn commissions when a specific action is taken such as opt-in to an email form or signing up for a free trial for a product or service.
This type of affiliate marketing is called pay per lead affiliate marketing and it's a form of cost-per-action marketing.
Finally, there are pay per click affiliate programs you can join without having a website where you earn when people click on your affiliate links.
8 Ways You Can do Affiliate Marketing Without a Website or Blog
1. Landing page/ Sales funnel
A landing page is a single page that can be a stand-alone page or a page within a website.
A sales funnel on the other hand involves a landing page and some other pages that take leads through a buying process.
It's pertinent to see a sales funnel like a physical funnel, wide at the top and narrow at the bottom.
Wide at the top containing lots of people you are attracting (traffic) and narrow at the bottom with a smaller amount of people that have made a purchase or taken the final action the funnel is designed for them to take (customers).
There are 3 reasons you need a landing page or sales funnels to do affiliate marketing without a website.
i. Email Marketing: An email list is a must-have if you want to make decent commissions online as an affiliate marketer, like the saying goes "the money is in the list".
You need to collect emails from targeted leads within your niche and the only way you can get their emails is through a landing page.
ii. Higher sales rate: Using a landing page for affiliate marketing ensures a higher sales rate compared to a website or blog.
Landing pages are built for conversions, page visitors will get fewer distractions because a landing page or sales funnel is tailored to make people take a specific action at a time.
iii. Higher sign-up: A landing page produces more sign-ups. For example, if you are doing PPL affiliate marketing and generating leads for a company, you will be able to get lots of sign-ups for the company and more money for yourself by using a landing page.
When using a landing page for affiliate marketing, cost-per-click advertising or free traffic generation strategies can be used.
To use this strategy, you will need a couple of tools which include:
A landing page/funnel builder
An email autoresponder
With them, you can capture your leads' information and do email marketing effectively.
Doing affiliate marketing without a landing page means you may lose out on the above-mentioned benefits. You may choose to use a landing page without including an email opt-in if you wish to do affiliate marketing without an email list.
Systeme.io is a software that has both a funnel builder and an affiliate marketing-friendly email autoresponder. It's a cheap software with a free plan and it's one of the best page builders for affiliate marketing.
2. YouTube
You can take your affiliate marketing business to YouTube if you prefer creating video content over written content.
Create a YouTube channel and discuss topics that are relevant to your niche audience. Your topics must always be centered around what your audience is interested in and the problems they need help in solving.
You will make good commissions on YouTube if you produce content that is useful, helpful, and full of value first and then advertise products that complement the valuable content you provide.
Another way to earn affiliate commissions through your YouTube channel is by providing product reviews, people value other people's opinions and they naturally will want to know what yours is.
For example, if you are in the weight loss niche, you can make a review of a weight loss product you or someone close to you have made use of and ensure to include in your video that the link to the product is in the description so your viewers can make use of it to make a purchase.
You can also include the links to other products, for physical products, you can include your affiliate links to work out gear or equipment from Amazon Associate and for digital products, Clickbank will be great.
The best way of promoting these types of offers is to do a walk-through of the products.
Shoot a video about the product, discuss the feature, benefits for its users, and the things you like and do not like about the product.
People like this a lot because they will get to have an idea of what they are going into before parting with their money and if you are the one to show it to them, they will love you for it!
While using the YouTube strategy, showing your face is a powerful way to connect with your audience, but you can attain success with faceless affiliate marketing on YouTube if you don't wish to go in front of a camera.
I have used affiliate marketing to monetize a couple of successful faceless YouTube channels.
I did this by using a software called VidIq to get low competition keywords in my channel niche and use SketchGenius which is an AI-powered animation software to create videos centered on those topics.
3. Create an E-book
This method does involve you taking some time to write some quality content. It's very helpful to you as an affiliate because it brands you as an authority.
The e-book to be created should be about 15 to 35 pages, has to be centered around a specific topic related to your niche and you should include your affiliate links within the content.
Your e-book shouldn't be just an e-book loaded with affiliate links, you should provide enormous value within the book and then recommend products that back your theory.
For example, if you are in the health and wellness niche, your e-book may be titled, "7 fruits that can improve your immunity against cancer".
Within the book, you may have a list of 7 fruits and how they help improve the body's immunity against cancer but then recommend products like supplements containing the right blend of the fruits.
You can create a high-quality e-book quickly without coming up with content or typing anything using this method.
4. Use Medium.com
Medium.com is a platform for writers. Writers are called contributors and are allowed to post their work on Medium.
This website can serve as an awesome way to do affiliate marketing without any website investment. How?
Medium has a lot of this fantastic internet thing called authority. By "authority," I mean Medium's website or domain authority.
Website authority is the best way to measure how strong a website is in terms of a specific area, subject, or backlink profile.
This platform has the power to boost your ranking on Google's SERPs to the first page. That means more traffic and more conversions.
Because Medium is such a well-known and trusted website, all you have to do is post articles about your affiliate product and let Medium help you climb up the SERPs.
There are four steps to making full use of Medium's capabilities.
Step 1: Sign up for a free account on Medium.com
To get started, you need to register for a free account. You can sign up through email, your Google account, or your Facebook account. Whichever one you are comfortable with is fine.
Step 2. Choose a niche
Like any blog or website owner, you'll need to choose your niche. This will ensure that your content is focused on a specific subject.
You can build yourself up and become well-known in that niche. Your status as a contributing writer on Medium.com will allow you to do affiliate marketing without website investment.
Once you've chosen a niche, select a few affiliate programs within or related to your selected subject and run with them.
Step 3. Do keywords research
If you want to rank high on Google and also get a good amount of traffic to your offers, you'll need to find out the best keywords to use in your articles.
You can easily do this by researching some competitors in your niche. That is, just research competitor websites in your niche with a keywords analysis tool.
You can also do this by researching keywords that are quite popular within your niche. By doing this, you can get an estimate of the search volume of those keywords, and their SEO difficulty.
These tools can be either free or paid, but you can do more with paid tools than free ones.
However, to find keywords, a free tool like Ubersuggest gives you a bit of help with regard to keyword research.
While paid platforms like Mangool gives a 10-day free trial and has all the tools you need for complete keyword research and SEO analysis.
With the help of Medium, useful content, and some focused keywords, you can quickly start making money from affiliate marketing without a website or blog.
Step 4. Create content
Creating value-packed and interesting content around the keywords you have researched is the next step of action.
If your content isn't interesting enough to captivate your readers, they may leave before they even see your links.
That's depressing and something you do NOT want to happen, so you have to create good content.
For your strategy to work, you will need to have excellent articles. But if writing isn't your thing, you don't have to do it yourself.
You can outsource your articles on freelance platforms like Fiverr.
You can even get high-quality stock photos to spice up your content for free.
Once you've found a way to create engaging content, post as regularly as possible.
If people can expect excellent content from you consistently, you'll definitely start to create a name within your niche. And with that name comes authority.
NOTE: When creating content with affiliate links on Medium.com, you have to put up a disclaimer in that article to let the readers know that you may receive compensation if they buy something through the link.
This is one of Medium's rules for affiliates publishing on their website. Failure to do this can get your account on Medium.com suspended.
5. Hubpages
Hubpages is another awesome platform for content writers that are not ready to build a website or blog just yet but wish to get started with affiliate marketing.
You won't need to worry about building a site from the scratch or purchasing a domain or hosting because Hubpages is hosted on the Hubpages website.
The downside of doing affiliate marketing using this strategy is that unlike having your own self-hosted website or blog, you do not own the content hosted on Hubpages and it can be taken down at any time.
6. Done-For-You Affiliate Marketing Systems
This is by far the easiest and quickest way to get started with affiliate marketing without building a website or blog from scratch.
A done-for-you affiliate marketing system is most times an automated sales system consisting of already built landing page/sales funnels, web pages, and professionally written email follow-up sequences.
You will also be given access to the tools needed to build a custom-made sales system for yourself if you want to.
With these systems, you can do affiliate marketing and make good affiliate commissions without actually getting yourself involved with building the platform you are using for your business because that part has been taken care of for you.
Some of these systems also come with done-for-you traffic campaigns.
You will be charged monthly or yearly to get access to these systems, but it will be money well spent when compared to the time you will spend building everything out from scratch all by yourself.
The 12-minute affiliate system is a done-for-you affiliate marketing system I recommend for the execution of this strategy.
7. Social Media
Affiliate marketing without a website in 2022 is also possible thanks to the considerable growth of social media. You can now use your accounts on social media to promote your affiliate products. Even more, you can now create a business account on them.
Promoting affiliate products on social media is a great way to start affiliate marketing without website investment.
And if you're looking to exploit this option, here are the best social media platforms for affiliate marketing.
All you need to do is create an account and build a profile on one or more of these platforms. Then, you can use your account to promote your affiliate products.
8. Promoting on online communities and forums
There are thousands of forums and groups online, where people with similar interests exchange ideas and opinions.
And these online communities can be the marketplace where you engage in affiliate marketing without a website.
In case you're wondering how to engage in affiliate marketing without a website through this means, it's simple.
All you need to do is find communities that align with your niche. Then, you can join them and post products relating to the common interests you all share.
Note that this only works by aligning a community with their interest.
For instance, if you belong to a fitness community, you'll be making a mistake if you decide to promote tech products. The best thing would be to sell sporting gear.
However, before you start posting, it's better to establish yourself as an active member of such communities. This will lend more credibility to your posts, leading to more conversion.
For instance, if you have endeared yourself to a group, they'll be more trusting and willing to explore your affiliate products.
Quora is a great example of a forum through which you can market affiliate products without creating your own website.
Through this platform, you can make money selling affiliate products by first providing answers to questions of members of the community and then recommending products through which they can get a complete solution to their problems.
You can create your community as well. And you can create a Facebook group or use the board features of Pinterest to do this. You can then invite others to join.
And since you are the creator of the group, you can determine the purpose of the group and what is allowed. You can click here to know how to promote affiliate products on Pinterest without a blog/website.
However, always remember to abide by such communities' rules when it comes to promoting affiliate products.
Step-by-Step Guide on How to do Affiliate Marketing Without a Website or Blog
It's not just enough to know these great options; you'll need to implement them. And this generally involves a step-by-step process. To do this, follow the steps below.
Step 1: Pick a niche
The first step in engaging in affiliate marketing either with or without a website is to pick a preferred niche. And this is because, while you can target various niches simultaneously, it's not the best option.
It's always preferable to select just one niche and then build your reputation within the niche. However, remember to choose a niche you're passionate about. And one that you have an understanding of issues within it.
Also, it's usually best to ensure that the niche is profitable. This means that various products with good affiliate commissions must be available in that niche.
And such a niche must be reasonably competitive. Also, there must be multiple affiliate programs that don't require a website within the niche.
Then, if your niche satisfies these requirements, you can go ahead to the next step.
Step 2: Sign up with affiliate programs that don't require a website
As an affiliate marketer, your goal is to market affiliate products. And this is only possible by joining an affiliate program.
However, some affiliate programs require you to own a website. As such, they are a no-go area for you. You need to find affiliate programs/networks that don't require a website.
And popular options include Clickbank, Shopify, Builderall, Fiverr, eBay, among others.
Pick one or more affiliate programs within your niche and sign up to be their affiliate marketer.
Promoting affiliate products on Clickbank might be a great way to start since Clickbank is an affiliate network with a vast list of affiliate programs that don't require you to have a website to join.
Step 3: Choose a promotional method
Next on the list is choosing a promotion method. And these methods include what we have tagged "ways you can do affiliate marketing without a website or blog".
All you need to do here is select either one or more of the promotional methods above.
However, always remember that your product category might influence your promotional method.
For instance, if you're in the finance niche, it might be best to use YouTube or E-book compared to social media platforms. And this is because people are more likely to look for information about finance in those places.
However, if you're in the fitness niche, social media might be a better idea.
Step 4: Market your offers
Next is to market your offers. You have already chosen a niche, you already joined a program, and you have your marketing option specified.
All you need to do at this stage is to promote your offers to your final consumer. And depending on your promotion method, this will involve various things.
For instance, if you choose Snapchat, you'll need to create videos. And then find top-notch keywords that focus on your niche and product.
Then, you can upload your links on your Snapchat account. And then direct your followers to click your link and make purchases. (You can click here to know more about monetizing Snapchat).
However, regardless of your promotional method, you must keep certain things in mind. And this is particularly useful if you intend to create content such as videos or pictures. These considerations include:
You'll need to ensure your content stands out, especially if you decide to go through social media. You can always use hashtags to achieve this. Ensure you only post high-quality videos and pictures also.
You'll also need to stay consistent. Since you don't have a blog or website, you'll need to keep your followers and community interested in your page. Hence, you can't just disappear on them. So, always be available and follow the progress of your efforts.
Final Note on Affiliate Marketing Without A Website
Now you know of different ways to do affiliate marketing profitably without building a website or blog but having a website or blog is crucial to your long-term success in affiliate marketing.
With a website or blog, you will be able to reach out to lots of people within your niche and provide value to them consistently and your hard work will be rewarded with passive affiliate commissions if you do it correctly.
It takes a bit of time to do affiliate marketing through a website correctly and to see tangible results, so it should be seen as a long-term game.
Getting things started without a website or blog gives faster results.
Regardless of whichever way you decide to follow, you need hard work consistency, and time in order to make things work for you in affiliate marketing.
That's it, guys!
I hope you find value in my suggestions.