Starting an online business is great. You've taken your first step towards creating a new income source that can be run from your laptop. However, starting the company is only the first step of the long journey towards building a successful enterprise.
The next and arguably, the most crucial step is creating awareness.
How do you create awareness? Through marketing, of course. There are several ways of marketing and advertising, but not many of them are financially possible for a new business.
So, what method of marketing isn't costly and can get you some customers quickly?
Affiliate Marketing.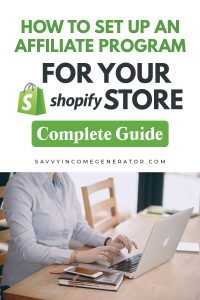 If you're reading this article, you probably have a Shopify store or about to set one up and are interested in including an affiliate program in your store. Well, you've come to the right place.
Using Shopify for affiliate marketing might seem a bit daunting at first. In just a little bit, we're going to take you step-by-step through the process of planning, starting, and running your very own affiliate program.
But first, what is affiliate marketing, and what can it do for your business?
Affiliate Marketing
Affiliate marketing is the phrase used to define the method of paying people a commission or rate in return for them referring customers to your business or product.
This method relies on the trust people have in your business partners to recommend them to your company or product.
Your affiliates can be anyone, customers, non-customers, and even other businesses. However, most of the time, the most effective sales pitches come from those who have used it.
Your affiliate members can promote your products to customers, and other companies they feel would make good companies. Doing the former is called business-to-consumer (B2C), and the latter is called business-to-business (B2B).
The whole concept of affiliate marketing relies on the company paying its partners to promote their products in exchange for a commission.
This commission can be calculated in percentages, where a certain percentage is deducted from the product price to pay the affiliate responsible for the sale. Commissions can also be paid by fixing a certain amount paid with each new customer brought in.
Some companies even have a tiered commission system. This means that the money received for getting a customer can be increased based on the number of customers you bring in. It's a reward-based system that gives affiliate members a lot of incentive.
If you can generate enough buzz for your affiliate program, you can get new customers, provide even more value for the old ones, without breaking the bank. And using Shopify for affiliate marketing makes this process a whole lot easier.
How Does Affiliate Marketing Work with Shopify?
Using Shopify for affiliate marketing isn't as tricky as it sounds. You can create an affiliate program with a few clicks of a button. And you don't have to do it alone.
For those who aren't tech-savvy, building an affiliate program from scratch doesn't have to be hard. Especially not with Shopify.
If you want to use Shopify for affiliate marketing, you can outsource the setup to freelancers on platforms like Fiverr and Upwork or you can use these little helpers:
Shopify Affiliate Program Builders
Shopify has apps explicitly made to lessen the techy work you'll face when building an affiliate program. Choosing an app is your first step when using Shopify for affiliate marketing.
These apps simplify a lot of things and make building your affiliate program more straightforward. There are tens of affiliate program builders on the Shopify App Store.
Choosing one depends on what you want your affiliate program to look like, what you wish to your commission structure to look like, etc.
Here are some of the best affiliate program apps for Shopify.
Refersion is a Shopify app created to help online business owners create a successful affiliate program. Refersion has one significant advantage. This Shopify app comes already set up with a group of partners. Frankly speaking, it's an affiliate network on its own.
This app holds lots of advantages, especially for those business owners who want to work with social media influencers. These influencers number up to 5000. You can also approve coupon codes for your affiliates.
Some affiliate program apps only allow you to fix commissions per sale. That is one commission rate for every product. However, Refersion enables you to fix commissions on individual products.
This way, even if a product's price is low, you can set up the commission on it so that you won't take a loss.
All these features are separate from the necessary creation of an affiliate page, application form, dashboard, and conversion tracking, which Refersion also covers.
There's no better way to promote a business than through the efforts of those who've used and enjoyed your products.
Goaffpro Affiliate Marketing app seems to help you bring your existing customers into the fold as members of your affiliate program. They have a secure system that prioritizes this goal.
With this app, you can set up a customized partner page in just a few clicks. This partner page will be fully equipped with all information needed and an application form.
Once your partner has signed up, they can now have access to standard referral links or individual coupon codes.
You can share these links on a lot of platforms. Websites, emails, social media, etc., all of these platforms are allowed. You can also make a reward-based commission structure to give your affiliate members a little more incentive.
LeadDyno is one of the highest-rated Shopify apps available. While its price isn't low, it makes using running an affiliate program on Shopify a lot easier. With this app, you can do a lot for your affiliate members.
You can create individual dashboards with real-time tracking capabilities. There's also a mobile app that your affiliates can download.
When they log in, they'll be able to view their affiliate dashboard easily. They can also share their links on social media and other platforms.
LeadDyno has its own affiliate marketing network filled with entrepreneurs and business experts. You get access to this platform for free when you choose a plan with LeadDyno.
There's support for all LeadDyno packages, but live chat is only available for the more expensive programs.
This app doesn't give you space for dead weight. While you can have as many referrals as you want, the number of affiliates you can gather is limited. However, there are several ways of monitoring who is making you money or wasting your space.
You can easily track your affiliates' progress through links, coupon codes, product SKU, and other methods. If your product is a service with plans or packages and refund policies, you can dock your affiliate's pay, if their referral asks for a refund.
Payments can be made through PayPal and store gift cards. Because your affiliate population is limited, they may need help in promoting your products. You can upload banners and other tools for them to use on whatever platform they choose.
Secomapp is a tool that allows you to build your own commission structure. You have total control over the type of commission to be paid, what kind of reward system to implement (if any), the criteria for each tier (if any), and commissions to be paid on individual products or product types.
A good commission or commission structure is about 80% of the draw for affiliate members. You can shape your commission structure based on your budget and make it one of the best affiliate programs available.
You can also put in different forms of media, like videos, texts, and banners to make sales.
Secomapp also allows you to ask anyone to join your program. You can ask your customers through a pop-up page. Once they join, you'll be able to track them thorough coupon codes and affiliate links.
Click here to learn more about Shopify affiliate program apps and how to choose the app that best suits your needs.
Here's what you need to do to set up your affiliate program completely.
Choose Your Affiliates
You need to know what you're looking for in an affiliate. Do you want them to have a website or not, how much traffic should they have, etc.
You need to set up a criteria members need to fulfill to join your program. However, don't make it too strict, or you won't have any affiliates at all.
Find Your Affiliates
This depends on how much you can publicize your affiliate program. You can announce it on social media, forums, to your email subscribers, pop-ups, etc.
Decide Your Commission
How much will you pay your affiliates? This is a serious question that requires you to break out your accounting books or files. You'll need to work out a budget and a commission structure. You can check out other programs like the Shopify affiliate program and see how their commissions are set up.
Strategize
Using Shopify for affiliate marketing is excellent, and all but you need to create a plan and have a few goals in mind.
You can do this before setting up an affiliate program or after it's been running for a few months. You can use the data to decide whether this is profitable now, or it'll have the potential to be valuable later, or if it's too large a burden.
If you choose to strategize before you set up your program, then take a look at other successful affiliate programs. For example, Amazon's affiliate marketing program has stood firm for years. What makes them so great? See if you can implement what you learn in your program.
Conclusion
What a great thing it would be if using Shopify for affiliate marketing was something everyone could do. As long as you can pay for a Shopify website (store), and an affiliate app, you can.
However, not every business should run an affiliate program. If not planned properly, it can be a drain on the business's capital.
Using Shopify for affiliate marketing makes keeping track of affiliates easier, but it's still no walk in the park. Make sure you've weighed the pros and cons properly before you start setting up an affiliate program on your Shopify store.