With so many of the more complicated ways of making money online out there, the Amazon affiliate program provides an opportunity to just about anyone looking to earn a sustainable living online.
And this is without having to first finish a course on aerodynamics. (just kidding) (about the aerodynamics i.e).
As one of the Big Four technology companies alongside Google, Facebook, and Apple, it has impacted on the life of a lot of people in various ways.
What exactly is this program about?
The affiliate program in Amazon also known as Amazon associate program is a means by which you can earn money through referrals.
I have come across more than a handful of people who have a genuine interest in working the Amazon affiliate program into another stream of sustainable income, but they didn't know how to go about it.
Despite the many tales you might have heard about how tedious working the Amazon affiliate program is or even basically signing up, it really is a lot of easier than people make it out to be.
In this article, we will be touching on everything you need to know about working the Amazon affiliate program, from the sign-up stage, up until getting paid in the program.
That being said, let's get into it.
How To Sign Up for The Amazon Affiliate Program
Step 1: Create a blog or website
To get started with the Amazon affiliate program, the first thing you need to do is to create a blog, website, app or a YouTube channel.
It's also a smart idea to have the site pre-populated with some content related to the kind of products on Amazon you would like to promote.
While creating your website, page, or channel, put into consideration the kind of content you will be creating, who your target audience is and how to drive traffic to the site.
Step 2: Initiate registration on the Amazon associate homepage
The next step is to visit the Amazon associate homepage and click the "Join Now for free" link (yep, it's totally free to join).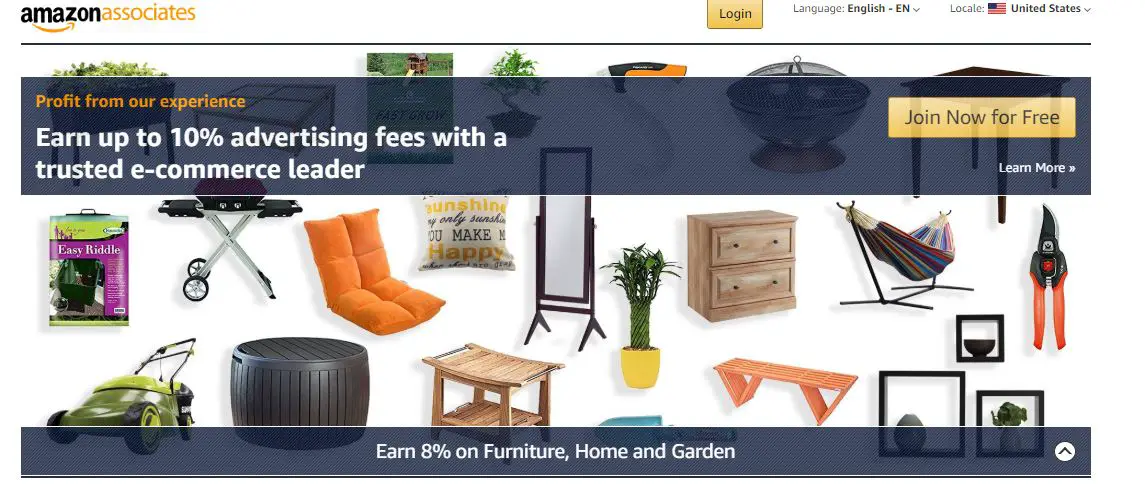 You will be given the option to log in to your account if your account, since you are just about to sign up, click on the "Create your Amazon account" button below the page.
On the next page, enter your name, email address, and password and click on "create your Amazon account"
Next, you are required to fill in your information, to create an account.
Your name, address, and phone number are needed.
Fill in your mobile app URLs and websites where you intend to promote your affiliate links, Amazon display ads and display banners. You have the option of adding up to 50 of such links.
Step 3: Create your Store ID
You are then required to provide a store id, and also provide more information on the websites and apps you intend to promote your affiliate products with (what they are about i.e).
Provide some information on the kind of affiliate products you intend to promote.
I usually advise to choose product categories you are passionate about, and are related to your websites and apps.
Step 4: State your traffic source(s)
Finally, you are required to give some information on how you typically get traffic to your websites and apps.
This would include your traffic sources, how you earn an income from your websites and apps, how many people you get to your website in a month, and how you build links to increase your website reach.
After the above steps are completed, you are required to click the call me now option.
You will receive a call from Amazon, and then you will be asked to enter a 4-digit pin.
Then enter the captcha and hit finish.
At this point, your account is set up and ready for you.
Next, you can enter your payment and tax information, or you can do it later.
You can now head over to your dashboard area, and create your very first Amazon affiliate link.
Amazon Affiliate Links
These are the links through which customers can access the Amazon website and buy products they want.
To be able to get these links on your website or blog, you must first register to join the affiliate program in Amazon.
There are different types of Amazon affiliate links that can be used on websites and blogs.
Some of the better performing and converting links include
Basic display product links.
Enhanced search box.
Search widgets.
Enhanced display product links.
Some less popular links include the slide show and banner link.
How to Create Your Very First Amazon Affiliate link
When the final step of setting up your Amazon affiliate program account is done, you are directly taken to the dashboard page.
On your dashboard, you have all your accounts information and, a section to create your affiliate links.
While creating an affiliate link, you can go the direct route of using the product link tool, or you can use a third-party tool called sitestripe.
Using the product link tool
On your dashboard, click product linking, and then click product links.
After clicking on product links, you will be redirected to another page that lets you manually search for a product of your choice to create an affiliate link for.
Go ahead and search for any product of your choice.
You can search for the general term of the product like say sneakers, or you can search for the exact type, kind, brand or make of the sneaker you are interested in.
When your affiliate product search result gets back, and you have settled on a product, go ahead and click the get link option that's next to the product you have chosen.
Next, your link will pop up in HTML format.
Most people copy and paste this link as it comes on their website, but you can do so much more with it.
You can add image, text, or image and text as you customize the affiliate link.
You can also change the color scheme of the ad to complement your website.
Using sitestripe
With using sitestripe to create your affiliate links for the Amazon affiliate program, you are able to create said links directly from any Amazon product page.
Once you have set up a sitestripe account, and you are signed up for the Amazon affiliate program, the tool will always be visible at the top of any Amazon product page you visit.
To do this, click on tools from your Amazon affiliate dashboard and select the sitestripe option.
On the sitestripe page, enabled should be displayed, if it's not, you should turn it on.
Then, simply go to any Amazon product page and create links of your choice right away.
This tool lets you create affiliate link types like native ad, plain text, a link embedded or a text plus image ad.
When you have settled on an affiliate link type of your choice, the finished link would pop up in a box, allowing you to copy and paste it on your website or to share to any of your social media platforms.
Whichever way you decide to go to create your affiliate links is totally fine.
Pros and Cons of The Amazon Affiliate Program
Pros
i. Signing up and getting accepted into the program is quite easy, unlike some other affiliate programs.
You can get everything set up in no time, and even begin to promote your affiliate links and earn top commissions in no time.
It could take from a few minutes to a few days to finish everything.
ii. It is a great way to earn a sustainable income without doing too much.
Amazon is an eCommerce giant, literally everyone who uses the internet knows about Amazon or even made a purchase or two in the past.
iii. It is very easy to find products you are already good at promoting or just passionate about in this affiliate program.
Over 3 billion items are listed on Amazon, hence, you would never run out of things to promote.
iv. You can earn in more than one way with your affiliate links.
Let's say that your affiliate link is for a pair of boots from xxx brand, and one of your website visitors clicks through to purchase said pair of boots.
After purchasing the boots, let's say that your website visitor decides to buy something else aside from the boots you have an affiliate link for, you also get a commission for these items purchased and all the items they purchase with your link for the next 24 hours.
v. With Amazon's superior skill at upselling, by suggesting more interesting products to customers, your website visitor is likely to make more purchases.
Cons
i. With the Amazon affiliate program, the commissions can get mighty low.
Yes, it is possible to earn a good income as part of the program, but for some categories, the commissions could run very low.
The luxury beauty products and products in that category are great, but for other categories like the video games category and others like that, the commissions could run really low.
For the former better-paid category/categories, the commissions could run up to 10 percent.
For the lower commission categories, the commissions could run as low as 1 percent.
ii. Due to the Amazon associates' program operating agreement being very regularly added upon and tweaked, it typically gets difficult for most members of the program to understand and work in accordance with.
Due to their inability to stay up to date with these updates and changes, they typically become non-compliant with one thing or the other and could run into trouble with the program.
iii. Promoting your affiliate products via a website takes some work.
If you are someone who wouldn't have the time to create suitable content for the website, aren't a great writer, can't afford to outsource the writing to someone on your behalf, or just couldn't be bothered with creating content for your website, you would run into some problems.
For a good conversion rate on your affiliate links marketed through a website, you need high-quality content.
Getting Paid in The Amazon Affiliate Program.
When it comes to getting paid for your efforts promoting affiliate products on behalf of the Amazon platform, it isn't immediate.
All your commissions are paid every sixty days based on each calendar month.
Yeah, I know, this might be a little snag for some people, but if you put in the effort and the resources into promoting your affiliate products, and your commission amount runs into a substantial amount, it really is worth waiting a few weeks for.
You can receive your commission payments in various ways including a direct deposit, getting a cheque or an Amazon gift card.
Something you should keep in mind regarding the payment option of your choice is that they all have their individual payment threshold.
This means that you might need to meet a minimum commission earning to receive in one way, but need to meet another amount as minimum to receive payment via another method.
Below is a highlight of the various minimums you have to meet to be able to receive your payments.
1. By direct deposit:
When you decide to receive your Amazon affiliate commission payments via a direct deposit, the Amazon platform would require you to furnish them with your banking details.
These details would include your bank name, your account number, and any other banking information that would make for a seamless transfer of your commissions to your local bank.
With a direct deposit, you need to meet a minimum commissions threshold of $10 before Amazon would send your commissions to you.
2. By cheque:
If you decide to receive your Amazon affiliate commissions via a cheque, you would be required to furnish the Amazon platform with your mailing address or a mailing address that you would prefer for your commission's cheque to be sent to.
You need to meet a minimum commissions threshold of $100 + $15, which is the fee for the processing of your cheque. (pretty steep eh?)
3. By Amazon gift card:
If you choose to receive your Amazon affiliate commissions payment via Amazon gift cards, the platform simply sends you gift cards that are worth the value of the commissions to be paid to you, to the primary email address that is linked to your Amazon affiliate account.
You need to meet a minimum commissions threshold of $10 before Amazon would send your commissions to you.
For some people, receiving their commissions in bits is ideal for them, but for others, letting it accumulate is what's best.
You should choose a payment method that Is best for you and your needs.
Tips and Tricks on How Best to Promote Amazon Affiliate Links Through Your Website.
There are more than a handful of ways to promote your Amazon affiliate links and earn a decent amount of commissions without a website.
But if you are interested in the best ways to promote your links via a website and skyrocket your earnings, then ensure to take this part very seriously.
1. Only promote things that you love, or at least find interesting
Before you set up your website or blog where you intend you promote your links on, and even before you sign up for the Amazon affiliate program, you need to think long and hard about the niche of products you intend to promote.
It is very important to go with a niche that you love, like, are passionate about, or even somewhat knowledgeable about.
When you choose a niche that isn't just random to you, it gets easier to create high quality and suitable content to help promote your affiliate products.
It also helps to keep you going even when you aren't breaking even at your endeavors.
If it is a niche you love or strongly believe in, you are more likely to not give up and keep going rather than if it were a niche you decided to go through with just because.
Dedicating some time and effort into the niche you have your eye on, could also help you discover If it is a niche worth going with in terms of the commission rates.
Yes, it might be a niche you love, but what if the payouts are very low, how do you make the program a source of sustainable income?.
These things matter in the long run, and should not be overlooked.
2. Keep the people pleased: excellent content is key
When it comes to marketing your Amazon affiliate products via your website, having the right kind of content on your website is key.
Some people usually go the route of throwing together some haphazard article or product review, laced with keywords, and that's it.
To them, all they need is to have a desirable keyword concentration within their articles.
Okay, let's say that it works.
The keywords came through and you ranked for a few.
What next?
The viewers are now on your website, how are you supposed to keep them interested long enough to even learn about the affiliate products you are banking on them to buy and earn you a commission?
It doesn't have to be an Einstein's secret that you write about on your website, it could be just about anything.
Whatever it is though, you have to ensure that it is engaging enough to get people to trust you, or even stay long enough on your page to make google think that your website is worth ranking.
If the bounce rate on your website is high (i.e., the rate at which people bail from your website), this could very well compromise your ranking.
Ensure that your content quality is high enough to have return readers.
3. Speak from a place of an informed perspective
Creating content-based on products is also another great way to make more commissions from marketing your Amazon affiliate products.
If your website has reviews on popular products or products that people are interested in, more people are likely to visit often to read your opinion on the product.
This is because they believe that you are speaking from an informed perspective.
When writing product reviews to help market your Amazon affiliate products, you have to ensure that you don't actually try to sell the product to your readers.
Instead of raving about how great this product is, you should try to write from a place of open-mindedness.
Write like someone who has some experience using said product, and let your readers decide on their own if they would like to purchase the product or not.
A product review should have your affiliate links included there at strategic positions.
Do not copy and paste from someone else's website because you don't have the time to create your own original content (this usually comes with dire consequences).
Try as much as possible to post as often as possible, it's a great way to connect with and stay connected with your readers.
4. Make a link localizer your new best friend.
A link localizer is a tool that helps to redirect your foreign readers to the right site for them.
With marketing anything on the world wide web, you are definitely going to come in contact with people from all over the world.
Though Amazon is worldwide, it does have different sites for different countries.
If someone from a country different from yours visits your website, and uses your link to try and make a purchase, by means of the link localizer, said foreign reader would be redirected to the Amazon website that caters for his or her country.
If you do not make use of a link localizer, you might lose out on a lot of prospective commissions, as these foreigners are typically unable to make a purchase from the Amazon website that caters for your country.
You can localize all your links, make money from mobile traffic, save hours with fast and friendly support while also making money from all Amazon stores on auto-pilot mode using a service such as geni.us with a token fee.
A word press plugin like EasyAzon can also provide these features and overall increase your potential earnings from the Amazon affiliate program.
These sites can handle your account dealings and make you more efficient and productive.
5. Ensure that your website is user friendly
Nothing helps to ensure that people exit your website almost immediately after they visit and never return, like a website that is unruly and difficult to navigate.
I have been on so many websites that were littered with so many ads, that I couldn't even see where any of their navigation options were.
Yes, ads are important to earn an income with your website, but it is important to include your ads in moderation.
Your ads should be placed in strategic locations where they can easily be seen by your readers, but also do not get in the way of navigation.
Your readers are likely to get irritated with ads all over the place and bail before you even get the chance to convince them to click through your affiliate link and make a purchase.
Both your content and the overall look of your website should be top quality, and help to keep your readers on your website long enough to take whatever action you want them to.
Making Money On Amazon
It may seem like Amazon products get to enjoy a lot of extra publicity with this program but you can also be enriched through this initiative.
This is a win-win situation for everyone involved.
There are various ways in which you can gain from this program.
For every product bought by accessing the link on your site, you can earn between 1% -10% fixed standard program fee rates.
The commission depends on the type of products with fashion, beauty products, and home furniture having the highest rates.
Even if the customer ends up buying another product instead of the one on the link, you still get to earn.
So having a link on your blog or website provides the opportunity for a potential customer to get any product he desires and for you to earn accordingly.
Your total commission amount can be viewed on your affiliate dashboard page and is available to be withdrawn through the bank account you registered your affiliate account with.
How to Promote Amazon Affiliate Links Without a Website.
Yes, it is true that traditionally, employing a well-structured website would be the way to go with regards to making a sustainable income from the Amazon associate program.
But, you can still make money out of the affiliate program in Amazon without a website.
Believe it or not, with the right structure and marketing strategy in place, you are well on your way to the big bucks.
Now, with a website, you can do so much more than just making a daily profit from the Amazon affiliate program, like by further monetizing said website.
But, going the no website route, and using alternative platforms like Medium, YouTube, LinkedIn etc does come with its perks.
A Good example is easily connecting with your target market with all the free internal traffic you get with these other platforms etc.
Below is a step by step highlight of how you, your friends, family, and just about anyone, can promote Amazon affiliate links and make money from the affiliate program in Amazon without a website.
1. Pick the niche of your dreams
We talked about choosing a niche in how to promote Amazon affiliate links through a website section but will like to dive deeper into it.
I am a firm believer in making money doing something you love.
Not only does it make work fun, but it also helps you keep going even when things aren't so great.
When it comes to choosing a niche to work with in the affiliate program in Amazon, it is best to choose a niche you are passionate about.
Big on fitness? Focus on that! Pumped about tech? Focus on that!
Most people choose to work with multiple niches at the same time, but working with a specific niche is excellent for:
Being a trustworthy go-to for whatever it is you are promoting. If I sell just skincare products, people are more likely to trust me and my recommendations, than if it were selling every single thing. In the case of the latter, people would just see me as chasing a profit, and not really caring about providing value or quality.
This way, when you give advice during your content marketing, people would take it, as you are being perceived as some kind of authority. 
When it comes to the right niche for the Amazon associate program, there is more!
Apart from being passionate about a given niche, below are a few other factors you need to consider when choosing the ideal niche for the affiliate program in amazon.
Does your competition pack a punch?
Take it from someone who knows this first hand.
Trying to break into a niche that has a ton of high reaching competition, is not a practical move to make.
When it comes to beauty, fitness, and niches like that, the competition is typically tough.
The search results for a niche's long-tail keywords gives you an insight into what your competition is like.
If the results come back with big brands topping the list, it will be tough for you.
If the results show mostly smaller affiliate websites, then, that's the niche you should consider for your marketing endeavors.
Is your niche a high ticket one or Nah?
When choosing a niche, one that pays at least 4% and over is excellent.
Also, selecting a niche that carries products that are more highly-priced is also best to go with.
Products that cost between $50 to $700 dollars are excellent picks.
The issue is, whether your niche carries high ticket or low-ticket products, they both have their pros and cons.
Low ticket products may sell quicker, but they do not bring on a tangible enough profit.
High ticket products may ensure a substantial amount of returns, but the sales conversion is usually way lower.
The key would be to find products that aren't too expensive or cheap.
Does your niche carry products that require a basic how-to tutorial?
If your niche carries products that people typically search for a basic tutorial on how to use, tips, and stuff like that, this would be a plus for your endeavors.
If people are making a ton of how-to searches for the types of products carried by your niche, you have the opportunity to write a ton of product-focused tutorials, that would ultimately help you rank your website on google.
This will also give you the opportunity to present more product offers to your website visitors.
This part is crucial for your endeavors in the Amazon associate program to be a success!
2. Keyword research
Doing keyword research is one sure, but affordable way to rank for the niche-focused keywords that would ensure that you ultimately connect with your target market.
These keywords would be used to write and structure content like articles and blogs that are related to your niche.
Instead of just randomly writing on topics you fancy; you can focus your articles on keywords that resonate with the products you are trying to get people to buy.
Due to the high level of competition in terms of ranking for a keyword, it is better to try and rank for long-tail keywords or key phrases rather.
A keyword typically is a word or at most two words, but with long-tail keywords, you have up to three or four keywords grouped together.
Long-tail keywords do bring on lower traffic to your website, but they are also typically keywords that have less competition.
This is usually an ideal plus for the affiliate program in Amazon.
There are so many ways to find long-tail keywords, which include the use of both free and premium tools.
SEMrush is one of the most popular keyword research tools, Ubersuggest is also a good one and it's free.
Basically, it gives you a highlight of keywords that your competition ranks for, and also provides a break down of the data associated with said keywords.
Armed with the information SEMrush or Ubersuggest provides, you can target and rank for lower competition keywords, by employing great quality content that have great optimization.
3. YouTube, medium, LinkedIn, care to pick your poison?
At this point, you understand that if you aren't using a website you own to market your Amazon affiliate products, that you would have to opt for one of the numerous free content publishing platforms like YouTube, LinkedIn, medium, etc.
I bet you probably have decided which you would prefer to use already, but if you are still trying to decide if to use other platforms other than a full-on website, below are some benefits of using alternative websites.
Their own internal traffic accompanies them
Ranking for keywords is easier
You are given preferences by search engines, as you are operating from a high-ranking authority website.
4. Do the content creation and on-page SEO dance
Just like promoting Amazon affiliate products on a website you own, producing content with top-notch quality at all times is how you should play it out.
Most people don't think the quality of the content matters, but that is incorrect.
The quality of your content affects your quality of traffic, rankings, and even the commissions you receive.
The more engaging the content you create are, the higher the user engagement.
High user engagement is key to getting on the google search engine's good books.
Also, it is important that you create a good number of articles a month to really get things going.
Work out your on-page SEO
On-page SEO means the tweaks you can make to ensure that your content is well optimized to meet search engine standards, to help connect you with your target market ultimately.
These tweaks should be done:
Ensuring a keyword density of between 1 to 3 percent
Optimizing your pictures
Internal linking
Structuring your content with h1 to h4 tags
Restructuring your URL
Including meta tags etc.
5. A little traffic boost wouldn't hurt, right?
Though the alternative platform you choose to use comes with bountiful traffic, getting a head start from referral traffic wouldn't hurt, yeah?
While you wait to rank on whichever platform you choose to run with, you can get some level of boost from social media traffic.
A good example is creating a YouTube channel that is centered on your desired niche, then sharing your video links on your social media accounts.
If the quality of your content is stellar, things could begin to happen for you in the positives quickly.
By posting in Facebook groups, and related forums, could get you a decent stream of traffic, that could even lead to conversions.
Running a few ads on Facebook or Instagram wouldn't hurt either.
6. Now we wait
Nothing good comes easy, right?
The same thing applies here.
After you have gotten your content, on-page SEO, and your alternative platform right, the next step would be for you to pat yourself on the back and relax.
It may take months for your content to rank on google.
So, in the meantime, you can relax and keep sharing your content on your social accounts.
Your Amazon affiliate commissions will begin to come in big in no time.
7. Link building
There are a ton of ways to build links, but when you are a beginner and don't quite understand the technicalities of intricate link building; there are two easier steps you can take.
i. Social media links
Being active on a number of social media platforms where you garner a decent following over time does help your link building endeavors.
With the daily shares you get on various social platforms, your link building journey begins.
ii. Guest posting
Armed with great quality content, you can get features on high ranking blogs and websites.
It is great to try and reach out to and get acquainted with bloggers who run blogs that center on or have relations to your niche.
Sometimes, some blogs accept a form of payment to have your content posted on their blogs and websites.
Each content you submit as a guest post contains a link that takes readers back to your YouTube, LinkedIn or medium page.
Also, with guest posting, you can get a stream of traffic, which can also lead to conversions.
To ensure that the websites you intend to submit your content to for guest posting are high ranking, you can use the SEMrush website to collect their web ranking data.
8. Remarketing and Email Marketing
We have to be realistic in everything we do in life, and even more in business.
If you plan to make the Amazon associate program a highly profitable and long-term business, you have to give it your all.
Giving it your all in this case also involves investing a little more time, money, and effort into your marketing endeavors.
Typically, email marketing is king when it comes to marketing your affiliate products of any kind, but this is usually way easier to do when you have an actual website.
It is quite tricky to build a profitable email list without a website, but it can be done.
There is a highly detailed article on how to easily build a profitable email list here.
Without a website, the next best thing to do would be to create a single opt-in page to collect emails to build your email list with.
Getresponse and Constant Contact are excellent tools to send email drip sequences, which helps to build the hype for your affiliate products, and ultimately get them to make a purchase, and ensure you a steady stream of income.
Armed with a good number of emails on your email list, there are a ton of ways you can monetize the said list.
Apart from marketing your affiliate products to the list, you can also rent it out to other email marketers for added income.
Owning a responsive email list is such a powerful money-making tool.
You can promote just about anything to the individuals on your list overtime for added income.
You have to be creative with the way you plan your email broadcasts, so, the individuals on your email list do not unsubscribe to your list.
Conclusion
It is possible to earn a sustainable income from the affiliate program in Amazon, without a website, but you need to give it time.
Apply the steps and tips highlighted in this article diligently, and with time, you will see great results.