Today, social media has evolved to become an indispensable component of the virtual world. However, its reach does not stop there. It also actively affects our physical lives in one way or the other.
Globally, many people depend on it for news, information, business, and even fun. Regardless of what you use social media platforms for, or even if you ignore them completely, you cannot deny that our world has become heavily reliant on them.
With all the things they have to offer, especially in business, it is a bit of a no-brainer that people have come up with ways to use social media more effectively. One of those "ways" in this regard is the Tailwind application.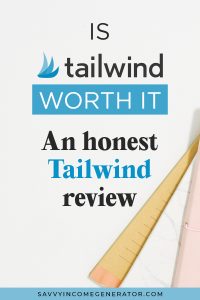 In this Tailwind review, we will be giving you a detailed guide on Tailwind and what it does. Alongside that, we'll answer the number one question at the very tip of your tongue – "what is Tailwind?"
What Is Tailwind?
If you are a blogger or a digital entrepreneur, it won't take too much to convince you that keeping up with social media can sometimes be a bit of a challenge.
You have to meet a minimum number of posts per day if you want your network to impact your business/blog, among other things. The Tailwind app helps make things so much easier in that regard.
Tailwind acts as a social media marketing application. It is useful for and approved by Instagram as well as Pinterest. It helps demystify the processes involved in utilizing your social media pages for business or driving traffic to your blog.
How? The application helps you to schedule your posts on Pinterest and Instagram.
Additionally, you can use it to track conversations about you and your brand. To add icing to its cake, it helps your social media marketing efforts by providing analytics of your virtual world's performance.
That way, you'll be able to measure your successes and shortcomings. You can then make decisions based on those measurements.
This definition just about covers the basics of Tailwind. However, if you are to understand the brand fully, what it does, and what it is, you need to take a glance into the past.
Tailwind – A Brief History
The first seeds that became the incredibly useful tool that is Tailwind first saw the light of day in 2011.
The company was established by Alex Topiler and Danny Maloney, both of whom are from the United States of America. Interestingly, the name the app went by at the time was PinLeague.
The journey to the creation of the app began when the founders wanted to use the Pinterest platform for personal marketing needs. At the time, they were building a site called BridesView.
The number one question they had to answer was how they could identify potential brides who were utilizing Pinterest as a wedding planner app.
Hour after hour and day after day, they began to dig deeper. In the process, they were experiencing astounding success on the Pinterest platform.
In no time, friends and colleagues began inquiring if Alex and Danny could create similar insights for themselves and their businesses.
Danny and Alex immediately recognized the opportunity to create something useful for so many other people. As such, they started the Tailwind app.
Today, they have a clientele base of more than 500,000 brands alongside 400 of the world's top agencies. Also, there are different interesting aspects of their service, like Tailwind React and Tailwind recovery.
According to them, this is just the beginning.
Tailwind for Pinterest – Key Features
1. SMART Schedule
This Tailwind feature is useful for Pinterest as well as Instagram. It allows you to schedule your social media posts such that it go out at a specific time during the day. That, however, is not all that there is to it.
When you decide what time you want your posts to go out in a day, Tailwind allows that to reoccur weekly. As such, you wouldn't have to manually set up upload schedules whenever you want to use the app.
You can easily add a pin to your queue, and Tailwind will include it in the subsequent opening.
The peculiar thing about the app regarding SMART schedule is that it recommends the best time to post for you. In the first stage, it tells you when to schedule your post based on general data.
However, as you continue to use the platform, the information becomes increasingly streamlined. You would then be recommended posting time-based on your accounts' activity.
2. Interval scheduling and board lists
Board lists are particularly useful if you are a blogger who is using Pinterest to gain traffic. They help you to group your scheduled pins based on your blogging categories.
That way, your page isn't clustered with this and that. So, people can easily navigate your handle to locate the content that they find appealing.
A support system of sorts for the board list is the interval scheduling system. Having grouped your content into categories, you can then choose your preferred scheduling interval.
This will help to prevent pins from getting scheduled on various boards at once.
In this regard, you must note that the scheduling of your pins will follow the order that you used in listing the boards.
3. Board Insights
At the heart of the success of any business is data. Data and insights help you to make decisions that can either make or mar your company. Without them, you are as blind as a bat.
To help you navigate the digital business world a little better, Tailwind has Board Insights. This feature helps you to find out the last time you pinned something to a board.
In addition to that, it shows you a virality score as well as an engagement score.
Virality Score: This essentially shows you how viral your content has gone. Tailwind gets this score by dividing your total repins by the amount of content on that board. Higher figures upon division translate to viral posts.
Engagement Score: This goes a bit further and divides your virality score by your followers. A higher engagement score indicates that you are putting out valuable content.
With these insights, you can see how well or how poorly you are doing, especially on Pinterest.
Based on them, you can restrategize, test the waters as much as you can afford to, and start doing just enough to keep your business profitable. A feature that's similar to this, which helps you to get analytics, is the Pin Inspector.
4. Tailwind extension
Apart from a handy application for your mobile device, Tailwind has a particularly useful browser extension. Indeed, you can carry your device around wherever you want.
However, the Tailwind browser extension provides more options for you regarding the places where you can schedule pins and posts.
Perhaps, the biggest advantage of this extension is that if you are using Pinterest on your browser, you can easily schedule pins from there.
Despite being particularly useful for Pinterest, like the SmartSchedule, it is also useful for Instagram. Among others, you can download and install the extension on Chrome, Firefox, and Safari.
5. Tailwind Tribes
This takes out the monotony of having to work alone and spices things up with a bit of networking. As you can probably infer from the name, this feature allows you to join a tribe.
In less "marketing/branding" terms, Tailwind tribe allows you to be a part of a group that shares your interests.
Many people use this feature, especially on Pinterest, as a method of sourcing for shareable content from other people.
Additionally, when you post content on Tailwind tribe, you can have it show up on the tribe's feed. This increased visibility can be very useful for you and your brand.
There are two broad types of tribes you can join. The first is the tribe by association, and the second is the tribe by topic.
A tribe by association refers to one that you are a part of because you know one or more persons within the group. You might already be friends with one or two bloggers. As a result, you can be added to their tribe.
A tribe by topic, on the other hand, is one that you can join depending on your niche. As a fitness blogger, for example, you can join a fitness tribe. That way, you can find content that's related to and is useful to you much faster. This type of tribe is often more useful than the former as it provides content you can share much more easily.
Tailwind for Instagram – Key Features
1. Tailwind Hashtag Finder
The importance of hashtags cannot be overemphasized if you intend to use Instagram for business (or even pleasure). Among other things, they help to give you more visibility.
They do so by exposing you to the large pool of those who are looking for content with that tag as well. And as you know, the benefits of increased visibility are endless.
The problem, however, is that Instagram's algorithms are dynamic. They are constantly working to sniff out oversaturated and spam-like hashtags. As such, what you might think is a great idea for hashtags is on Instagram's blacklist.
With the Tailwind Hashtag Finder, you can easily get awesome ideas on which hashtags to use. These hashtags can be tailored to your niche such that you'll be in tune with other content creators within your topic.
The Tailwind hashtag feature will save you the trouble of making up hashtags off the top of your head "just to put something there." Users have commented on this feature being particularly useful when scheduling content.
2. Content Sharing
While the above is not the exact name for it, it provides a succinct description of the feature. With Tailwind, you can easily draft a post for yourself from someone else's upload and attribute the content to them.
This is worlds easier than having to take screenshots and such. Alongside that, the presence of this feature means you won't have to get a separate platform like Regran to help you share content with others.
3. Smart.Bio
Under normal circumstances, Instagram only gives you the chance to have one bio link. Every time you have a new page you want people to head to, you'll have to change that link yourself manually.
This seems fine, especially if it's all you're used to. However, Tailwind offers a better option.
Smart.Bio is an automatically updating feature. It helps you to guide your audience to the content you deem most important.
With a single link, you can create a landing page that comes with all of Tailwind's peculiar features as well as an innovative design to aid conversions.
Essentially, instead of having just one link that leads to only one place, you can have a link that opens portals to multiple places.
You can design your landing page however you wish. On the landing page, you'll be able to include a link to your blog post, your new e-book, make your audience join your email list, or link to whatever product you want to promote.
It's an excellent way to drive your audience to the exact spot they need to be without necessarily having to sacrifice one for the other.
Tailwind Pricing
If you choose to use Tailwind for social media, there are four distinct plans that you can choose from.
1. Free Plan 
This is plan offers you an excellent opportunity to test the waters. With it, you can determine whether you want to use Tailwind or not. While using your free trial, there is no time limit.
Hard to believe, but there's no time limit. You can schedule up to a hundred posts on Pinterest and thirty on Instagram.
Once you hit those marks, you'll have to decide if you want to pay for Tailwind or just stop using it altogether.
2. Plus Plan
This plan comes for $14.99 per month. However, if you choose to pay annually, you'll be able to save up to $60 every year as Tailwind offers a discount.
Unlike the free plan, you'll get an unlimited amount of post schedules. Additionally, you'll get basic website insights as well as profile metrics.
Also, this plan buys you a one-week history archive. The target market for the Plus Plan is those who intend to use the app for private purposes.
If you want something a bit more powerful, you can rest assured that Tailwind has you in mind as well.
3. Professional Plan
The professional plan costs $799.99 per month. This is just about the most expensive of them all. But, it returns, in value, just as much as it takes from you in cash.
It is particularly useful if you are running a big business. Instead of the seven-day archive that the Plus Plan offers, this one gives you 365 days' worth of history.
You can get up to five collaborators, and you'll be able to export your data as you wish. Also, beyond the fundamental web insights, you'll get full board reports.
Alongside that, you'll be able to measure the ROI on Pinterest. To top it all off, a subscription to the professional plan allows you to optimize your content strategy and monitor your Pinterest brand.
4. Enterprise Plan 
This is the plan with the largest capabilities. There is no specified price available online for it. As such, if you need something even bigger, you can contact the company for a quote.
You and a company representative will discuss your needs, and the cost will be drafted based on the discussion.
While the finer details of this plan are largely dependent on your conversation with the company, you'll still have a few basic things.
Among others, you'll be able to utilize influencer campaigns and industry trends for your benefit. Also, your history archive and your allowed number of collaborators, do not have a limiting cap on them.
You'll be able to contact dedicated customer support, and you can use a content discovery engine.
Tailwind Affiliate Program – A Quick Overview
Tailwind is a Software as a Service (SaaS) platform. Like many others within that line of work, it has an affiliate program.
If you aren't familiar with the term, affiliate marketing is quite common. You'll apply to become an affiliate with a company.
When they approve of your application, you'll promote their products. For every sale you make for them, you'll get a commission. As a blogger, this is an excellent way to make passive income.
It is especially good for you if the majority of your audience are Pinterest and Instagram users. The program is available globally, with no stringent entry requirements or financial investments.
The program is hosted by ShareASale. If you wish to sign up, you'll have to go through that platform.
Tailwind Commission Rates
If you do choose to become a part of their affiliate program, you'll get a 15% commission on your sales. Considering that their prices range between $9.99 and $799.99, the potential for earning a good amount of income is relatively high.
Tailwind Cookie
The cookie refers to the amount of time you have before you lose your right to claim commission on a sale. Tailwind's cookie lasts for 90 days.
This is pretty generous, especially when compared to the 24 hours of some others. To put things in perspective, if you become an affiliate and a reader on your blog clicks on your affiliate link, they have to purchase a Tailwind plan in 90 days.
Anything outside of that, and you won't be considered the reason for the purchase. As such, no commission.
Payment Method
As an affiliate marketer for Tailwind, your money accumulates until the 20th of every month. Affiliates receive their pay through cheques or bank transfers.
However, you should keep in mind that the money you receive on the 20th of each month is for the previous month's work.
Frequently Asked Questions
Now that we have gone through everything you might be curious about regarding Tailwind, let's answer a few questions.
Q1: Is the Tailwind application trustworthy?
Yes, it is. Tailwind is an official partner of Instagram and Pinterest. As such, you don't have to worry about any dangers to your account while you use it.
As a potential affiliate, too, things are quite smooth. The company has been in existence since 2011 and is quite credible. So, your affiliate marketing efforts won't be in vain.
Q2: Is there a discount for non-profit organizations? 
Yes, there is. All you need is to provide evidence that you are a non-profit organization. So, with your EIN, for example, you can get up to 50% off.
Q3: Can you use PayPal to make payments on Tailwind? 
Unfortunately, you cannot. The platform is built in such a way that only debit or credit cards are acceptable. However, if you use a PayPal business account, you can easily use your debit card to purchase a Plus/Professional plan, depending on your needs.
Q4: Will you get a refund if you cancel your plan?
While Tailwind offers free trials, it does not provide refunds for canceled plans. However, if you cancel your plan, Tailwind will honor the rest of your paid duration.
Q5: How can you save on Tailwind?
Occasionally, there are discounts here and there. But, they might not be quite as common as you'd want them to be. Nevertheless, if you are looking to save, you can join the Tailwind referral program.
This program will help you to earn credit for referring other people. If you can manage to sign up six people, you'll get $90. This amount does not expire, and it would help you with your Tailwind payment until you run out of credit.
Conclusion
In this Tailwind review, we've taken you through the definition of Tailwind, its features, and even its history. To round it all up, it's evident that the Tailwind application isn't half bad.
Whether you want to use it for your social media marketing needs or you're more interested in the world of affiliates, it should serve you well.