For as long as it has existed, affiliate marketing has been an excellent way for people to make money. The advent of the internet has made it even more rewarding.
Now, you can sit in the comfort of your home, work out a few marketing strategies, and you'll be making a reasonable amount of income.
Apart from favoring the marketers, it also favors the company. They get to advertise and market their products at relatively cheaper rates while still making a profit. In the end, everybody wins. Perhaps, that is the reason the affiliate market has grown so much.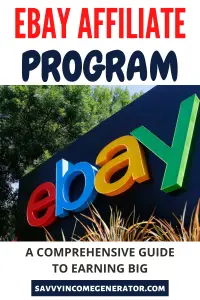 The biggest brands across several industries are doing it. Today, we'll be placing our focus on eBay. It is one of the most valuable e-commerce stores in the world and can rival the likes of Amazon and Walmart.
At the end of this article, you should have all the knowledge about the eBay affiliate program that you need.
eBay – A Brief Overview
eBay came into existence in 1995 as the brainchild of Pierre Omidyar. This was during a time when the internet was still in its earliest stages.
Since that period, it has grown so quickly that a vast majority of the world recognizes it. Its HQ is located in San Jose, USA.
Currently, there are more than a billion products that you can promote on eBay. With over 175 million people actively making purchases within 190 markets, it's safe to say that this business is a giant.
By becoming a part of their program, you'll become one of the numerous eBay affiliates who have access to these vast resources for making money.
What Is the eBay Affiliate Program All About?
While they might have been done differently in the past, many affiliate programs today are based on the internet. Companies provide marketing materials for individuals, and sometimes, organizations.
The second party advertises its products, either subtly or directly. In the end, whenever someone buys from the second party, the company rewards them.
The compensation often comes in the form of a percentage of the amount they made the company in product sales.
The eBay affiliate program is exactly like that. Alternatively, people refer to it as eBay Partner Network.
There are two major requirements to join the network, with one being more important than the other – an eBay account and a blog/website.
The former is useful for applying to EPN. The latter, on the other hand, is what you'll use to promote eBay's products.
Of the two, the website is of lesser importance, and here's why. If you don't have one, eBay allows you to promote on social media that permit affiliate links.
However, it is very advisable to get a personal website to use for the promotion of eBay products.
After all, you never know when these social media owners might change their policy and reject affiliate links outright.
Who Handles the eBay Affiliate Marketing Program?
For quite a while, eBay hosted its own affiliate program. But, since 2019, Impact has taken over that role.
Despite that, however, to properly inform affiliates of any and everything necessary, the company packed its landing page chock full of useful information. They constantly update their data.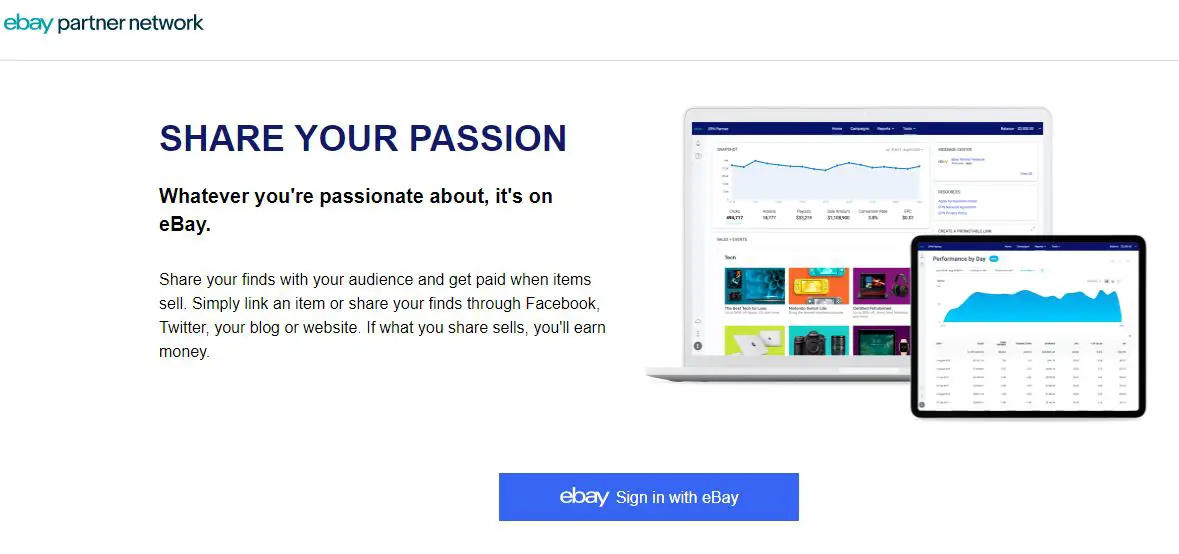 However, on the off chance that one of their numerous affiliate pages aren't up to date, the network agreement is your go-to for clarity/certainty.
What Features are Peculiar to the eBay Affiliate Marketing Program?
1. The store uses an auction method of selling
This can take upwards of seven days before completion. Combined with the mere 24-hour referral window, pulling traffic into auctions isn't the best idea. However, you can draw people into the products that read "buy it now."
2. The Smart Placement tool
This is one of the most important tools on the platform. It provides you with a means of displaying unique banners that can identify your audience.
Afterward, it'll display those products that they once looked at on eBay but never bought. That way, they're more likely to click on it and make a purchase.
3. eBay affiliate API
In case you are new to the term, it is an Application Programming Interface that allows for direct interaction with eBay's database.
Among other things, you can use it to make programs that help you to see eBay listings as well as submit items you want to be listed.
Takeaway
Keep in mind that all of these details are largely similar across every part of the world where eBay supports affiliates.
For example, you might be a part of the eBay Canada affiliate program. In that case, the restriction in referral window down there applies to you just like it does to those in America.
If, however, at any point in time, you encounter difficulties, you can always contact the customer support. A great way to do so is by calling the eBay partner network phone number.
What Are the Requirements for Joining the eBay Affiliate Program?
Before we discuss how to become an eBay affiliate and start making money, you need to understand the requirements necessary.
While the eBay affiliate program is not nearly as strict as many others, they still have some conditions you need to meet before you can sign up.
You can join the eBay Partner Network if you:
Have reached or are above the age of 18.
Have a personal or business website or social media account where you can post a link.
Have the means to accept payment (PayPal or a bank account).
Comply with the EPN's Network Agreement.
Have an online platform that doesn't display adult, restricted, or illegal content.
NOTE:
It is not compulsory to have a website or blog. You only need a platform where you can share your link.
If you do have a website or blog, you don't need a certain amount of traffic. Newbies are welcome.
How to Join the eBay Affiliate Program
Joining the eBay affiliate program will only take you a few minutes.
First, open an eBay account if you don't already have one. If you don't, go to eBay, and click "register" to open one.
Choose whether you want a personal or business account and set it up.
Next, scroll down to the end of the webpage and click on "Affiliates." On the next page, click "Sign Up Now."
When the form comes up, fill in all the information needed and accept the EPN Network Agreement. Once that's done, you have to wait for your application's approval.
Next, you have to log in. On the Welcome page, that'll appear next, click "Account."
A drop-down menu will appear. Click on the options that'll appear to start filling in all your details.
You'll need to input your address, payment information, and tax information. You'll need your social security number or employee ID number for the tax part.
And that's it. You're now an eBay affiliate!
How Does eBay Pay its Affiliates?
The eBay partner network commission rates differ based on category. They often range from 50%-70%.
If you are really looking to make the most amount of money that you can, you can go for product categories like "fashion" or "parts and accessories." These are often the categories with the highest offers.
As popular as eBay is, some people have never made a purchase on the platform. Others have stayed away from it for more than a year. If you can refer someone like that, you'll get a 100% bonus.
As soon as your money accumulates to about $10 on the eBay affiliate program, you can make a withdrawal.
What are the Benefits and Drawbacks of the eBay Affiliate Program?
Just as it has its good side, this program has its bad sides as well. Here, we will be taking a good look at both.
Benefits
1. It has an excellent landing page. The eBay affiliate website generally provides a significant amount of information. This is useful if you are a newbie or even a veteran in affiliate marketing.
2. They have a special "invite-only" program for affiliates who pull in a lot of traffic. This program allows for customized promotions, quick resolutions to issues, etc.
3. You don't have to wait too long to get paid. With as low as ten units of your country's local currency, you can withdraw your earnings.
4. The eBay affiliate link generator helps you to create deep links to specific pages. This is a lot more useful than the regular links to home pages because it gives you options to work with.
5. It is a very popular company. The company has a lot of brand awareness, which gives you a strategic advantage. People will not look at your adverts questionably because, as long as it carries eBay's branding, they know they can trust the product.
This encourages more clicks, and consequently, more sales for you.
Drawbacks
1. The 24-hour referral period is significantly tedious to work with. This is largely so because of the auction system of selling that eBay uses. Most people often delay until the last day of an auction to make a decision.
Even then, they don't always win the auction. As such, the chances of making a profit aren't very high.
2. There is a relatively limited range of access. eBay is available in a lot of Asian as well as Latin regions. Despite that, the eBay affiliate program doesn't allow you to access those markets.
eBay vs. Amazon Affiliate Program
More often than not, people want to know which is better among the two programs. The truth is that they are both huge brands, and they have advantages over each other.
For example, even though Amazon has the same 24-hour cookie as eBay, it comes with a twist. If a visitor on your site adds an Amazon product to their shopping cart, the referral period extends to a whopping 90 days.
This is quite a pretty nice perk. However, eBay has higher commission rates than Amazon.
As such, if we were to give our advice, we would say why not just go for both? There really is no law that prohibits you from being an eBay partner as well as an Amazon associate.
As a matter of fact, you could even join the Shopify affiliate program too. Simply try them out and figure out which one works best for you.
How Do You Make the Most of the eBay Affiliate Marketing Program?
We've already established that the 24-hour cookie combined with the auction method is a major drawback. However, it doesn't mean that things are completely bleak. You can still earn a reasonable amount of money.
1. Ensure that you produce only high-quality content.
Long-forms that give a detailed explanation on various topics relating to an eBay product would be in order. A suggestion on our part is a buying guide. You could cover about ten products within the same niche in your guide.
In the end, link to those products so that interested people can buy. Just ensure that you aren't putting too much effort into selling. It can make people suspicious and leave without converting.
2. You can employ email marketing
With a bit of mental effort, you can grow your email list. Ensure that they are people who are actually interested in your niche. That way, they're not too likely to ignore you. Simply ask for their emails nicely.
When you have a good number, occasionally nudge them in the direction of a purchase.
3. Use social media
Now, it might not be the best idea to use social media to promote affiliate links. However, you can use social media to drive traffic to your website.
If you already have excellent content on your site, the chances are that you'll make a relatively significant number of conversions.
Conclusion
eBay affiliate marketing program is good for making some extra cash. It does have its drawbacks, but you can always complement with higher traffic and/or more affiliate programs.