There's very little that can compare to the joy of exploring new and beautiful surroundings. We're sure lots of people agree, considering the fact that the global leisure travel expenditure for 2019 was well over $4.7 billion.
This huge interest in travel is one reason why travel-related content and advice is always extremely sought after.
Some people say the travel blogging/vlogging industry is saturated. Those people would be right, but as long as there's a demand for it, people will supply.
There are various ways to make money off of travel blogging, and affiliate marketing is one of them.
But, there are as many travel affiliate programs as there are destinations, and choosing one can be a pain, especially if this is your first affiliate program.
So, we've gathered eight of the most profitable travel affiliate programs available. These programs offer high commissions while also providing excellent services to your audience. It's a win-win-win! Let's take a look.
The Best Travel Affiliate Programs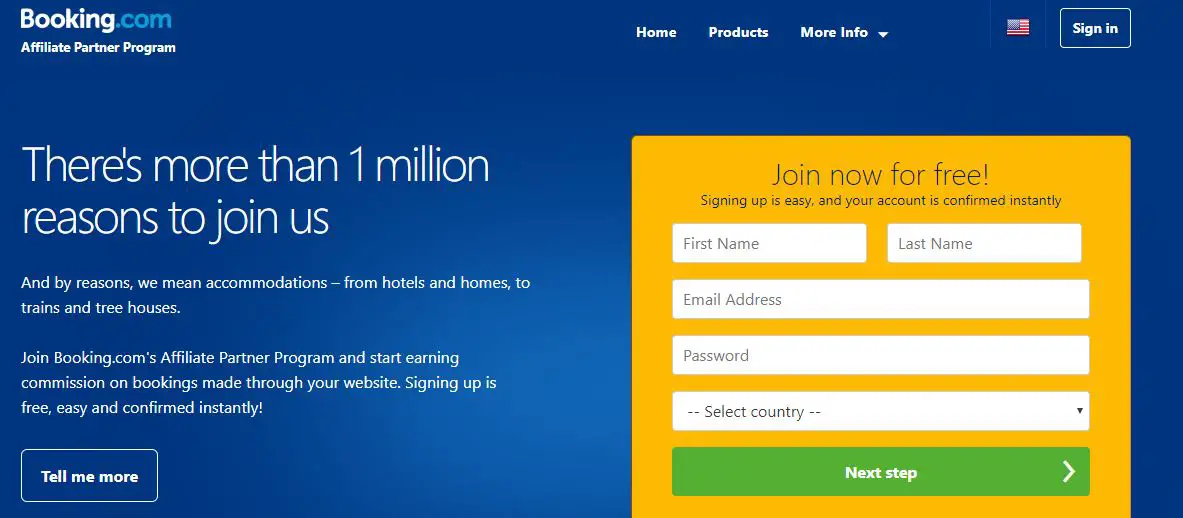 Booking.com is a popular website for booking travel accommodations. They have over 1.5 million properties available for rent, and millions of people use their services to book accommodations every day.
They're a trusted brand, so they convert very well, which is fantastic news for you. They also offer integrated marketing materials, which are made to be able to blend with your website seamlessly.
Booking.com offers a scale of commissions. Basically, the more bookings you send their way, the higher your commission. As a new affiliate member, however, your commission is 25%.
After your first fifty sales, it increases to 30%. At 151 bookings, your commission will be 35%, and after 500 bookings, it'll be maxed out at 40%.
Keep in mind that you only get commissions for stayed bookings. If the person defaults, you're out of luck. Booking.com has a thirty-day cookie, which is a pretty decent amount of time.
You can get paid through direct transfer in USD, Euros, or GBP. Or you can be paid through PayPal in Euros. The minimum payout is €100.
TripAdvisor is another website that's familiar to many travelers. However, not many know that it has a travel affiliate program where members can earn 50% in commissions from hotel bookings.
TripAdvisor also claims to pay affiliates even if the accommodation clicked on isn't booked.
In addition, they have a 14-day referral window. If a client that didn't book anything leaves the site, a tracking cookie is placed, and if they come back to book within two weeks, you'll still earn your commission.
You can deep-link to any of TripAdvisor's millions of accommodations, and payments are made monthly.
If you've ever checked out flight prices before going on a vacation (you probably have), you may have come across Skyscanner. You can compare flight prices and take advantage of discounts.
Skyscanner offers affiliate members a 50% commission on all the services it provides. They have an app, and you can get a dollar for convincing someone to download it.
It's easy for you to sign up for this affiliate program, but you might not be accepted if your means of promotion doesn't meet their standards.
Agoda specializes in holiday accommodation. They have over two million accommodation spots, including hotels, resorts, hostels, and private homes. It's effortless to sign up, log in, and track your earnings. Commissions are earned in tiers.
Beginners earn 4% in commissions, up to their fiftieth booking, then they make 4.5%. At their hundredth booking, their commission is raised to 5%, at 200 bookings, they get 6%.
And finally, after a thousand bookings, affiliates earn 7% in commissions. There's also a great support system in place.
The only downside to this travel affiliate program is that its minimum payout is $200.
This affiliate program might earn you a lot more than others simply because commissions aren't earned the usual way. Wego offers flight and hotel bookings, but you don't get paid per booking.
Wego operates one of a few pay-per-click travel affiliate programs. You get paid when a visitor clicks your link to Wego and then clicks another link leading to one of Wego's partner websites.
Depending on the link clicked and the agreement between Wego and that partner, you'll get a small amount. You can withdraw your money through PayPal or bank transfer. The minimum payout for PayPal is $100, and the transfer is $500.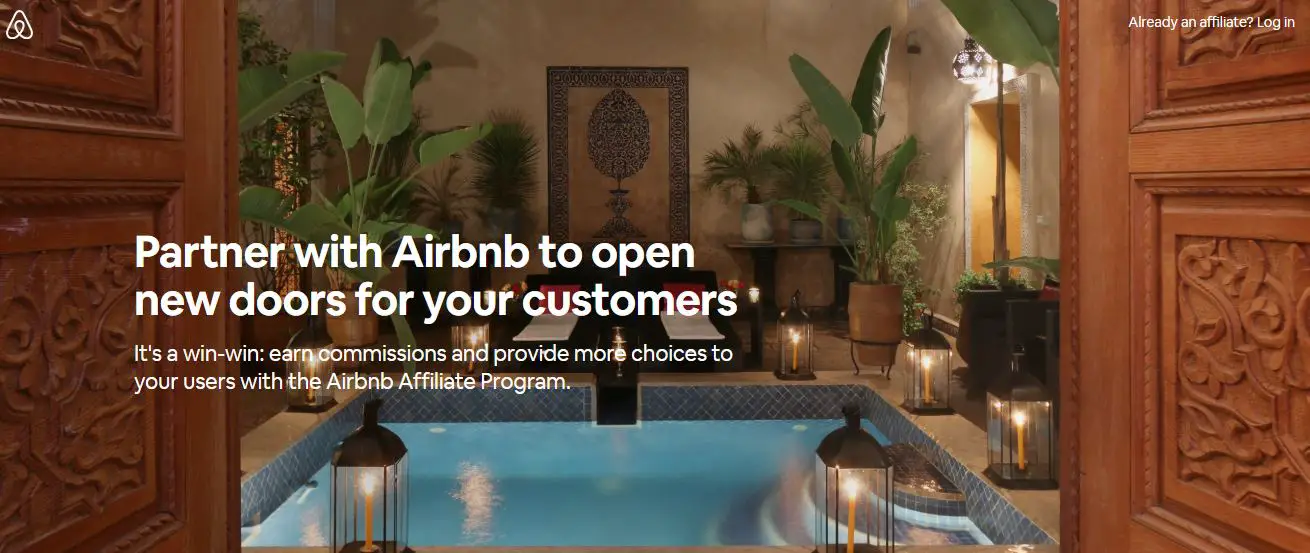 Airbnb is one of the most popular accommodation sites. It has millions of homes up for rent and a steady supply of travelers ready to pay. It also has a travel affiliate program that's pretty well-rounded.
There are two types of affiliate programs with Airbnb. There's the Guest affiliate program, where you receive commissions for promoting various Airbnb listings.
Then, there's the Host program, which is directed at helping property owners earn extra money by renting their homes out as vacation accommodations. You can earn up to $72 on one referral.
However, Airbnb is a bit stricter about who they let promote them. One daunting condition is that you have to have at least a million visits to your website every month. This is impossible for new promoters, but you might get lucky and find such a travel affiliate website for sale.
Kayak offers search options for hotels, and car rental flights. They're also one of the few websites on this list to provide a white label travel affiliate program. These options make it easier for marketing materials prepared by Kayak to blend into your regular blog/website.
If you choose the white label option, you can customize the marketing materials sent to you to suit your website's theme.
There's a dedicated support system prepared to help at any time, and you still get a 50% commission on any hotel bookings made through your affiliate links.
However, Kayak's cookies only last 30 minutes. If someone clicks your link and doesn't book a flight or hotel room within a half-hour, then you don't get a commission on that transaction.
Our last website can be described as a luxury affiliate program. Cruise Direct allows visitors to take their pick of many enjoyable voyages. If your niche is cruises, then this program is one of the best available. It offers a 3% commission.
If you think that's small, remember that the average price is $1000 for one person, and nobody does cruises alone.
Plus, you also get a 45-day cookie duration, which is great because forking out that much money is not a decision that can be made quickly.
And that's it! These are the top eight travel affiliate programs of 2020. But, competition in the travel industry is fierce, so here are a few pointers to make the most out of any travel affiliate program you choose.
Tips to Promote Travel Affiliate Programs
1. Narrow your niche
The list above provides travel affiliate programs for every niche, and it may be tempting to sign up for all of them. But travel is a broad topic, and there's so much to say. Define your niche strictly. This will help you focus on making the most out of the affiliate programs that fit within it.
2. Create quality
You need to create content that's informative and helpful to your readers.
3. Use deep links and add them in context
Creatively add your links, and don't be afraid to use deep links if you feel your audience will appreciate the product linked.
Conclusion
Can you make a lot of money off travel affiliate programs? Yes, you can. With the right strategy to make your content stand out from the crowd, you can earn thousands of dollars every month with these programs. So, what are you waiting for?