The travel and hotel industry has grown in leaps over the years, thanks to the internet. The internet has made it so easy for people to see what's out there, and then conveniently explore them.
Even more, the internet has allowed businesses to satisfy these needs for exploration.
One of such companies maximizing the internet to enable people to conveniently explore the world is Booking.com. Like other major players in its industry, Booking.com has an affiliate program that it uses to promote its brand.
In this article, we'll be explaining all there's to know about the Booking.com affiliate program.
Just before that, here's a brief rundown on affiliate marketing and Booking.com.
Getting to Know Booking.com
Booking.com was established in 1996 in the Netherlands as part of Bookings Holdings Inc. It had a mission to ease the task of exploring the world by providing quick access to bookings of accommodation and flight, among others.
And since then, it has expanded rapidly to over 198 offices spread across more than 70 countries of the world. Today, Booking.com has over 28 million listings on its sites, making it among the top 3 providers in the travel and accommodation services industry.
Booking.com Affiliate Program
This program is specially designed for publishers within the traveling niche to partner with Booking.com.
As long as you're interested in the traveling niche, you can easily join, promote Booking.com's products, and make an additional income exploring your interest. Usually, an application to become a member takes 24 hours to get processed.
The Booking.com affiliate program provides thousands of properties to its marketers all around the world. Then, it allows them to promote it using various traffic types. The traffic types allowed include:
Contextual advertising
Pop-Up
Native advertising
Toolbar
YouTube Traffic
Motivated traffic
On the other hand, those forbidden include:
Doorways
Adult-traffic
Type-in
Promotional codes.
What Products Can You Market?
Booking.com practically offers almost all there is in the travel industry. However, here are its primary products/services depending on how you look at it:
Accommodations
Rentals
Vacation
Hotels
Flights
Car rentals
Airport transportation.
Also, Booking.com allows users to group all their needs and book in one package. So, they don't have to stress about multiple bookings and scheduling.
Tools Available to Ease Your Marketing
Although the Booking.com affiliate program API is not accessible to marketers, Booking.com still offers specific tools to make marketing easier. Here's a list.
Link generator: This allows you to create affiliate links to various pages on Booking.com, specific places, cities, and properties, among others. Your site visitors can then click on them and get redirected to where they need to be to make their purchase.
Map widget: This is a cool tool that allows viewers to find accommodation in target areas. They simply need to click a place on the map, then available accommodations in the area pop up.
Banners: You also get access to a banner that you can use on different parts of your site. It's also customizable, and you get access to various designs, shapes, and languages.
Search box: This allows your viewers to enter their intended destination and date. And then get redirected to Booking.com, where they can see a list of properties that meets their needs.
Inspiring search box: This tool goes the extra mile and inspires your viewers to make a pick by showing them images of their proposed destination.
Deals finder: This tool allows your viewers to get the best deals by showing them discounted properties.
WordPress plugins: This is especially useful if your site uses WordPress. Booking.com provides plugins that enable you to easily add any of the tools above to your post and pages.
Tracking interface: This allows you to access your page views, visitor clicks, bookings, and completed transactions. As such, you can know how well you're performing.
Booking.com Commission Structure
Booking.com has a commission structure based on the total number of bookings you're able to generate monthly. This commission then ranges between 25% – 40% depending on your total number of monthly bookings.
Here's the breakdown.
| | |
| --- | --- |
| Total number of bookings per month | Commission Rates |
| 0 – 50 | 25% |
| 51 -150 | 30% |
| 151 – 500 | 35% |
| Over 500 | 40% |
However, you should note that Booking.com pays you from its commission and not from the total price paid by a visitor. For instance, if a visitor paid $150 for a property that Booking.com gets a 20% commission of.
And your monthly bookings fall between 51 and 150. You get 30% of Booking.com's $30, that is, you get $9.
Also, to get the commission, the visitor must have booked and stayed in the accommodation. Usually, this may take a while, especially if the user had booked far in advance of their trip.
Unfortunately, the Booking.com affiliate program does not employ the use of cookies to track your affiliate links. As such, if a visitor leaves the page before they complete their booking.
And starts again on the same or another browser, you don't get any commission for the subsequent booking.
To get a commission, you need your Affiliate ID to be present in every session.
Booking.com Affiliate Payment Options
This program offers two modes of payment.
1. Direct transfer
Booking.com transfers your accumulated commission directly into your account. However, to get paid in the US Dollars, you need to have sent a request to Booking.com.
2. PayPal transfer
Booking.com doesn't process payment via this method in US Dollars. However, you can easily withdraw the money from your PayPal account in US Dollars, subject to PayPal's exchange rate.
Also, you must have accumulated a minimum of $110 to get paid. You also have to endure a long financial cycle as the Booking.com affiliate program maintains a two-month pay cycle.
So, you have to wait two months before you get paid for the referrals within those two months.
However, if you're then unable to meet the minimum payment requirement, it rolls over till the next month when you reach it. To know more about Booking.com's financial cycle, click here.
How do You Join the Program?
To join the Booking.com affiliate program, follow the steps below:
Step 1
You need to have a website or blog with a focus on the travel niche. You might also need to ensure there's some form of traffic on the site already.
If you don't have a website, you can build one yourself or purchase a domain name and hosting and hire a professional to build a travel site for you.
Step 2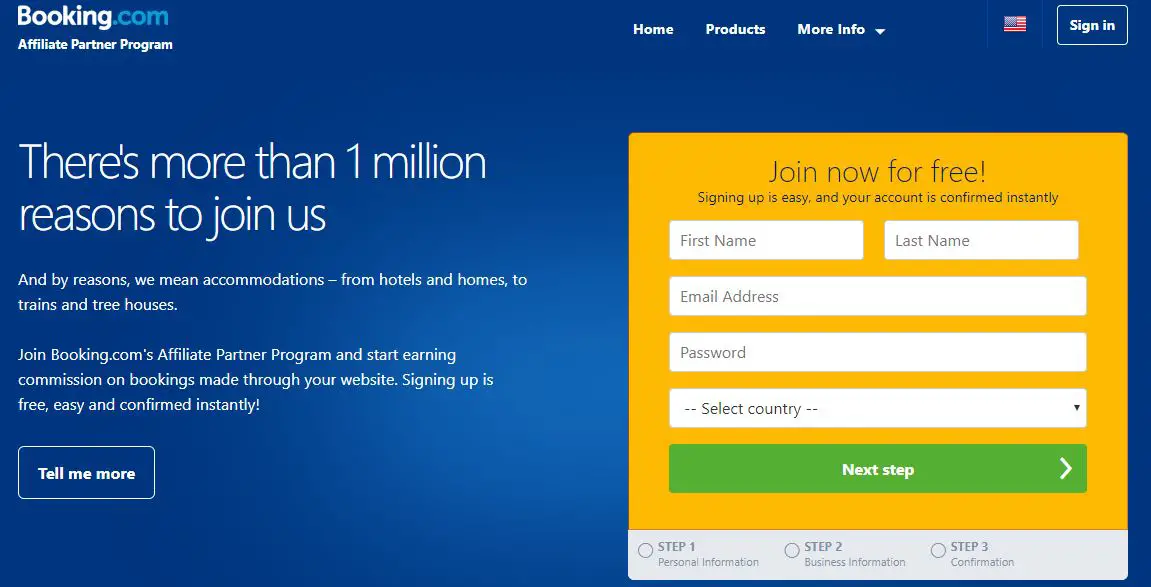 Visit the Booking.com affiliate partner program and complete the three-step registration process.
Step 3
Get your referral tracking ID and tools, then apply them to your site.  You can now begin to post content on your website using deep links and start to earn a commission.
How Best to Maximize the Booking.com Affiliate Program?
Earning a 25% – 40% commission might appear bleak when you consider the fact that you're getting paid out of Booking.com's commission.
Regardless, you can still make the most of the Booking.com affiliate program when you're able to achieve tons of referrals. Here are a few tricks to get your site visitors interested.
1. Provide top-notch content
Providing top-notch content is necessary to succeed in the Booking.com affiliate program. It helps keep your audience glued and interested in the product.
Make a thorough research on the topic and try as much as possible to write clearly and cover the field.
Write on best places to stay, hotel reviews, guides for popular events and festivals, and city itineraries, among others.
2. Promote choice destination
So, you don't keep writing without results, ensure you're promoting the top destinations. For instance, you might not get lots of people going to Alaska as you would get going to Los Angeles.
Then, better to promote properties in Los Angeles than those in Alaska.
3. Apply SEO
With over 1.5 million rooms reserved daily and more than 12,000 marketing affiliates, the Booking.com affiliate program is already saturated. To make the most of the program, you need to stand out.
So, ensure you optimize your keywords to reflect what people want to know about. You should also consider writing on less competitive keywords, although those with substantial search volume.
This will ensure your article is not competing for attention with a thousand other similar materials.
Also, make use of meta descriptions, metatags, and headers to make your page more attractive.
4. Email marketing
This is a great way to invite people to your page or directly promote Booking.com. Start by building a comprehensive email list. Ask nicely and always explain what they tend to gain from your emails.
Then, pitch relevant information on deals, discounts, and announcements consistently.
You can use an autoresponder to schedule the mail, so you don't just ghost on your reader. Also, always remain cautious, so you don't get categorized as a pesky ad.
5. Team up with other affiliate programs
You should also consider pairing up with some other affiliate sites in the travel niche. For instance, a user on a road trip might need some gear.
You can easily register with the eBay affiliate program or Amazon affiliate program and then suggest travel gears. You've just hit two targets with one post.
Booking.com Affiliate Program vs. The Alternatives
Other than Booking.com, loads of other booking sites run travel affiliate programs. They include:
Wondering how well Booking.com fares compared to them? Here's a thing or two about these others:
1. Agoda affiliate program
Owned by Agoda, a fast-growing travel booking platform, the program is one of the most popular alternatives. After joining, you can get a commission between 4% to 7% depending on the number of bookings completed.
They also offer gift cards as rewards for departed bookings.
However, it has a higher minimum pay-out requirement compared to the Booking.com affiliate program. Also, it does not retain cookies, meaning a new search conducted by the user will not benefit you.
2. Expedia affiliate program
Owned by Expedia, which also had a stake in the Trivago affiliate program, this program is another top alternative. It is currently being run in partnership with the CJ Affiliate network and offers a 7-day referral window.
Its commission ranges between 2% and 6% depending on the item you promoted.
Your earnings are then calculated per hundred clicks every seven to thirty days, with the former earning $51.11 and the latter $39.48. However, you only get paid after a confirmation that the user stayed there.
3. Skyscanner affiliate program
This program, which also operates in conjunction with the CJ Affiliate network, is located in over 45 countries, making it a good alternative. It offers 50% of its commission for each booking made through you.
You also receive a reward for every visitor that installs the Skyscanner app on their device because of you.
It then runs a 30-day cookie, meaning you get rewarded as long as the guest makes the booking within 30-days from when they opened your affiliate link.
4. TripAdvisor affiliate program
This program compensates you with a minimum of 50% of every commission received by TripAdvisor. You also get paid regardless of whether your readers book.
It then comes with a 14-day referral window. So, irrespective of a change of device or channel, you get the commission for the booking.
Also, unlike the others, TripAdvisor isn't a booking site.
It merely finds the best deals from other booking sites and directs guests there. You can check out the full  TripAdvisor affiliate program review for more information.
Pros and Cons of the Booking.com Affiliate Program
Pros
Very easy to join
Wide range of options
Fair commission with the added advantage of a possible increase in commission
Guarantees customer support
Multiple payment options.
Cons
High minimum payment requirement
No cookie tracking
Lengthy financial cycle.
In conclusion
The Booking.com affiliate program is among your best options if you're looking for an affiliate program in the travel niche. Regardless, you still need to do a lot of work if you intend to earn reasonably.