If you work or have worked in design, there's a good chance you know what Canvas is. But for those who don't, Canva is a design app that allows users to create graphics, presentations, and logos for social media and web pages.
It has a library of various images and many filters, fonts, and layouts. It also has features for video editing.
Canva is known for its easy-to-use software, which creates a way for everyone to create a design they like. Canva only recently evolved into a unicorn, and now offers the Canva affiliate program to share that new wealth with us.
But, is the Canva affiliate program worth joining? Are Canva's products worth promoting?
We'll answer all of that and more below.
Canva's Products and Pricing
Canva does offer a free version, which is what most people use. However, there are other paid versions with way more benefits, features, and freedoms.
The next plan is Canva Pro, which has over sixty thousand templates and loads of other features to choose from. It costs $9.95 per month and is billed yearly.
For larger teams, Canva has the Enterprise plan, which costs $30 per month and is also billed yearly. However, the Canva Enterprise plan is created for large groups of people, so you can't really promote it to the average individual.
How to Join the Canva Affiliate Program
The Canva affiliate program is run by Impact Radius, a platform for affiliate marketing. This means that before you sign up for the Canva affiliate program, you'll need to create an account with Impact Radius.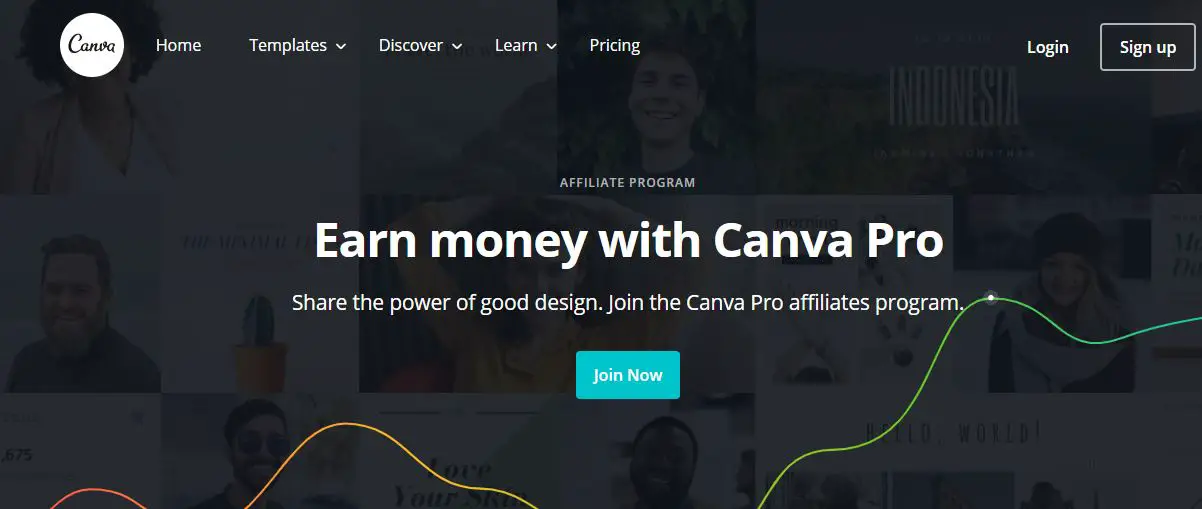 After doing that, you can search for the Canva affiliate program and then sign up.
Alternatively, you can start the registration process by going directly to the Canva affiliates home page and click the "join now" button. This will take you to the page where you need to fill out the application form.
However, Canva doesn't accept just anyone. You need to have fulfilled certain criteria before you can become a Canva affiliate member.
To join the Canva affiliate program, you need to be:
A design influencer and be active in the design community. In other words, you need to have a presence in design.
Someone who educates people about design. A person who has a good following of students learning design.
Lots of traffic. If you have more than a million visits each month and your website is about anything related to design.
If you fulfill any one of the above criteria, you can get into the Canva affiliate program. Fortunately, there's a way you can avoid filling out Canva affiliates lengthy application form and also get approval for the program without having the above-mentioned requirements.
This is by joining the Viglink affiliate network. You will most likely get an automatic approval to join the Canva affiliate program and be able to create a Canva pro affiliate link once you have a Viglink account.
Once your audience members start subscribing to Canva Pro via your link, you'll start getting paid. Speaking of getting paid, let's take a look at exactly how much Canva pays.
Canva Affiliate Program Commissions
Canva's commission rates are extremely good for a new affiliate program. They pay per lead and per sale, but you only get paid if your audience buys Canva Pro.
They offer a 100% commission on monthly subscriptions. That's 12.95 if an individual decides to pay monthly.
You will earn a 25% commission from Canva affiliate if the user decides to pay annually, which is around $35. There's also $6.50 for each new customer trial.
All this information can get a little confusing, so here's what you'll be making whenever a member of your audience signs up for Canva Pro.
With the Canva affiliate program, you'll earn an unchanging commission of $6.50 just for the client signing up. If the user decides to pay monthly, you'll get $12.95. If they decide to pay yearly, you'll get 25% of their bill, which is just over $35.
So, your earnings can look like this:
$6.50 + $12.95 = $19.45
$6.50 + $29.85 = $36.35
These commission rates are way better than other programs like the Later affiliate program.
The Canva affiliate program also offers a 30-day cookie. This gives your audience member a fair bit of time in case they've clicked the link to subscribe but couldn't.
Canva pays pretty regularly, and their payment threshold is lower than average at $50. You can be paid through wire transfer or PayPal.
Promotion and Support
The Canva affiliate program has lots of promotion materials like banners in different sizes and video advertisements. Impact Radius hosts the affiliate site, so it's intuitive and responsive.
Once you sign up, you'll be able to monitor your progress and earnings through your dashboard.
There's also an affiliate marketing management team that can be contacted through Impact Radius. If you have a question about anything related to the Canva affiliate program, the support team is ready to help you.
How Can You Promote Canva?
Canva is a pretty well-known app, and it has very high ratings on both Playstore and the App Store. But, to earn as much as you can from this program, you might have to focus your content in a different direction. Here are a few tips:
How-to's: How-to articles and content are a great way to educate and promote at the same time.
Reviews and comparisons: You can review some of Canva's features and compare them with others.
Using it: Edit your pictures and videos with Canva, and post on social media. This works best if you're an influencer.
Pros and Cons of the Canva Affiliate Program
Let's put it all into perspective by looking at Canva's pros and cons.
Pros
Good commissions.
Payment threshold is low.
Support is available.
Promotion tools are available.
Cookie duration is 30 days.
Well-known brand with high ratings.
Cons
No deep linking.
The free plan is good enough for most people.
Insufficient information on the affiliate page.
Alternatives?
Several affiliate programs can serve as alternatives to Canva. The Wix affiliate program and Adobe affiliate programs target the same market as Canva, but their commissions are much more generous.
There are also programs to promote sites that educate you on design. These sites offer affiliate programs as well. Two of the best are the Fiverr affiliate program and the Teachable affiliate program.
Conclusion – Should You Promote Canva?
Canva is still a relatively new design software, and there is a chance that its kinks will be straightened. For now, the Canva affiliate program can earn you steady cash, to the tune of a few hundred dollars a month.
However, don't give up your other affiliate programs just yet because you probably won't earn enough for a decent living.