Today, I will be doing a review of the AliExpress affiliate program.
I'll discuss the program's structure, affiliate commission rates, and how to make money as an Aliexpress affiliate.
Before we dive in, let's take a quick look at what Aliexpress is all about.
About AliExpress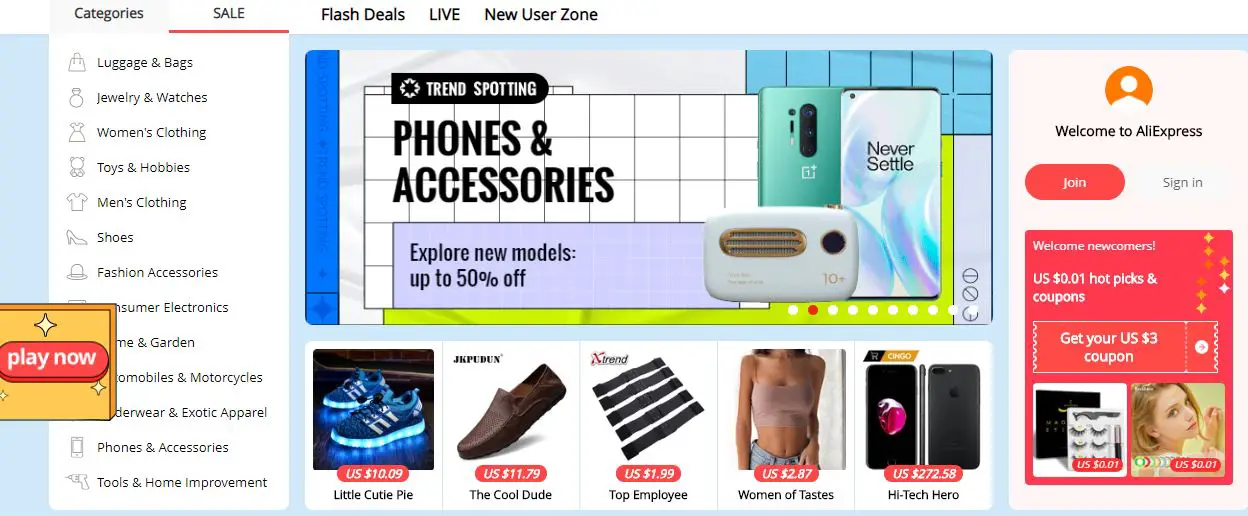 Affiliate programs are essentially partnerships between a business and a person/group of persons. If you are going to be entering that partnership with AliExpress, you should know a few basic things about them.
Here are seven quick facts about the world-renowned e-commerce company:
It came into existence as the brainchild of the Alibaba Group in the year 2010.
Its headquarters is located at Hangzhou in China.
There are currently more than two hundred thousand (200,000) suppliers, manufacturers, and sellers using the platform.
It has upwards of a hundred million products for sale.
The e-commerce platform is available in about 230 regions and countries.
The e-commerce platform is multilingual, supporting up to eighteen different languages, including German, English, French, Spanish, etc.
AliExpress Affiliate Program – A Detailed Overview
Like every other of its kind, the AliExpress affiliate program thrives on individuals and groups of individuals marketing its products for them.
With over one hundred million goods up for sale, all you have to do is sign up and begin promoting whatever products are within your niche.
When you do, you will get a commission for every sale you make successfully. It really is as simple as that.
With the basics being well understood already, let us look at a few more details about the program.
Host
For many other companies offering affiliate programs, the entire process is handled by a third party. As such, you would have to sign up with them to become an affiliate.
Some of the biggest names in that area include Impact, TradeDoubler, CJ Affiliates, etc. AliExpress has a few offers on the CJ Affiliates platform. However, a vast majority of its affiliate program is self-hosted on its portal.
Referral Period
The referral period, also known as the cookie duration, for AliExpress is three days. It refers to the amount of time you have to earn a commission from sales.
That is, for you to earn a commission, a buyer must purchase a product with your affiliate link within the first three days of clicking it. This "period of grace" is relatively low compared to the industry standard of thirty days.
However, some companies offer a mere 24-hours. So, AliExpress' isn't the worst.
Special Features
Three major characteristics are peculiar to the AliExpress affiliate program, some more than others.
They are:
1. Deep linking
After getting your AliExpress affiliate login details, the platform goes a step further from the regular affiliate linking process. It allows you to create links to very specific products on the AliExpress affiliate store. 
Apart from that, you also have the opportunity to link to pages that contain special deals. If you want, you can link to search results as well.
To put this in context, let us assume your niche is computers. With deep linking, you can:
Link to an HP Pavilion laptop,
Link to pages that offer special deals/discounts on HP Pavilion laptops, and
Link to a search result page that contains different models of the HP Pavilion laptop series.
Especially when you specify what you are linking to, your web audience would truly appreciate you for this. It saves them the trouble of having to sort through myriads of products by themselves in search of what they want.
2. Tracking IDs
This is another special feature that you have access to on the AliExpress affiliate platform. It allows you to track all your links with tracing IDs.
This can be particularly useful if you are promoting several products across multiple pages online. Additionally, it provides basic insights such as which links are doing better than their counterparts. That way, you will be able to see which products your readers are buying more.
Afterward, you can then work on improving those campaigns to make the most amount of profit.
3. AliExpress affiliate plugin
The platform provides a particularly useful tool known as "AliPlugin." The entirety of its duty is to ensure that you can create affiliate links with more speed and ease.
Apart from that, if you want to dropship, you can use the plugin to import products to your store from AliExpress. It is not free as it requires a one-time payment of $69.
Aliexpress Affiliate Program Commission Rates
The commissions you can make from affiliate marketing with AliExpress lies between 3% and 9%. For sales promotions, special events, and hot-selling products, your earning capacity can increase to about 90%.
Additionally, when you bring in a first-time buyer, you will earn a conversion fee of around $4 per convert. Below is a table containing a detailed list of the commission rates:
| | |
| --- | --- |
| Category | Commission Rate |
| Special Category | Up to 90% |
| Men's Clothing | 9% |
| Women's Clothing | 9% |
| Children's Clothing | 9% |
| Interior Accessories | 9% |
| Garden Supplies | 9% |
| Mobile Phone Accessories | 9% |
| External Storage | 3% |
| Internal Storage | 3% |
| Laptop Netbooks | 3% |
| Home Audio | 3% |
| Desktop | 3% |
| Tablets | 3% |
| Computer Peripherals | 3% |
| Mobile Phone | 3% |
| Others | 7% |
How to Start Affiliate Marketing on AliExpress
The process of becoming an AliExpress affiliate marketer is actually quite simple. Simply head over to their portal. You will be required to fill a quick registration form. Afterward, you'll submit and wait to get approved.
According to AliExpress, approval should not take more than ten business days.
Rules, Regulations, and Requirements of the AliExpress Affiliate Program
Indeed, the AliExpress affiliate program is free for all. 
In spite of that, there are still a few things that you should keep in mind if you would like to join.
1. You need a blog/website or an online presence of some sort to promote AliExpress products. This is a basic requirement for every online affiliate marketing program. While social media is quite alright, it is always a better idea to get a personal website.
2. You can promote AliExpress products with a content website, with a web review, or with Search Engine Marketing. If you wish to use any other promotional method, you would need approval from AliExpress.
3. Your content and web reviews should be tailored to small-scale business people who want to buy small wholesale lots or Minimum Order Quantities (MOQs).
4. You cannot use SEM for keywords that are trademarked by AliExpress.
5. You can only get a commission for completed transactions on products that are in stock.
6. You cannot earn a commission for redeemed coupons.
7. You are limited to one coupon or discount per transaction.
What are the Benefits and Drawbacks of the Program?
Just like every other of its kind, the AliExpress affiliate program has its good and not-so-good sides. Sit back as we observe both of them.
Benefits
The commissions are fair enough. 3%-9% is not the highest in the industry, but it is still relatively significant. When you combine it with the 70%+ commission of special sales and the commission for new buyers, it is quite alright.
The withdrawal threshold is not too high. As soon as you make up to $16, you have the liberty to take out your commission. However, you must do so before or on the 20th day of every month.
You can create tracking IDs. As we stated earlier, this is useful for promoting on several platforms and getting insights for all of them.
You can deep link. This enables you to be a lot more specific instead of just sending your traffic to product home pages.
There are several dynamic banners and adverts you can choose from. These help to increase the attractiveness of the ad. As such, people might be more inclined to click and eventually make a purchase.
AliExpress has a lot of brand awareness. With that much popularity, people won't shy away at the sight of their banners out of the fear of getting scammed.
Drawbacks
The referral period is quite low. Indeed, it is better than the 24 hours offered by the Amazon affiliate program and the eBay affiliate program as well. However, it is still significantly lower than the industry standard of thirty days.
Regardless of the commission rates, you cannot earn more than $50 on a sale.
Instead of a manager dedicated to affiliate matters, you simply get the regular customer care representatives.
The portal is not very well-organized. This part is evident in their manner of providing updates. Rather than doing it holistically, they update terms, guidelines, and pages separately.
The landing page does not provide enough information. Besides the basic details like the commission rates, you need to get everything else from within the portal.
Final Words on the AliExpress Affiliate Program
If you can cope with the drawbacks, the AliExpress affiliate program seems fair enough. However, if you are slightly discouraged by them, remember that nothing is stopping you from joining more than one affiliate program at a time.
With that being said, we have come to the end of the review. We're sure that by now, you have all the info you need to decide whether or not you want to join.