Fiverr is well-known as a place for freelancers to make money by offering their services, and a site to get quality services at low (really low) prices. To date, Fiverr has performed over fifty million transactions between buyers and sellers, and that number continues to grow.
However, offering your services on Fiverr is just one way to make money from this company. You might find it easier and more profitable to join the Fiverr Affiliate Program.
If you haven't heard of it, the Fiverr affiliate program is another way to earn money off of Fiverr by promoting their services. Sounds simple? Well, it's a bit more complicated than that.
In this guide, we're going to tell you everything you need to know about the Fiverr affiliate program, how it runs, pays, and how to maximize your earnings.
Let's begin.
How Fiverr Affiliate Program Works
Fiverr sells services for all jobs that can be done remotely. However, their service isn't limited to providing freelancers with a platform where they can offer their services.
They also run a variety of other programs that provide services like Fiverr Learn and And.Co. Learn from Fiverr offers courses taught by experienced freelancers to help people earn more and expand their knowledge.
And.Co is a subsidiary of Fiverr that provides software for businesses for contracting, expense tracking, invoicing, creating proposals, reporting, and time tracking.
The Fiverr Affiliate Program allows you to promote any of Fiverr's services. You can choose to promote one service, or you can pick a few to pitch to your audience.
In return, Fiverr pays you a commission whenever someone buys a product through any of your affiliate links.
How do You Sign up for Fiverr Affiliate Program?
Fiverr's affiliate program is one of the easiest affiliate programs to join and the signup process should only take you about five minutes.
Step #1: Visit the Signup home page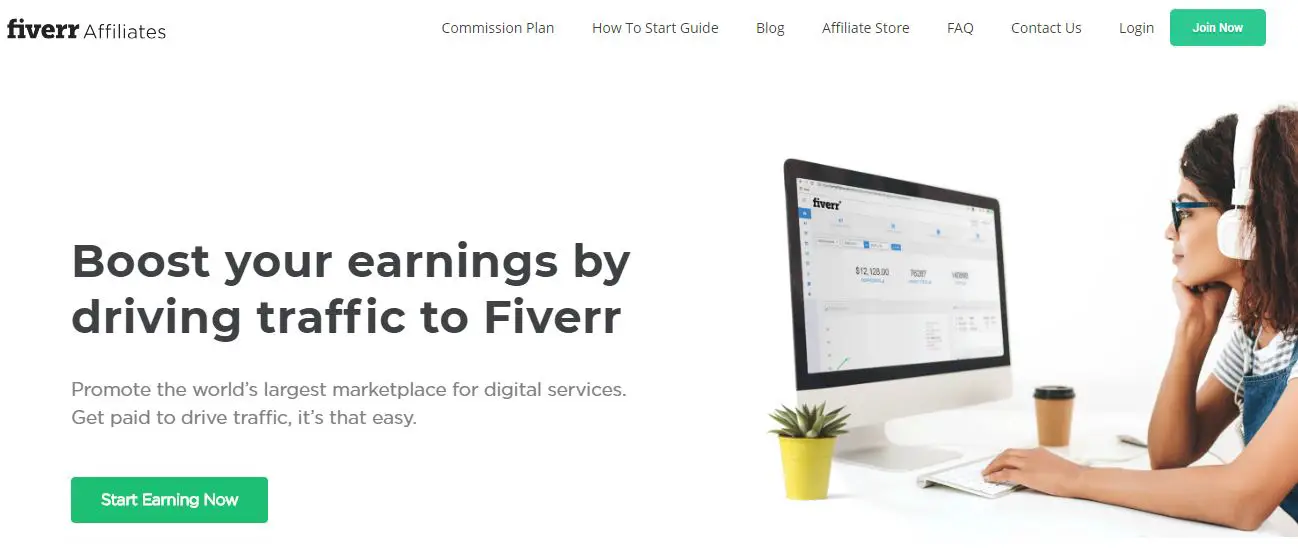 First, you'll need to go to the Fiverr affiliate's official sign up page. Then, fill in all the information required and click Next. You don't need to have a regular Fiverr account before registering for the affiliate one.
Step #2: State your promotional method(s)
Next, you'll have to provide information on your means of promoting Fiverr. Go to Sources and enter what means you plan to use to market Fiverr.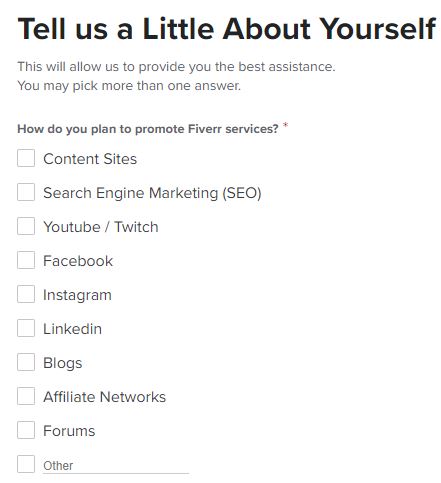 Fiverr has a major difference to other affiliate programs because they don't require affiliate members to have a website before being able to join the program.
You can use any source to promote Fiverr, whether it's through social media, a blog, a website, a YouTube channel, a podcast, etc. All sources are welcome.
Step #3: Indicate the services you will be promoting
Still on that same page, You'll also be given options and asked to tick the boxes next to the Fiverr services you believe your audience will be interested in.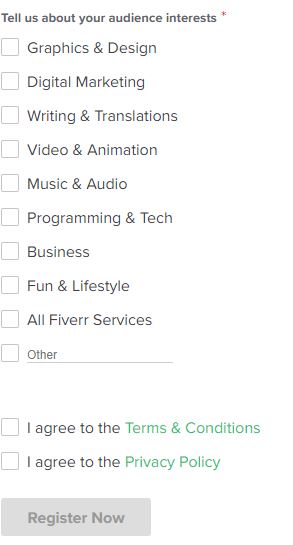 You don't need to spend too much time in this section because you won't be given materials based on what you pick anyway.
Step #4: Accept the terms & conditions
Tick the boxes at the bottom of the page to agree to Fiverr affiliate's terms and conditions and privacy policy.
Then click Register Now, and voila, you're now a member of the Fiver affiliate program.
Step #5: Set up your account profile
Once you've confirmed your email, log into your Fiverr affiliate account and click on Account Details. Select Personal Information, then EDIT and fill in all the necessary details. Then SAVE.
Creating a Fiverr Affiliate Link
Getting a Fiverr affiliate link means that you've truly become a member of the program. The link connects to any product with a special URL that identifies it as yours.
So, whenever this link is used and something is bought, the sale is recorded, and your commission calculated.
There are two types of links you can create with Fiverr. You can create a Homepage link or a Deep link.
A homepage link will connect your readers directly to the homepages of various Fiverr products like Fiverr.com, Fiverr Elevate, And.Co and Fiverr Learn.
A deep-link, on the other hand, connects to a page deeper within any of the Fiverr programs. It's used to connect readers directly to a certain category, sub-category, page, or Gig. It's mostly used when promoting specific freelancers, courses, or services.
To create your homepage link, simply go to Marketing Tools, then select Default and Deep Links. Then, to copy links for various Fiverr services, first, select on the service you want, then click the Copy to Clipboard option.
To create deep links, head back to Default and Deep Links and click LP URL. When a pop-up box appears, copy the URL of the page you want to promote inside it.
Then, copy the link by clicking the Copy to Clipboard button. Now, if any products are bought using any link you've gotten from your Fiverr affiliate account, you will be paid a commission.
But how exactly do commissions work on Fiverr affiliate?
Fiverr Affiliate Commissions

And now for what you've all been waiting for—the Fiverr affiliate commission plans. Until very recently, Fiverr affiliate operated a dynamic commission plan which fit very well, because they have services for a vast range of customers.
But, the needs of every audience are different. This means that you'll earn differently depending on what service you're promoting.
And there's another catch. With the dynamic commission plan, also known as Fiverr CPA (Cost per Acquisition), Fiverr will only pay you when someone uses your link to purchase a service for the first time.
They call it FTB or First Time Buyers. Your commission can be $15-50 based on what service you're promoting and what service your audience members buy.
For example, the $50 commissions are for services from these niches:
Whiteboard & Animated Explainers
Book & E-book Writing
Architecture & Interior Design
Game Development
The $40 commissions are for these categories:
Website Builders & CMS
Mobile Apps & Web
WordPress
Web & Mobile Design
E-commerce Development
The following are the $30 categories:
Web Programming
SEM
Website Content
Proofreading & Editing
3D Models & Product Design
Packaging Design
Business Plans
Data Analysis & Reports
Short Video Ads
These are the $25 categories:
Articles & Blog Posts
Virtual Assistant
Illustration
E-Commerce Marketing
Voice Over
Translations
Product Descriptions
The commission for every other service not mentioned here is $15. Of course, special services like Fiverr Pro, and Fiverr Learn have higher commission rates.
Fiverr Pro – $150 CPA
Fiverr Learn- 30% of every course order; and
And.Co – 30% of every And.Co PRO plan.
The Fiverr CPA has been the only commission plan in place since this affiliate program began. Many members have protested the decision to limit commissions to only first-time buyers because this cuts off a lot of possible subsequent income, especially for Fiverr.com services.
The complaints did not go unnoticed, and in January 2020, it was announced that the Fiverr affiliate program would be introducing a new commission plan. The new commission plan is called Fiverr Hybrid.
Under this new plan, affiliates will get a fixed $10 on all first-time purchases. But that's not all. In addition to those $10, Fiverr affiliate members will get a 10% revenue share from every purchase the user makes for the next twelve months.
This means that you'll get passive income from services your audience buys for a year.
Fiverr affiliates can choose which plan works best for them. But they don't have to use one plan for each service they promote. The process is entirely flexible, so you can choose based on certain factors such as:
1. The service you're promoting
2. Your preferred niche
3. Your audience. If they're more inclined to purchase low-cost services, a 10% revenue share might amount to only $0.5 of $5. It's best to stick to Fiverr CPA. But if they're more likely to buy premium services, the Hybrid commission plan will work best for you.
4. Whether you've planned for a short-term or long-term promotion
5. Whether your promotion is going to be a single one, or you've planned multiple promotions around one service.
6. If you'd rather be paid once in bulk or paid through a longer period.
Fiverr Affiliate Payments
Fiverr affiliate program does have a payment threshold. If you've not earned up to $100 in commissions, you cannot withdraw your earnings. But even if you've earned up to $100, you can't withdraw it until it's the payment period.
Fiverr pays once every month and operates on a Net 30 basis. That means that they pay earnings for last month on the 1st or 2nd of the new month.
So, how does your money get sent to you? First, you have to fill in some details on your affiliate member account.
1. Go to the Account Details menu, and click on Personal Information. This step is for people who haven't already filled their personal information when they first opened their accounts.
2. Go back to Account Details and select Payment Details. Click EDIT and enter your payment details.
Here are a few more payment tips:
Payment Tip #1
If your monthly earnings are under $1000, Fiverr will transfer your money to you via PayPal or Payoneer. If you've earned over $1000, your money will be sent via Wire Transfer.
Payment Tip #2
If you run a private account, you can request payment right from your dashboard, and you'll be paid automatically. Company accounts don't have that luxury and have to submit an invoice to get paid.
Payment Tip #3
In January 2020, Fiverr introduced new currency options for affiliate members. You can get your payment in USD, EUR, or GBP.
All of Fiverr's services are priced in dollars, so your commission will still be calculated in dollars. When you ask to be paid in either of the two other options, the equivalent will be calculated and sent to you.
How to Promote the Fiverr Affiliate Program
The Fiverr affiliate program gives you several opportunities to make a lot of money in a short period. In fact, if you properly promote the right services to the right audience under the right commission plan, you might be able to earn several thousand dollars every month.
Using Fiver for affiliate marketing can be easy or hard, depending on the service you're pitching and your audience. To promote Fiverr effectively, you need to do two things first:
1. Know Your Audience: This is especially important for those who haven't worked with affiliate programs before. You can't just push a service that's completely unrelated to your audience's interest. You have to sync your chosen service with your audience's views and interests.
Knowing your audience is super important in every part of affiliate marketing. If you haven't considered carrying out some research on the people who read, watch, or listen to your content, you might want to start thinking about it.
2. Choosing the right commission plan: The right commission plan maximizes your profits while the wrong one will waste your potential for earning more.
If you've already done the two things above, then you're almost set to start making money with Fiverr. But first, here are a few ideas you could use to promote your chosen services.
1. Write a Review
You can write a review for your niche on Fiverr, or you can review all of Fiverr, and it's operations. This will be particularly useful for affiliate members' using the Fiverr CPA commission plan.
Writing a review for Fiverr, especially a full review of all of Fiverr's services just like I'm reviewing that of their affiliate program, can function as an introduction to people looking to buy Fiverr's services for the first time.
2. Share a personal experience
You can share a personal experience or anecdote in which you used Fiverr's services, with your readers. This is particularly effective on social media or forums where you have a bit of a reputation.
3. Compare Fiverr with other freelancer platforms
Fiverr is one of the best freelancing platforms in the world, giving freelancers the freedom to work with who they want when they want. Use their reputation and features to promote them by comparing them with other sites.
4. Promote Fiverr using eBooks
As a Fiverr affiliate, you can promote Fiverr by writing an eBook on a popular topic and referring your readers to services on Fiverr that they may need to execute what you have taught them in your eBook.
For example, if you write an eBook on how to make YouTube videos without showing a face, you can recommend video animation and voice over services on Fiverr within your content.
After writing the eBook, you can give it the much-needed publicity by selling it for cheap on renowned platforms like Amazon or eBay. Click here for the step by step guide on how to sell your eBook on Amazon.
You can write the eBook yourself and convert the content into a stunning eBook using an automatic eBook creation software like Designrr or have eBook writers on Fiverr to do the writing for you if writing is not your forte.
5. Use examples
You can link a work that a Fiverr freelancer has done, give credit to them, and link their services for your readers.
6. Link Fiverr to your regular articles or posts
Let's say you write about "how to make animation videos." You can link voice-over actors on Fiverr in addition to the main points of the article.
Fiverr provides marketing tools for affiliate members so that you won't lack creative materials for your promotions.
Pros VS. Cons
To summarize this Fiverr affiliate program review, let's look at the Pros and Cons of the program.
Pros
Fiverr is internationally recognized as one of the best freelancing platforms.
There are two commission plans with high rates.
The cookie duration is twelve months.
You can generate deep links.
There are many services to promote. There's something for everyone.
Marketing tools are provided.
Commissions can be paid in USD, EUR, and GBP.
Fiverr allows you to promote on social media.
Cons
Fiverr CPA only goes as far as $150, no matter how much an individual buys.
Final Thoughts on the Fiverr Affiliate Program
If you're asking if it's possible to make a living off of the Fiverr affiliate program, the answer is YES. With the new commission plan, you can earn thousands of dollars on Fiverr, and after a while of promotion, you may be earning hundreds of dollars in passive income.
If you have a niche that fits, an audience that may be interested, and a way to promote their services, then the Fiverr affiliate program may become another reliable source of income.