Home Depot is the one-stop shop on all things home improvement for most of America. And by America, I mean North America, not just the USA, because Home Depot has expanded its company to Canada and Mexico to become the world's largest home improvement retailer.
And, like many other chain stores, Home Depot has an affiliate program that allows you to take a bite out of the world's 7th biggest chain store.
Today, we're going to take an up-close and personal look at Home Depot's affiliate program.
I'll let you judge how it measures up to other affiliate programs like Lowe's affiliate program, Wayfair's affiliate program, etc.
Let's get right into it.
The Home Depot Affiliate Program: How Does it Work?
Home Depot's affiliate program runs on the same fundamental principles as all affiliate programs. Affiliate members join the program and promote Home Depot's goods and services.
In return, they are paid a commission, a percentage of their sale. Pretty basic.
Signing up for this affiliate program is not particularly hard, but it's not without its restrictions. Home Depot is not as lenient as other sites and doesn't just accept anyone.
Applicants' details are scrutinized before approval to ensure they follow the guidelines in place. What are these guidelines? We'll get to that in just a second.
But first, we'll look at how to sign up for the Home Depot affiliate program.
Signing up
You'll need to go to the Home Depot affiliate sign-up page.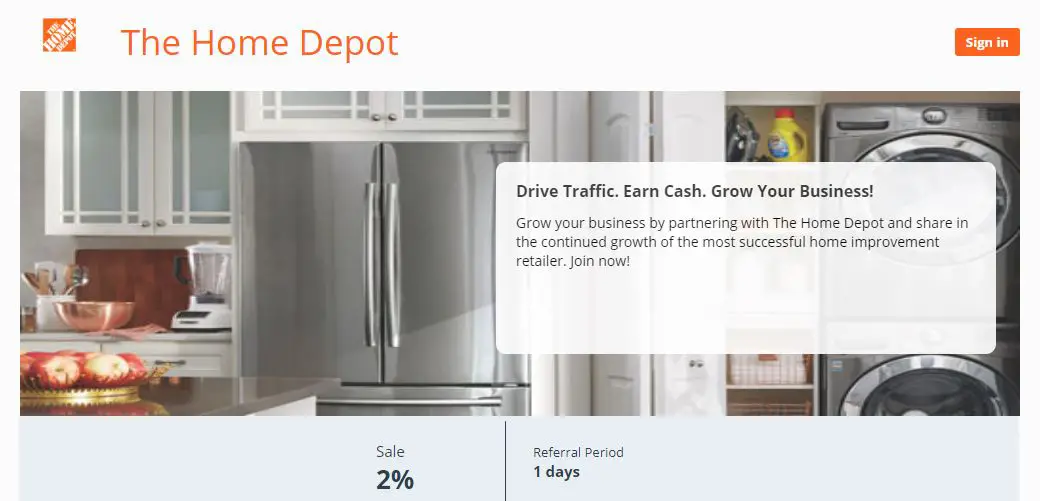 This page is hosted by Impact Radius. If you have an Impact Radius account, you can search up the program on the site and join.
The sign-up form is pretty straightforward. There are no other pages. It's a single-page form that's ideally filled on a laptop.
All you have to do is fill in your user information, your company information, your time zone, bank location, currency, your promotional methods, and media properties.
The restriction Home Depot has is that it does not accept affiliate members who don't have a website. The application form asks for websites as a requirement and other forms of promotion as secondary promotional methods.
Also, although there is a similar Home Depot Canadian affiliate program, the USA affiliate program is more profitable, so if you don't have an audience from the US, you may not have an easy time earning commissions.
Additionally, Home Depot's referral period is only one day. The referral period can also be known as the cookie duration for those who've worked in affiliate marketing.
This is the duration of time in which you can collect commissions on the goods a customer buys through your affiliate link. And that time is only 24 hours.
The referral is a form of passive income and can seriously boost your commission earnings. Home Depot referral period's software works on the last-click attribution model.
This means that if a member of your audience clicks on your affiliate link to buy something on Home Depot, then somehow uses someone else's affiliate link; you won't get a commission from anything that audience member buys.
However, you are allowed to use deep links to connect users to specific categories, sub-categories, or product pages.
What Products Can You Promote in Home Depot?
The answer to the question in the headline is "everything." Home Depot sells over 200000 products in 17 categories. These are the product categories:
Appliances
Baths & Faucets
Blinds & Window Treatments
Building Materials
Décor & Furniture
Doors & Windows
Electrical
Flooring & Area Rugs
Hardware
Heating & Cooking
Kitchen & Kitchenware
Lawn & Garden
Lighting & Ceiling Fans
Outdoor Living & Patio
Paint
Plumbing
Storage & Organization
Tools
Unlike the Target affiliate program, Home Depot does not restrict what products can earn you a commission. All their products can earn you a certain percentage of their profits without exception. If your website is focused on one home improvement tool or one category, you can choose to only promote those products.
However, you're not guaranteed the same reward for all your sales. Let's take a look at the commissions Home Depot offers.
Home Depot Affiliate Program Commissions
There is a lot of confusion on whether the Home Depot affiliate program's commission is 3% or 2%. Let me clear that up right now. As it clearly states on the Home Depot affiliate application page, the commission rate is a 2% flat rate on all product categories.
It's quite a small commission, but there's more. Like I said before, you can promote everything on Home Depot, all 200000+ goods, and services. But there are some that you cannot get commissions for.
1. Installation services
People like comfort, and it's much more comfortable to buy a large household item and also have it installed by professionals instead of trying to make sense of the manual.
Many customers are willing to pay a bit extra to get the installation process done by professionals from Home Depot. However, even though the goods and the installation service were bought through your link, you can only be paid for the goods bought.
2. In-store purchases
This one is really obvious but really annoying, as well. Not everyone who clicks your link will purchase something.
However, Home Depot felt the need to clarify that if someone clicks your link but chooses to buy at one of the brick and mortar (physical) stores, you won't get a commission. There's no concrete way to trace that person's buy to you.
However, if someone clicks the link you created, and buys something from the online store, you'll get a commission from that sale even if the individual goes to collect it from the physical store. This is because the cookie has tracked the sales back to you.
3. Gift cards
If someone buys something through your link but uses a gift card, you will not earn any commissions from that sale.
4. Custom created products
All products listed in Home Depot's categories and pages are for sale and can earn you a commission. But you won't earn a commission from the ones that are requested on special orders or custom-made. These products aren't listed.
Once your earnings have reached $100, you can withdraw your money in any number of ways, through PayPal, wire transfers, direct deposit, and checks.
However, there are some products that can earn you a higher commission than the flat rate of 2%. With the home décor category, you can get 8% in commissions for some products, but that's only one category out of 17.
So, How Much Can you Make from the Home Depot Affiliate Program?
Compared to some other affiliate programs, Home Depot's commissions and conditions can be downright disappointing. However, all hope is not lost. You can make thousands of dollars off of Home Depot, with the right combination of circumstances.
However, there are some things you should have right off the bat. If you don't have any one of these, making money off Home Depot still won't be impossible, but it'll be extremely difficult.
A US-based audience
An understanding of your audience's needs wants and expectations in regards to your content (audience research).
Keywords that'll boost your rankings on Google.
If you've fulfilled all three of the conditions listed above, you'll have a greater chance of earning big bucks on Home Depot.
Though Home Depot offers a low commission, if enough of your readers use your links, you'll be able to make a profit. Let's put it into perspective.
Let's say you run a blog that focuses on everything lawns and gardens, and you choose to deep-link the John Deere Hydrostatic Lawn Mower as your top pick.
The John Deere costs $1900, and 2% of that is $38, give or take a few cents. You only need roughly 27 people to buy that mower before, and you've made $2000.
Another good thing about the Home Depot affiliate program is that no matter how many times that customer has frequented Home Depot's website or bought their goods if they buy anything through your link, you'll still earn your commission.
However, the road to developing your audience's interest in these goods and make them want to buy them is hard. You'll probably have a rough few months in the beginning, but it is possible to turn the Home Depot affiliate program into a profitable side hustle.
Ways to Make Money from the Home Depot Affiliate Program
The methods used to make money off of this affiliate program are focused on increasing your content value to your readers and making sure your content ranks as high as possible.
1. Choose the right products to pitch to your audience
Home Depot deals mostly with hardware, that is, things that consumers would like to feel or hold before making a decision about buying.
Things like chairs, tables, cushions, etc., are things that most people would like to get a feel for before adding them to their home.
This can work against you because your audience may not want to order something online and get something completely unexpected. Not all people may have this reaction, but a certain number will.
2. Choose general keywords
This point has a direct connection with the one above it. If you're new to affiliate marketing, you might not want to go after the super-specific keywords.
Instead of naming a specific product, you want to market a product that doesn't have too much competition instead of a product that draws a lot of attention.
3. Write product reviews
It's never a good idea to seem like you have all the answers, except you're writing a product review. Most people searching up the names of some furniture and other products are probably searching it up because they want to buy it.
Creating a product review to introduce the reader to everything about such a product makes your website seem like an authority on the subject and lends you greater credibility.
4. Email marketing
You can choose to create mailing lists of your audience members and promote Home Depot products to them. Bear in mind; they might find this annoying if you don't do it properly.
The Home Depot affiliate program doesn't leave you to figure out the marketing without any help. They take care of things like banners when they start a new campaign or have a new deal or promo. But how does all of this stand up to other affiliate programs?
The Alternatives
There are several other trusted brands that run affiliate programs other than Home Depot. There are only five companies that can match Home Depot's size and reputation as a household name. They are:
Each of these companies runs an affiliate program that can be seen as an alternative to Home Depot. So, how does Home Depot do when compared to these companies. We'll find out.
1. Amazon affiliate program
A few weeks ago, the Home Depot affiliate program wouldn't have been able to hold a candle to Amazon Associates. But, Amazon suddenly slashed its commission rates in half. Affiliate members still make a lot of conversions but at less than half of what they used to.
2. Walmart affiliate program
This program is extremely neglected. No competition at all
3. Target affiliate program
In the face of Target's up to 8% commission rates and seven days' cookie duration, Home Depot's affiliate program doesn't stand a chance.
4. Wayfair affiliate program
Wayfair's commission rates and cookie duration are better than Home Depot's. They both sell goods for home and décor, but in regards to affiliate programs, Wayfair is superior.
5. Lowe's affiliate program
The commission rate for Lowe and Home Depot is the same as well as the cookie duration and support. It's a tie here.
Pros and Cons of Home Depot affiliate program
Pros
Reputable company
Has a lot of support
Many product categories to promote
The brand is trusted by the audience
Cons
Low commission rates, except for a few goods
Short cookie duration
Website is compulsory before application approval.
Conclusion: Should You Apply for the Home Depot Affiliate Program?
With Home Depot's trusted base of customers and several months of hard work, you can make some money off of Home Depot. However, doing that doesn't really make sense when you could do the same thing for a greater profit with another program.
To earn as much as you would with another affiliate program, you need to either make more 2% commission conversions or stay focused on promoting goods with an 8% commission rate.
This task is doable but takes a lot of hard work.