If you are in the home furnishing and decoration niche, the chances are that you would have heard of Wayfair. Like most other businesses raking in a significant amount of profit, they have an affiliate marketing program.
The Wayfair affiliate program is synonymous with the term "Wayfair's neighbors program." It allows you to market their products and earn a commission if you own a blog/website within the niche.
In this quick Wayfair neighbors program review, you'll learn everything you need to know in order to make monthly affiliate commissions from the program.
The introduction of e-commerce to the home furnishing industry has caused it to develop in leaps and bounds.
With people now having a platform to express their creativity and ingenuity, the industry's worth has skyrocketed to billions of dollars.
One of the companies in this industry that have led the e-commerce revolution charge is Wayfair.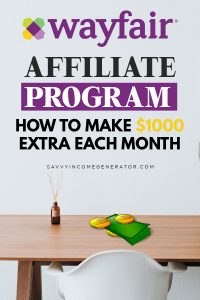 Wayfair – An Overview
Before we delve into details about the Wayfair affiliate program, it will be useful to have a bit of background information about the company first.
Wayfair is an American brand that came into existence about 18 years ago. They specialize in providing home decoration and furnishing items in the US, Germany, the UK, Canada, and Ireland.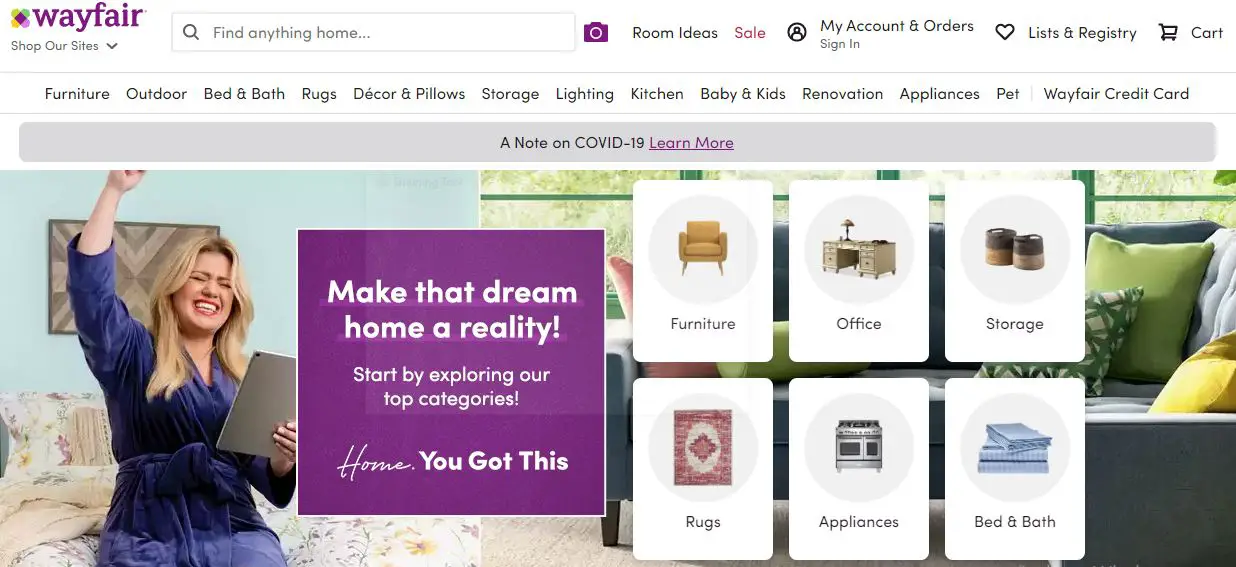 The company's website has tens of millions of visitors per month and a catalog that contains more than 7 million products. With those numbers, in conjunction with their profits, they are unarguably one of the biggest names within the industry.
In addition to the Wayfair affiliate program, they have other things that attract customers.
Among others, there is the Way Day shopping holiday, which the brand recently started in the United States. The shopping holiday offers up to 70% discounts on products. This attraction makes them, almost literally, a customer magnet.
They have a lot of branded materials that are promoted adequately on various media channels, including television. You might be wondering how all of these affect you.
Well, with Wayfair getting that many customers and working on getting more still, it means you'll have that much more clientele too.
Their marketing efforts, which are aimed at brand awareness, will make it such that when people come across Wayfair in your buying guides, they won't be confused.
The trust the brand has built with potential customers will help you gain more clicks and, consequently, more money.
The Wayfair Affiliate Program
The program is built for content publishers within the home furnishing and decoration niche. It allows you to earn extra income by promoting their products and getting paid for every sale you make.
Right from the start, the program had been in partnership with third-party affiliate networks. However, now, contrary to the case as it was a few years ago, they no longer use ShareASale.
The affiliate program is now accessible via CJ affiliate.
While this might seem relatively tedious when compared to some other brands, it offers a sort of advantage. By joining the third-party affiliate network, you will have no restrictions against promoting their sister companies.
Essentially, you'll be able to make money from Wayfair, All Modern, Birch Lane, Joss, and Mane, etc.
For Wayfair, and all its sister companies, the terms, and conditions of their affiliate programs are the same.
Another thing to keep in mind about Wayfair is that their warehouses are still limited to the US, Canada, Germany, the United Kingdom, and Ireland.
Unfortunately, they do not have shipping provisions for any countries outside the aforementioned. As such, if you want to be an affiliate, you have to ensure that your traffic comes from these countries.
Like virtually every other affiliate program on the web, you cannot bid on the trademarked items of the company. Coupons and promotional cards are also a big no-no.
Additionally, you are not allowed to link to product listings directly from paid adverts. That is, if you are going to promote at all, you should promote your content.
So, if you write on and promote something like "how to get approved to sell on Wayfair," people will click on the link in your advert and read on your content page. Afterward, they can choose to buy from your affiliate link if they want.
If you must use email marketing, it should be clear that you're the one sending the emails, and not Wayfair.
For example, if you want to recommend furniture, you cannot just put a full list of discounted pieces.
This could mislead people into thinking that you are sending on behalf of Wayfair.
Because of the laws that govern tax in America, certain states cannot have affiliates.
They are Alaska, Hawaii, Arkansas Delaware, Idaho, Kansas, Indiana, Iowa, Louisiana, Mississippi, Missouri, Minnesota, Oklahoma, Montana, North Dakota, Nebraska, Oregon, New Mexico, New Hampshire, Nevada, South Carolina, Tennessee, Vermont, Wyoming, South Dakota, West Virginia.
If you reside in any of these states, you might want to reconsider being a Wayfair affiliate.
Wayfair Affiliate Requirements
Before you apply to join the Wayfair affiliate program, you need to have a website with quality content centered around the home decoration and furnishing niche and a decent amount of site traffic. And you must be willing to explain who your website audience is and your marketing plans for the program on their signup form.
How to Join The Wayfair Neighbors Program
If you want to know how to get on Wayfair's neighbors program, it's actually quite simple. To get you started, you merely have to sign up for CJ affiliate. When you get registered, search for Wayfair among the merchants. When you find it, apply to become an affiliate. If your application gets approved, that's it. You're in.
Wayfair Affiliate Program Commission Structure
Wayfair affiliate commission rate range from 5%-7% and it has a referral period that lasts for seven days.
That means when a potential customer clicks on your Wayfair affiliate link, a cookie stores on their device. The cookie then does the job of tracking how long they go without buying the product.
If it exceeds seven days, it is believed that they didn't buy the product because you promoted it. As such, you won't get a commission.
While the industry standard is a 30-day referral period, it is worthy of note that there are programs in the home furnishing and decoration niche that offer as little as 24 hours, an example is Home depot.
How to Earn Commissions with the Wayfair Affiliate Program?
The brand has indeed made many laudable marketing efforts. These go a long way in helping you convince potential customers to click on your link.
However, you cannot merely leave everything to chance. You still need to apply conscious effort in ensuring that you drive traffic and make the most income that you can from the platform.
In that regard, the best advice is to promote your Wayfair affiliate links by creating quality content on your blog/website or through social media platforms.
Pinterest is one of the best social media platforms you can work with and you can check out my guide on affiliate marketing on Pinterest to learn more.
Having an affiliate website in the home improvement niche is very important because you are required to have one before your application to the CJ affiliate network that hosts the program can be approved.
You can set up a blog website on WordPress in less than an hour with my easy-to-follow website setup guide.
Then start promoting by picking and creating content on Products from the Wayfair affiliate store that people are interested in buying.
Do your research thoroughly for free with a powerful keyword research tool like Semrush to find high volume underserved topics that can get your new site a ton of traffic which can earn you commissions quickly.
When you have selected your topics, ensure you flesh them out properly. This will go a long way in convincing readers that you aren't merely trying to sell your links to them, but you actually want to solve their problems.
For example, if you write on "What is Wayfair professional program?" you cannot merely stop there.
Explore different angles to the topic, including Wayfair professional requirements, among others.
When you have put in the required amount of effort, ensure that your SEO T's and I's have been crossed and dotted. Infuse your content with keywords to drive traffic.
If quality content writing and SEO is not something you are good at, you can outsource your writing to a professional SEO content writer for a reasonable fee on Fiverr.
If you put in the effort and you follow the required guidelines, you should be able to make a decent income from Wayfair.
In conclusion 
With their commission rates and products that cost upwards of $250, becoming an affiliate of the Wayfair company is definitely a good idea. Having read this article, I'm certain that you're well-equipped with the required information to become one.
If, however, you want a bit more, you should know that there's no law that states you have to stick with one company alone. That's right. You can be an affiliate for as many home furnishing brands as you want.
The same principle applies to every program you join. Get a niche website, search for underserved topics with high volume, write quality SEO content or outsource the writing and promote your links within the content.
Here are some other home improvements affiliate programs you can join;
Eventually, you'll find the one that works best for you.