Pinterest remains a choice option for affiliate marketing, thanks to its large number of users who are always buying stuff or researching products and services. Affiliate marketing on Pinterest could be a lucrative venture if you have the proper guidance.
It can be a bit challenging for newbies to find their foot in affiliate marketing. There is this extra frustration that comes from not being able to monetize your efforts.
It is good you are seeking this knowledge – whether or not you have tried affiliate marketing before. This article is the ultimate guide to make money with Pinterest affiliate marketing.
I will take you through a stepwise process to help you understand in order to succeed. At the end of this article, you will learn how to post affiliate links on Pinterest and all your questions regarding using Pinterest for affiliate marketing would be answered.
Why Should You Use Pinterest for Affiliate Marketing?
There are different ways to make money on Pinterest but Pinterest affiliate marketing appears to be the most lucrative option.
Affiliate marketing is a popular and lucrative source of passive income for individuals and groups (affiliates). Affiliates recommend products and services offered by a brand and earn a commission from their referral. There is a lot more to affiliate marketing, but this is the basis.
It is estimated that spending on affiliate marketing will exceed $8 billion in 2022. This is at least three times what it was worth about ten years ago. Huge? Oh, that figure is for the US alone.
Using Pinterest for affiliate marketing involves referring your followers and other users to products and services through affiliate links on your site or Pinterest pins.
Some years ago, there was a ban on affiliate marketing on Pinterest because the link spams were becoming a nuisance. Pinterest brought it back after initiating measures against spam and because affiliate marketing kept users active.
As of January 2021, Pinterest had about 450 million users, and the number keeps following a very impressive growth chart. Many of these users are actively searching for ideas.
Two-thirds of these Pinterest users are women trying to decide what to buy, a fashion style, vacation destination, diets, and online courses. A good proportion of Pinterest users also have the financial means to back up their shopping interests.
You see, these figures are the most vital reason Pinterest is a choice destination for product and service marketing. They also make it a good reason to consider affiliate marketing on Pinterest.
There is also a vastly international user demographic to work with, three-quarters of whom are willing to discover and try out new brands.
My Ultimate Stepwise Guide to Affiliate Marketing on Pinterest
Established, Pinterest is an excellent destination for affiliate marketing. How exactly do you get on board this ship? It is important to know the steps to take to have a profitable affiliate marketing experience on Pinterest.
The easiest part of Pinterest affiliate marketing is uploading the link and posting the Pin. But Pinterest affiliate marketing is a lot more than that.
Even if you have some experience with affiliate marketing on other platforms, there are some differences on Pinterest. If you are altogether new to affiliate marketing, the guide will also help you through how to start affiliate marketing on Pinterest.
Now to the steps!
Step 1: Know Pinterest Affiliate Marketing Rules
There are still some controversies surrounding affiliate marketing. So, you first have to learn the rules and how to disclose affiliate links on Pinterest. This is particularly common with some affiliate programs. An example is Amazon Associates.
While many of us use the program, we are not altogether certain about the regulations and terms. Importantly, the terms change often. Today it is allowed. Tomorrow, it isn't.
Also, Pinterest has a knack for creativity – things users would love to see. This is especially why your account should not be for only advertisements.
Curate interesting content to attract users and try not to only put the links in their faces. Pinterest's community guideline has a segment that talks about affiliate marketing. There is also paid Partnership Guidelines segment you should pay attention to.
You should not cloak your affiliate link or shorten it if you are promoting affiliate links on Pinterest. Pinterest frowns at this because it gives room for spam. Users should know where the link leads to and should not be tricked into following your link.
Trade commission regulations concerning affiliate marketing might vary from country to country.
The US Federal Trade Commission (FTC), however, explicitly details what they require from affiliate marketers irrespective of the platform used. They stipulate that you disclose you are an affiliate marketer as explicitly as possible.
You can disclose your affiliation by using hashtags like #ad, #affiliate, #afflink, #promoted, or any other similar hashtags that let users know you are marketing the product. Otherwise, you can disclose fully that you are an affiliate marketer for the product, and you would be earning a commission should they purchase the product through your link.
Step 2 Find Your Niche
Finding a niche is common to any form of affiliate marketing, irrespective of the platform you are choosing. It is no different while using Pinterest for affiliate marketing.
To have an excellent experience, you have to find a niche that best suits you. It makes a difference between you and many other people in the affiliate marketing sphere. Also, you have to balance what suits you with what Pinterest users want.
A niche is a particular segment in affiliate marketing concerned with a specific type of product or service. It is a specific industry in the market where you can channel your attention and efforts.
Examples of such sectors are wellness and health, fashion, food, tech – gadgets, apps, and software. The first common mistake you can avoid is diving into this pool without a focus. You do not just pick any product and decide to market.
Even when it appears to be a very lucrative product or service. If it is not a niche you can sell well or have an interest in, it is unlikely you have a successful or worthwhile campaign.
You should understand that Pinterest users do not have all the time to be scrolling through your page when all they see are unrelated items. This is just like it applies to most other people in real life. That is why even supermarkets arrange their products based on similarities.
As an affiliate marketer, you should understand what part of the industry you want to delve into and stick to it. There are so many industries to choose from, with various brands and different audiences.
You might experience analysis paralysis trying to choose one of the many options. The big concern now is how to find the best niche. To get the most profitable niche for yourself, you have to answer the following questions
– What are your interests and hobbies?
First, you need to identify the activities you enjoy for your pastime and the topics you love talking about. It is likely you have spent some money on these activities or have substantial knowledge about them.
You might also have previous content on this on your website, YouTube channel, or Pinterest Board. You also get to enjoy affiliate marketing when you are recommending products and services that pique your interest.
– How much can you make from each of these interests?
Look through your interests and see which is more likely to get good monetization. I would always advise you to go with the niche that has more monetization options.
This helps your spread the risk. You can always leverage alternative money-making opportunities from the same niche.
Do thorough research and look into various affiliate networks from Amazon to Clickbank. You may curate a list of products available for affiliate marketing in your niche's category.
– What do you know about the search volume, competition, and competitors?
It might appear more difficult to make money from categories with stiff competition. But that is really where the money is. There are online tools that can help you deduce the level of competition in your chosen niche.
The search volume lets you know how often people go online searching for the keyword in your niche. Pinterest results are part of what is displayed during those searches. The keyword difficulty shows how various keywords rank.
One important reason you should pick a niche that piques your interest is that you can buy the product for yourself.
This allows you to review the product or service based on personal experience. That way, you can give a more objective review and be sure it is worth promoting.
It also makes your promotions more reliable as you are not selling something strange to you. Reviews influence the decisions of buyers a lot. Rest assured, your visitors will come back if they find your review helpful.
Step 3: Know your target audience
The fact that something is your interest does not necessarily mean it would interest other Pinterest users. To have a successful marketing experience, you would need an audience– the right audience. This will be relatively easier if you have an existing blog or YouTube channel.
Marketing to the wrong audience is like winking in the dark. It is purposeless. You have to understand the demographics of Pinterest users before choosing a product.
The product or service must have its potential customers on Pinterest. If you cannot reconcile these two things, your marketing will not be successful.
Step 4: Decide on the most appropriate affiliate program for your niche.
Your choice of an affiliate program could make or mar your experience in the business. An affiliate program is where you get products to market on Pinterest. There are various programs around, with each having its peculiarities.
Some of these programs are generic – in the sense that you find various niches. Some others are niche-based affiliate programs. We will consider some of these affiliate programs for Pinterest briefly.
i. Clickbank
This is one of the commonest programs out there, and not for Pinterest affiliate marketing alone. This is because they offer a good range of categories and thousands of products you can promote.
Clickbank is a reliable affiliate program trusted by up to 6 million users with a sure commission on your referrals. To hop on this wagon, you need to sign up on their website.
After creating an account on Clickbank, look for affiliate marketing offers. Search for products from your niche and start marketing.
You can be more thorough with this, however. Checking the metrics of the product can influence your decision whether or not to ahead with a product.
Metrics you should look out for include:
● Commission rate – this is how much you expect to earn from each referred sale. It is often a percentage of the item's price. This can be as high as 75%.
● Average earning per sale – this gives you an incline into how much you should be expecting as commission from every referred sale.
● Average rebill – If the product's commission rate is reoccurring, you earn monthly as the customer is getting billed. This is common when the service or product is subscription-based. Such an offer would have two blue arrows in front.
● Gravity: this gives you an idea of the competition. The higher the gravity, the higher the competition and vice versa. It indirectly tells you where there is money and also where it might be tough to get the money. A gravity score of 50 to 120 is great.
You can check my post on how to promote Clickbank links on Pinterest to learn more.
ii. Amazon Associates
This is, perhaps, the oldest affiliate marketing program that offers you a powerful way to monetize your platform. It has survived over two decades of business changes based on reputation and ease of use.
Such that, many companies leverage their structure to establish their affiliate programs.
Amazon Associates is the affiliate program of Amazon, one of the world's biggest e-commerce platforms. This gives you access to large pools of categories with over 100,000 products available for marketing.
The program offers up to a 10% in commission rate for some niches. The commission rate could, however, change from time to time.
So, you have to always check the update rates. The best rate comes from luxury beauty products and Amazon Coins.
You get additional commissions from Amazon Associates if your referral subscribes to any of Amazon services following your link. The payment depends on the type of service the person registers for.
The Amazon Bounty Program pays a bounty of $3 if the person registers for a trial period. If they register for an Amazon Business, you get up to $15.
Registering as an affiliate marketer with Amazon is easy. Once you sign up, you can explore your product options and make your choice.
You can start sharing your Amazon affiliate links on Pinterest. There is a responsive customer care service to assist you if you run into any brick walls along the way.
iii. ShareASale
ShareASale offers you a good range of categories to select from for your niche. There are close to five thousand affiliates registered on ShareAsale in various niches.
Once you have registered and have been approved to join the ShareAsale network, you can now apply to various programs.
If you would like to join more than one program, you have to apply for each one of them separately. You do not just get access to all the programs by virtue of your initial ShareAsale registration. You can now share your affiliate links on your Pins.
As soon as you start getting referrals, your commission will be lumped up and paid on the 20th day of every month.
Like I explained with ClickBank, there are various metric items that might help you choose the right track. You might just have to be thorough enough and fully go through the process.
iv. Travel affiliate programs (Agoda, booking.com, hotels.com)
There are affiliate programs that are niche-based. These programs focus on just one niche and do so extensively and exclusively. One fun niche on Pinterest is the travel niche.
This includes travel, tourism, lodging, and hospitality. There are various examples of such, including Agoda, booking.com, and hotels.com.
Booking.com covers a lot of things that have to do with travel – from accommodations (hotels, homes) to car rents, train tickets, flights, and so on. They are one of the commonest go-to places for booking online accommodations.
You enjoy a commission of 25% and above for your referrals. The program cookies last till the customer closes the browser.
Agoda is another outstanding affiliate marketing program you can run on your Pinterest account. The firm has over 250,000 accommodation properties they work with across the world.
These include luxury homes, apartments, hotels and resorts, bungalows, etc. It has an enticing commission rate of 60% that increases as you make more successful referrals. In fact, with hotel powered ad, you can get up to 300%.
Hotels.com deals mostly with hotel bookings across the world. They have one of the largest online lodging databases visited by millions of travelers every year. Visitors get to compare prices and to get the best experience during their stay, and at the best price.
If you enjoy the travel niche and take a particular interest in hotels and lodgings, you should consider signing up with hotels.com as an affiliate marketer. The commission rate considers how long the person lodges for every referral.
There are many other travel affiliate programs you can leverage for your affiliate marketing on Pinterest. The hotels, flights, and other items on their listings might be similar. It is more important to consider the traffic on each program and how much the commission rate is.
v. Food affiliate programs (Fruit Company, Thrive Market, BistroMD, HelloFresh, Sun Basket)
This is another interesting niche with niche-specific affiliate programs. If your interest has an appetite for food, catering, and recipes, you can find yourself in any of the numerous food affiliate programs.
It is one of the budding niches on Pinterest and an excellent marketing platform for food bloggers and photographers.
The Fruit Company has been around for almost 60 years with its trademark in fruit gift baskets. Their affiliate program offers a 12% commission rate for a 90-day cookie period.
The program sub-specializes in handmade fruit baskets and is one of the best online fruit stores. ShareAsale hosts their affiliate marketing, and they provide the content and tools you can use to promote your sales.
BistroMD specializes in delivering meals free of additives or preservatives. They run a diet meal delivery for people who choose to eat healthily.
For affiliate marketing, I can say this fits perfectly into at least two niches. If you want to run a fitness or health niche affiliate marketing, you may consider their affiliate program. They pay a fixed commission rate of $45 per sale made using your link.
The reputation HelloFresh garners is from ensuring getting healthy meals comes with convenience. They source their items freshly from farms, which is where the name comes from. Their listing comprises meals, recipes, and fresh ingredients.
They get a lot of patronage from vegans and vegetarians. As someone using Pinterest for affiliate marketing, you earn a flat commission rate of $10 per sale. You make $25 on your first sale. The program is run through CJ affiliate and has a cookie duration of 14 days.
Sun Basket Affiliate Marketing Program offers healthy meals and organic ingredients, and recipes. They have a cookie duration of 30 days with a $20 commission rate on every sale.
Apart from food marketers, those in fitness, weight loss, or health can also tap into the program. As they use eco-friending packages for their orders, your target audience should include climate enthusiasts. The program runs on ShareASale's platform.
vi. Page builders (Builderall, Thrive Architect)
Affiliate marketing is not limited to tangible items or travel experiences. It also includes services like website building. Indeed, there is barely a limitation to the reach of affiliate marketing, and you can get on board with just your Pinterest account.
There are various page builder affiliate programs. These builders make landing pages and website development a lot easier, such that newbies do not have to outsource their web development.
Thrive Architect is a powerful web-building tool, particularly for a WordPress page. You can earn money on your Pinterest by running affiliate marketing with the Thrive Themes Affiliate Program.
It requires that you own a YouTube channel or a blog with some relevant content before joining the affiliate program.
The website must not have spam or malware. There are other items you need to check out in terms and conditions before you sign up. You should get approval within a week of the application.
The commission rate is 35% for any of their products and a cookie duration of two years. That's very uncommon. Thrive Themes have ad designs you can share on your boards. You should not worry much about content.
They also have a rebill for subscriptions through your referral links. Once you accrue up to $20, they will credit you via Paypal.
Builderall is a versatile landing page and website development tool with various solutions and has up to 220,000 users (I'm also a user). Their structure can support over a million users, and they have a well-rated free affiliate program.
For your first month on their affiliate program, you enjoy a 100% commission rate on every successful referral. Subsequently, the commission is 30% monthly.
People use Builderall for various reasons, asides from web development. It is also a good choice for sales funnels, eCommerce stores, email marketing, and sales videos.
Builderall Affiliate Program has a 2-tier system for funnel sales. Such that whenever someone makes a purchase through some that used your affiliate link, you also get a commission.
vii. Email marketing software (GetResponse, Constant Contact)
Email marketing software are essential tools in digital marketing. Most online businesses strive to run successful email campaigns to drive sales and retain customers. Email marketing makes this easier by offering automated mail features.
GetResponse is one of the most widely used email marketing platforms with powerful tools for auto-response and automated email campaigns. As an affiliate marketer on Pinterest, you stand to earn up to 33 percent in recurring commission rate. Or you get $100 on every paid account. They offer 120 days as cookie duration.
GetResponse offers two affiliate programs – the bounty program and the recurring program. The bounty program pays $100 for every signup, while the recurring program offers 33 percent for each sale.
After signing up, you get assigned a unique referral link you can share on your Pinterest or website. There is an affiliate dashboard to track all your earning and monitor the number of referrals you have.
A standout feature of the Constant Contact Affiliate Program is that you can still earn even when your referral signs up for a free plan. You get $5 for that.
You get $105 more if they become a paying user of the Constant Contact tool. The cookie duration is 120 days or four months, during which you can claim commission for the referral.
It is easy to become a marketer for Constant Contact and even easier to run their affiliate marketing but unlike GetResponse, you need a website to join the program.
They provide ads and banners you can easily copy and use on your Pinterest or blog. There is a dedicated dashboard you can use to track how much you are earning and how you are performing with referrals.
Step 5: Start creating affiliate marketing content.
Depending on the number of products you are marketing, create up to 3 unique contents for each of the products. You should vary the content to appeal to various segments of your audience. This ensures you have a wide reach and patronage.
It is not enough to just create links and add them to your pins. Affiliate marketing does not work that way. You need to create quality content around the products you are promoting in your niche.
And if creating content is not your thing, later I will show you how to get an endless stream of automated quality content.
Indirect affiliate marketing this way promises better results. I have some tips to help you develop your market strategy. Write from your experience:
I have said it is always best to market a product you are conversant with. You can buy the product and understand what it is about, then provide a review. Be as open and objective as possible to earn your readers' trust.
– Always place your audience at the center of your content:
Your reader is the most important part of this business. As such, make sure your content is relatable and original.
– Provide information
Your audience hopes to learn from your content. Make sure you justify the time they spend reading the content. This way, they get to understand the product or service better and why they should click your affiliate link.
– Vary your style
Do not present your content the same way. Use different approaches for your content and for different products. A monotonous affiliate marketer is unlikely to do well after some time. Infuse stories and anecdotes into your articles. Constantly find creative approaches to content creation.
Most affiliate programs would require you to submit a website link during registration. To create Pinterest affiliate marketing content, you need to use a particular medium, and using a website is one of them. But you can still run your affiliate marketing on Pinterest without a blog or website, though.
How to Create Affiliate Content on Pinterest Without A Website
If you don't have a website or blog, you should at least use a landing page for your promotions. Since Pinterest can decide to change its rules regarding affiliate links at any time, having a page that serves as a bridge between Pinterest and your affiliate products will guarantee your safety.
With the right affiliate landing page builder, you can build a landing page for your content. I have found Builderall handy in such situations. I mentioned the Builderall affiliate program earlier. Builderall is an exciting tool for building a landing page with amazing features.
You have beautiful templates to choose from. You can build a professional and reliable landing page in no time and at an affordable price. This way, you can create content and do affiliate marketing without a website.
To promote affiliate links on Pinterest without a website, you will need to sign up for affiliate programs that don't require a website, create affiliate links for the selected products, post these links directly on your Pinterest pins, or indirectly through the use of landing pages and use Pinterest to drive traffic to the pins.
How to Create Affiliate Content on Pinterest Using a Website
if you already have a website, you can just go on with creating content. If you want to build a website specifically for affiliate marketing content, you need a hosting service for your website. HostArmada is a relatively new web hosting service introduced in 2019.
It has been impressive so far, with amazing features that make it a worthy contender with older hosting services. It is a cloud-based service with information spread across various servers across the world. This ensures your website loads a lot faster.
On the other hand, you can own a website and not own the content on it. You can improve your passive income by "borrowing" other people's content for your affiliate marketing.
With YT Evolution, you can convert YouTube videos to niche-based websites. Interestingly, Google loves such websites and ranks them well. You don't have to spend time making and editing videos.
You can make money off these websites using affiliate links related to these videos. You can also do this with your personal YouTube channel – convert it to a WordPress website automatically with YT Evolution.
Step 6: Create Pinterest Boards.
Your boards will be the home of your Pinterest pins and you need to create boards that are relevant to your audience and to the affiliate marketing content you have created. 5 to 10 relevant boards should be enough to get you started, you can add more later.
A good strategy will be to have a general board that encompasses your whole niche where you can put all your pins and the rest of the boards will be about some specific categories within your niche.
Your board names should be what people are searching for within your niche, you shouldn't think out of the box to come up with your board names, just go with phrases your audience is using.
An easy way to do this is to use the Pinterest search bar, type in some keywords related to your niche and it will bring out phrases your audience is searching for. Pinterest works like search engines and optimizing your boards and pins is a must if you want to drive targeted Pinterest traffic to your affiliate link.
Step 7: Create affiliate marketing Pins and upload them
You need to create affiliate marketing-worthy pins, add your links to them and upload them to the appropriate boards.
Designing these pins may appear difficult if you don't possess graphics designing skills. But it's not when you are using an easy-to-use tool that helps create appealing and aesthetic Pins like Canva.
You get access to tons of high-quality stock pictures on Canva. You get even more on Canva Pro. This makes it better than most other similar easy-to-use designing tools. It has superb versatility and offers you have access to many Pinterest templates.
To get pin ideas for your boards, use the Pinterest search bar as mentioned above. Create generic pins for your general board. Using the weight loss niche as an example, you can search for pin ideas related to weight loss in general by typing in "Weight loss" in the search bar.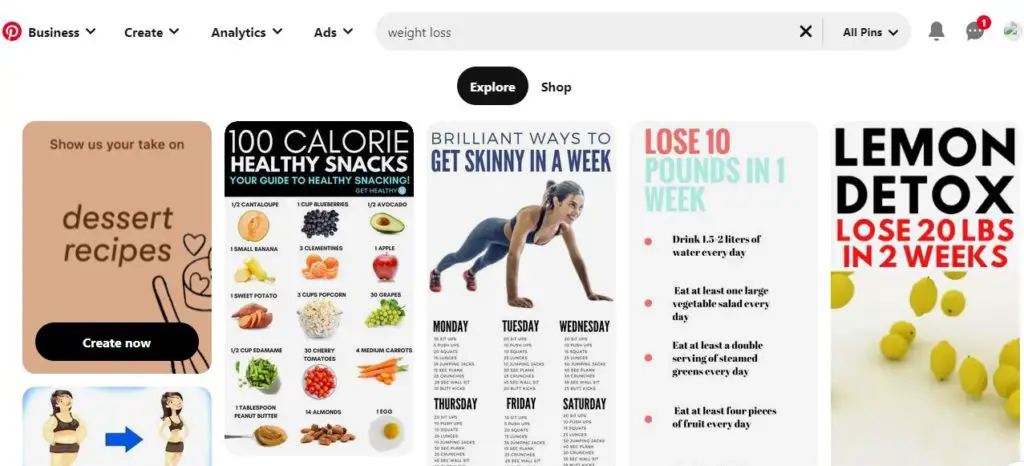 To create pins for some other categories in the weight loss niche, we will use Keto recipes as an example. Type in "Keto recipes" in the search bar and you will find the pins ranking high for that search tag.
Here are some important tips that I believe will help you.
● Making your Pins longer make them stand out from other Pins. I do not have a standard measurement for my pins. Making them longer makes them more visible.
● Cool colors are less likely to be re-pinned when you compare them with brighter colors. Use warm colors like red, orange, or yellow in your designs. Also, use these colors in moderation.
● Use enough stock photos even when you have to pay. When your Pins have pictures of good quality, they perform better. Upgrade from Canva to Canva Pro as soon as you can to enjoy more quality pictures.
● Don't forget the keyword search I already mentioned.
● Use simple fonts that are easy to read. Your choice of font can put off a potential referral. You can allow someone to check out the text for you before sharing. If the person cannot read it well, change the font.
● Have a succinct title that immediately lets the user know what the product is about.
● Create more than one Pin for the same product. Use different titles and alter your keywords. This increases the chances of coming up in a search.
How to Upload affiliate pins on Pinterest
This involves steps on how to post affiliate links on Pinterest in order to generate organic traffic to your offers.
Step 1: Click the drop-down button on the create tab and select "Create Pin"
Step 2: Upload the created pin
Step 3: Describe your pin, include your affiliate link to the product you want to promote or matching page on your site if you are doing indirect linking and, click on publish.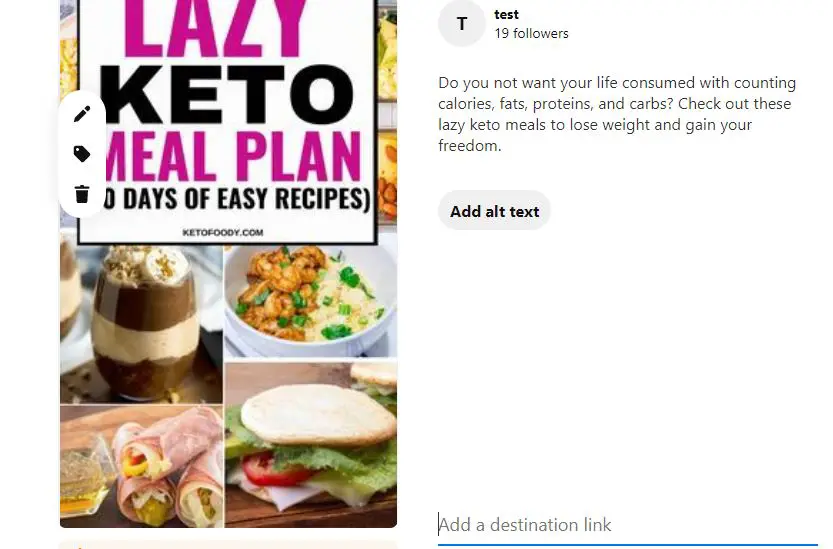 Step 8 Automate your Pins
Automating your pinning makes marketing a lot easier and better organized. It makes you maintain a level of consistency with your posts.
Pin looping helps with scheduling your Pins to specific boards and recycles the posts. Tailwind is an approved third-party app you can use for Pin looping. It also helps you monitor the Pin's conversations and boost your reach.
Final Note on Pinterest Affiliate Marketing
Affiliate marketing is a rewarding passive source of income. It is possible to make a lot of money with Pinterest affiliate marketing while enjoying the process.
This is why I have taken out time to provide this stepwise process to help overcome and anticipate the hitches on the way. You, too, can start making cool money from affiliate marketing by following this guideline.
Frequently Asked Questions
Are there Affiliate programs for Pinterest without a Website?
Yes, there are. Some affiliate programs will let you use your social media account link in place of your website. You can run your Pinterest affiliate marketing without a blog or YouTube channel.
Does Amazon allow affiliate links on Pinterest?
There are many controversies about this because Amazon keeps changing its policies concerning doing affiliate marketing on Pinterest
Does Pinterest allow affiliate links?
Yes, Pinterest now allows affiliate links. They stopped allowing affiliate links some years ago due to spam. Now they are permitting it again. But you need to do a proper disclosure whenever you are including affiliate links directly to your pins.