There are only a few places in the world where the kids don't instinctively recognize the word "Disney." The franchise has spread across the globe and is one of the most well-known brands around the world.
In 2019 alone, the Walt Disney company (that's the entertainment and media branch of the Disney corporation) generated over $69 billion in revenue.
Who wouldn't want to get in on that?
Thankfully, the Disney corporation runs several businesses, and with these businesses come several affiliate programs.
Since the Disney affiliate programs are within several independently-run companies, there are several differences in the terms, conditions, promotions, and commissions.
Today, we're going to look at all the Disney affiliate programs, alongside their commission rates, cookie durations, and other details you need to start making money from Disney.
List of the Disney Affiliate Programs
1. ShopDisney affiliate program

The shopDisney affiliate program or the Disney Shop affiliate program is an effortless and straightforward way to make money with Disney.
All you do is promote the merchandise available at shopDisney.com, and when someone purchases a product through your affiliate link with your unique ID, you get a commission.
If you run a Disney-related blog or website, pitching the merchandise to your audience won't be difficult at all.
At shopDisney, you can buy all sorts of collectibles, movie merchandise like bags, shoes, clothes, pajamas, swimwear, and coats, all inspired by characters from Marvel, Pixar, Disney, Star Wars, etc., Disney park inspired collections, exclusive designer styles, and all sorts of toys.
shopDisney will provide creative promotion materials like banners and texts.
Commission Junction runs the program, and as long as your promotion method is Disney-related, you shouldn't have a problem getting accepted.
You get a commission of 2% on every purchase you make, and their cookie duration is ten days. shopDisney has another website for UK affiliates, and their commission is 4% with a cookie duration of 30 days.
2. Disney Movie Club Affiliate Program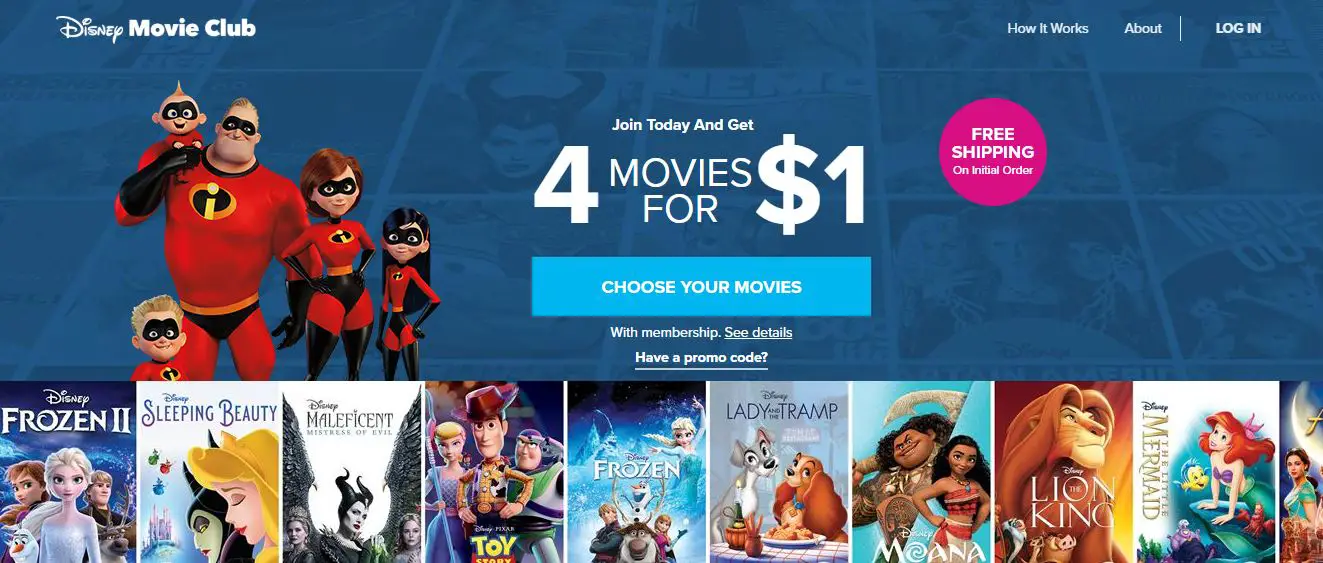 The Disney Movie Club affiliate program is one program that's extremely easy to convert. This site is very popular amongst many parents and younger people. It offers over 125 Disney movies, enough to satisfy every Disney movie lover.
New Movie Club members will get three movies free if they agree to purchase six movies over the next year. That's a 9-for-6 deal.
This Disney affiliate program has a commission rate of $10 per new member. That is, if someone becomes a member through your link, you get $10 free and clear.
To help you promote the Movie Club better, there is an extensive array of banners, buttons, and links to decorate your site with. The application process is pretty simple, but it can take up to two days to get approved.
Affiliates are paid monthly with a minimum of $25 withdrawal.
You'll get information on cookie duration and other details when you register.
3. Disney Blast
Disney Blast is a subscription service for education. Learning can be a chore for kids, but this service makes it fun with games and videos, including their favorite characters.
It's not a well-known service, but it could be a big hit for a select audience. Disney Blast also helps you promote them with all sorts of advertising material. You get to choose.
They pay $10 for every new subscription you get. They call cookie duration "return days," and it lasts for 30 days.
Like Disney Movie Club, payment is monthly, but only if you've earned up to $25.
4. Magic at Your Door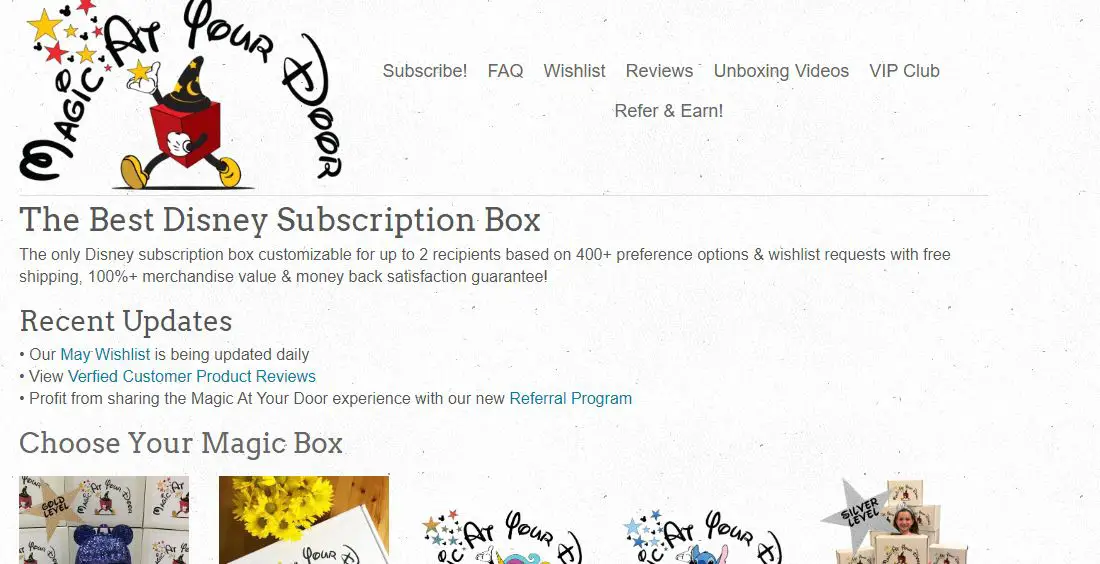 This Disney affiliate program is for another retailer of Disney's merchandise. However, it's a little different.
Magic at Your Door provides boxes for Disney merchandise based on the preference of the buyer and ships it to make some Disney Magic at the buyer's doorstep.
This service actually runs on a subscription basis and has lots of extras like free shipping and a money-back satisfaction guarantee.
These gift boxes serve pretty well as gifts, and as you have over 400 preference options, you can customize your box however you want. There are several types of Magic boxes, though, and each of them has a separate commission.
However, commissions range between $7.5 and $12.25.
5. Disney+
The Disney Plus affiliate program has only recently returned from a long hiatus. Disney+ has been a huge hit ever since it was created. Now that it also has content from Hulu and ESPN under its belt, it's become even more popular.
Disney Plus's affiliate program is called the Disney+ Partner Program, and it pays a commission for every person that subscribes through your link.
There might be a Disney Plus affiliate program for the UK, but there are no certainties yet.
This program is the only Disney streaming affiliate program.
And that's all for our Disney affiliate programs. But it's not entirely over yet; there are still some affiliate programs with ties to Disney.
The following are Disney's Theme Park Affiliate Programs:
1. Destinations in Florida
This is a travel agency based in Florida that specializes in organizing family vacations. This means that they organize family vacations planned around Disney World, Florida, Universal Studios, and other famous tourist destinations.
They have over 13 years of experience, and some of their staff even have experience working in some of these tourist attractions, so they definitely know their way around.
You get paid whenever someone fills out their form through your link. You get $2 for a short form and $3 for a long-form.
2. SeaWorld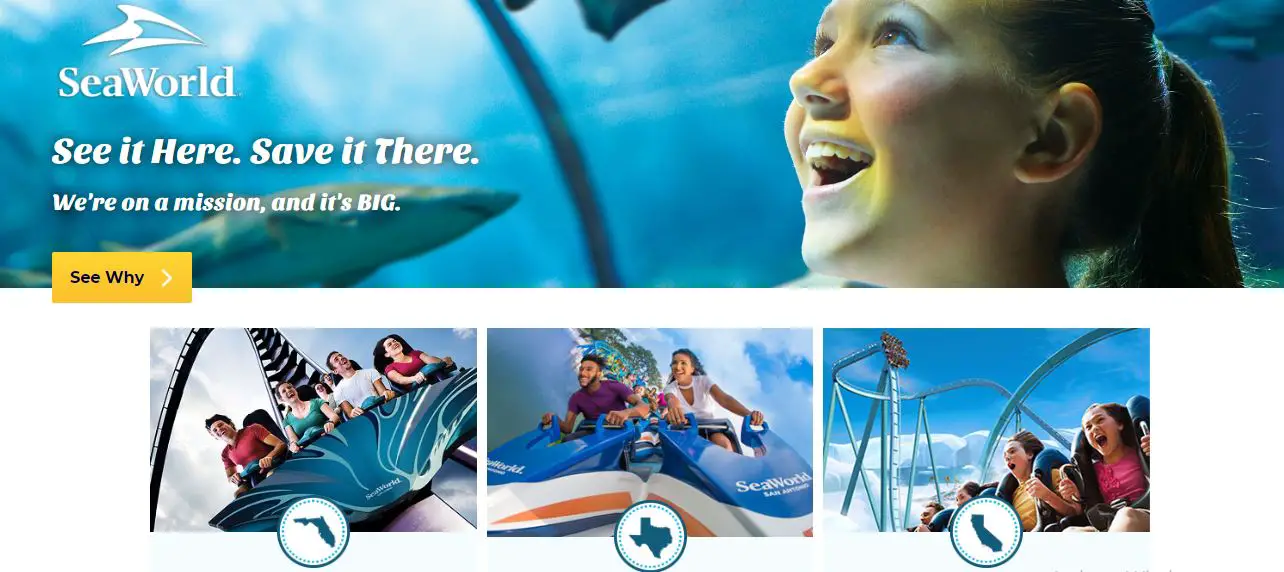 You can choose to work with SeaWorld and promote various theme parks. You're paid a commission whenever someone buys a ticket or books a vacation through your link.
You'll also get to use their pre-made banners, texts, and reports to make the most of your promotions. Their commissions vary depending on what's bought through your link, but they have a very clear list of what they don't give commissions for.
3. Undercover Tourist
First, we'd like to say that this affiliate program has nothing to do with going undercover at all. They're a travel agency that works with Disney tourist destinations like Disney World and Universal Studios. Most of their customers are US-based.
They offer a 1% commission on ticket bookings, hotels, and car rentals.
How to Make Money With Disney Affiliate Programs
Disney has a massive franchise around the world and an excellent reputation to go with it. But that won't be enough to earn you your commissions. So, here are two tips to make money off of Disney.
1. Make sure to promote products in your niche
Only promote Disney products that are in your niche. shopDisney has a lot of goods, so unless you sell electronics, there's always something for you to promote.
2. Create content
Good content stimulates traffic. When promoting Disney products within your niche, you need to have content that encourages your readers to buy. Think product guides and product reviews.
3. Links
Use all resources available to you. If videos are showing the use of the products, use them. Pictures, as well. Sometimes, visual images can do more for your commissions than your words can.
Conclusion
Disney has a lot of things going for it. Excellent reputation, good products, and a broad niche. However, their commission rates aren't high, and their products are so widespread, that there are risks of fakes being mixed in with the genuine products.
Although the Netflix affiliate program has been closed, the Hulu affiliate program, and some other video streaming programs are great alternatives to Disney plus program.