Email marketing is an established form of promotion and advertising for a long time, and it's clear to see why. According to DMA, the return on investment (ROI) for each $1 spent on email marketing is $42.
Today, we have applications like MailChimp that allow us to make our emails better and attract new customers.
MailChimp can create sign-up forms, social posts and ads, and landing pages. You can also use it to achieve automated personalization. That is, it'll automatically personalize your emails so that you don't have to.
MailChimp has goals of expansion and an extensive user base and audience, but has its long arm stretched into the world of affiliate marketing? Well, that's what we're here to reveal. Read on and find out.
About the MailChimp Affiliate Program
MailChimp's affiliate program isn't an affiliate program at all. Affiliate programs allow you to promote a product or service in return for cash. What MailChimp offers isn't an affiliate program, but a referral program that runs like an affiliate program.
Because it's run like an affiliate program, we will continue to refer to MailChimp's referral program as an affiliate program.
MailChimp's affiliate program is called Monkey Rewards. When someone clicks on your own unique link and buys a plan on MailChimp, you get paid $30. But you cannot cash out this money.
This money can only be used on MailChimp for MailChimp products. But, considering that the most popular MailChimp plan is $9.99 and you get $30, it seems like a pretty good deal.
But the fact that it's a good deal but not able to be turned into cash is why it's such a big problem for affiliate marketers.
However, MailChimp doesn't seem to have any love for affiliate marketing itself. In its Acceptance Use Policy, MailChimp placed "Affiliate Marketing" under Prohibited Content.

They've explained that this is because affiliate marketing usually promotes products of a third party that has nothing to do with MailChimp.
That is, you're using their services to boost the sales of a company that does not have any dealings with them. This is completely banned, and if you're found to be using MailChimp's services to send these sorts of emails, your campaign might be canceled without warning.
However, MailChimp has nothing against affiliate links. Affiliate links are those links that a company usually allows affiliate marketers, and partners to create so as to identify who sold what.
MailChimp's affiliate program uses this to determine what partners have referred new users and decide who to award credits to.
MailChimp has stated that there's a clear difference between affiliate marketing and affiliate links. Every kind of affiliate marketing uses affiliate links, but not all affiliate links.
Affiliate links can be used by partners and other agents. The use of affiliate links is allowed when using MailChimp's services. However, there are a few conditions attached.
While the affiliate link can be used as a recommendation or suggestion, the content of the email cannot be centered around the affiliate link.
You must make sure that your affiliate link is not blacklisted. If your link is found to blacklisted, your email campaign will be stopped, and your account may be suspended or deleted.
This is the complicated relationship between MailChimp and affiliate links. However, this doesn't detract from the fact that MailChimp has excellent products and plans.
MailChimp's Pricing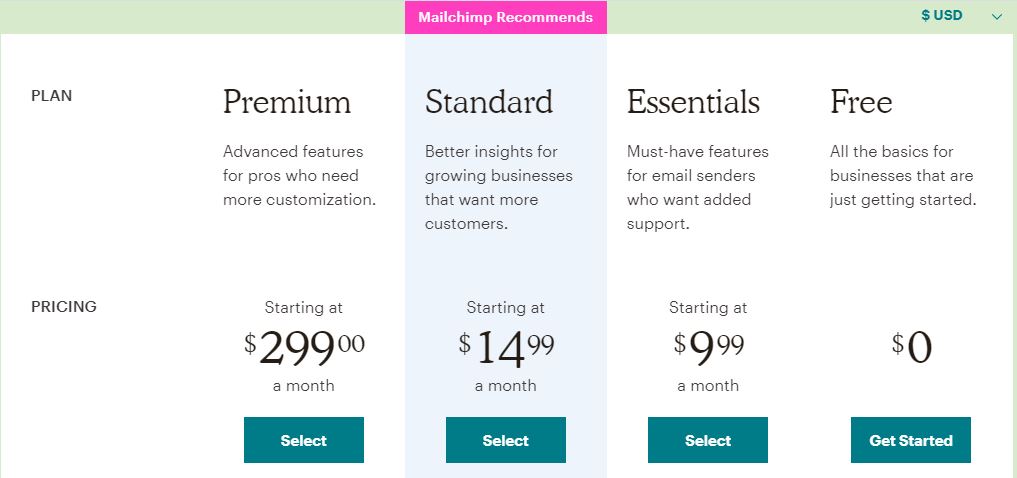 MailChimp has four plans.
Free: This plan is for beginners.
Essentials: This product has only the basics needed for business start-ups and new email senders. It costs $9.99 per month.
Standard: This plan has more features than the essential program. It's the plan recommended by MailChimp. It's priced at 14.99 per month.
Premium: This product is for medium to large businesses. It costs 299 per month and has a wide variety of features.
To earn a commission from the MailChimp affiliate program, a person will have to buy one of these plans through your link.
Commission
As we've mentioned before, you cannot get cash from the MailChimp affiliate program. Once a person has bought a plan through your link, you'll be paid $30 in MailChimp credits. These credits can only be used for MailChimp's products and plans.
This means that for you to enjoy the MailChimp affiliate program, you'll have to sign up to MailChimp and log in. To use MailChimp optimally, you'll also have to download their app.
Unfortunately, affiliate marketers that don't have a MailChimp account and plan cannot join this affiliate program.
How do You Join the MailChimp Affiliate Program?
Joining the MailChimp affiliate program is as easy as pie, and will probably only take you about five minutes. All you have to do is get to the MonkeyRewards page, which is the dedicated website for all credits given to MailChimp users for referrals.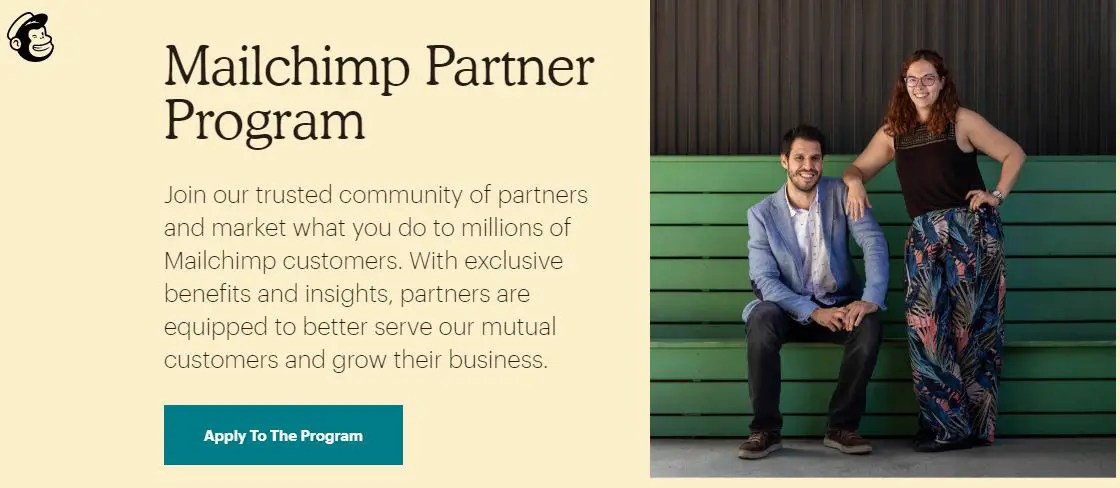 This page is set aside for dispersing the rewards for referrals to the users. To become a part of the MailChimp affiliate program, you have to log in to your MailChimp account first. If you don't have one, you can sign up for MailChimp's free plan.
Once you've logged in, the next thing to do is to set up the MonkeyRewards badge. It's available to every user, so you should have no problem finding it.
To do so, click your name in the top right corner, and then select Account from the drop-down menu. Next, go to Extras, and you'll find Rewards. Under Rewards, you'll find a box to place a checkmark, which says, "Show badge in campaigns."
Once you've ticked that box, you'll be able to show the MonkeyRewards badge in your next email campaign.
Tools and Support
To make your marketing a bit more friendly, you do have a little choice in deciding what sort of badge you're going to use. You can customize the button to a certain extent and make it a bit more to your taste.
After all, this badge is going to appear in your email campaigns, and it needs to be appealing. However, the selection is quite limited.
You'll also have sign-up forms in your account, but you can't customize these.
How to Promote MailChimp
To start earning credits in the MailChimp affiliate program, you can do this in one of two ways.
1. Email marketing
This is what MailChimp is usually used for, and since the logo is already there in all your campaigns, why not use it to save yourself some money? You can incorporate MailChimp's promotion into your campaign.
2. Website content
You can put the MailChimp MonkeyRewards badge on your website. This means that you'll have to strictly follow the guidelines in place for using MailChimp for affiliate marketing.
Who Is the MailChimp Affiliate Program for?
The MailChimp affiliate program only benefits a particular type of affiliate marketer. You'll only get any benefit from this program if you actually use MailChimp.
You can save a lot of money on membership fees, by merely paying it with credits. MailChimp will give you the tools and support to promote it.
But if you don't use MailChimp, nor are you ever planning to, you won't find any advantages here. You might want to take a look at other alternatives. Here are some possible options for the MailChimp affiliate program:
Getresponse affiliate program
In conclusion
Becoming a MailChimp affiliate can be a boon to your finances and savings in the long term. But if you have viable alternatives that can pay you real cash, we advise that you take it as an alternate source of income.