How to Make Money Listening to Music: Top Websites that Pay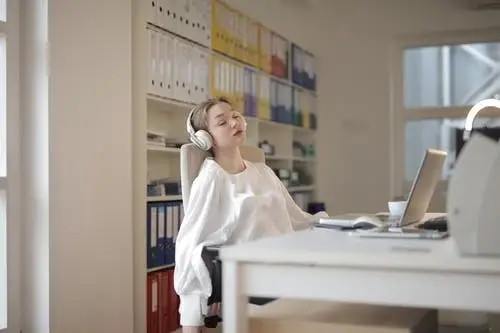 Today, the global music industry is worth over $19 billion. And at the heart of this ever-booming industry is streaming. For instance, 80% of music revenue in the U.S comes from streaming.
The reality is that millions of people enjoy listening to music for fun just like you. However, have you wondered if you could get paid to listen to music?
Although it sounds strange, yes, you can make some cash from just listening to the great songs you already enjoy. Wondering how?
In this article, we'll run through all you need to know if you want to make money listening to music. We'll also introduce you to the best sites that allow you to monetize listening to songs.
Let's dive in!
Why Are You Paid to Listen to Music?
It might be quite hard to believe that you get paid just for listening to your favorite songs. And you're wondering why these websites pay you. Well, it's no scam.
You are more or less being paid to listen to people's problems. Artists, especially newbies, need feedback from music lovers. It's a big deal for them since, without these reviews, they cannot decide how to improve their art.
So, they pay you to identify issues with their songs, tell them if there's a need for improvement, and push them in the right direction. In case you're still worried, don't be. You get paid to help artists write better songs and record hits.
You also get paid for making referrals. As you now know artists need reviewers, so they pay you for connecting them to other reviewers. No scam, it's a simple business model.
How Do You Make Money Listening to Music?
To get paid for listening to music, you need to become a music reviewer. Although each website might have its approach, this generally involves sharing your opinion and thoughts on a new musical piece.
Apart from listening and reviewing the musical composition, you also get paid for referring others to the platform.
It's quite easy; all you need to do is follow this simple process.
Look for a website that requires you to listen and review music in return for a monetary payment.
Create a profile on the site of your choice and wait for their approval.
After the approval, you can then listen, review, and get paid.
Also, you don't need to be a musical guru to do this. You don't even need to write a lengthy review. All you're required to do is explain how the music comes at you. You can also compare it to other songs in the same category.
You can also make money from viewing advertisements. Most sites refer you to radio stations where ads are inserted in between the duration of a musical playlist.
In these cases, you don't need to review or rate anything after listening; all you need to do is hear to make money.
Also, don't think you can just play it and walk away while you get paid. These platforms usually install measures that help then confirm that you're present. You might need to fill in CAPTCHAS or some other code.
How Much Can You Make Listening to Music?
As you'll see in our review, you don't stand to earn a lot by listening to music. At best, you might make around $10 per hour.
Still, it's not a totally bad idea seeing that you already listen to music without getting paid. So, why not monetize it?
Top Music websites & Apps That Pay You to Listen to Music
There are a ton of sites and apps that allows you to make money listening to music. As such, it might be challenging to pick an option. Not to worry, we've identified our top eight choices.
Here you go.
Current Rewards is one of the best paying apps to make money while listening to music and with this app, you don't earn from listening to music alone. You can also make money by watching videos on YouTube and by playing games.
You earn rewards for every music you listen to and for every other point-earning task you participate in on the platform. You can easily earn over $600 a year as extra cash with this app and your earnings can be withdrawn directly to your PayPal account or you can choose to receive them as gift cards.
The Current Rewards app is available for download on both Google Play and the Apple store. You can access and earn from this app from any part of the world because it has no country limitations.
The platform is also a cool way to make money online as a 14-year-old or as a teenager in general.
Click here to visit the official website and download the app.
2. Slice the pie
Regarded as the largest review website that pays, this is a top choice to make money listening to music. Apart from having a straightforward interface, it allows interested persons to join for free.
After joining, you'll need to listen to random songs and give a review. You can do this in three sentences and within 90 seconds. Afterward, you can move to the next step and continue earning.
Also, this platform operates on a rank basis. It assigns you a star rating when you join, and this rating improves as you do more reviews.
Also, people with higher scores get higher pay per report. As such, the more reviews you make and climb up the ladder, the better your chances of earning high.
You start with $0.3 for each review and earn as much as $0.15 for the same type of analysis when you are more experienced. So, in an hour, you can make as much as $8.
Also, by getting people to sign up, you earn more – 10% of their earnings.
Payment also comes easy as you can easily withdraw your money to a PayPal account. However, processing can take as many as five working days, and you'll need a minimum of $10 before you can cash out.
You'll need to ensure that your sign-up email address is the same as the email for your PayPal account. Otherwise, you might have trouble during processing.
It also allows you to earn on multiple fronts by enabling you to give feedback on clothing and brand advertisement.  So, if you have a knack for assessing content, you're sure to enjoy a great experience with Slice the pie.
3. HitPredictor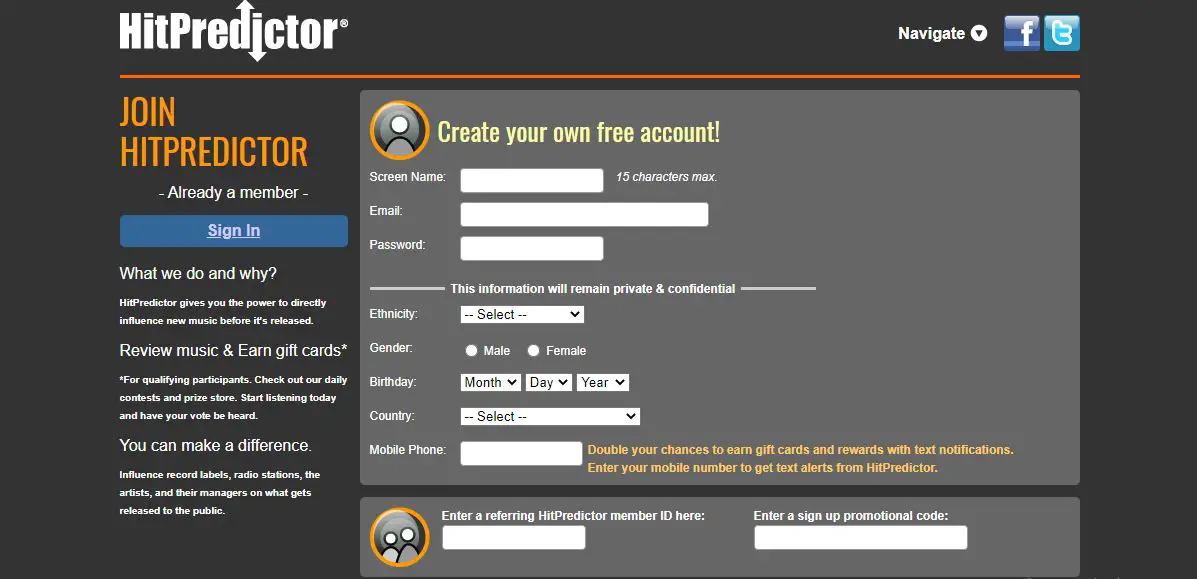 HitPredictor belongs to iHeartMedia and allows you to comment on the quality of music. It provides a pool of songs and requires you to react to them.
This platform is desirable because it's a go-to option for artists and producers to sample public opinions before the official release. As such, you're sure to get your ears full and, in turn, earn fairly with them.
To jump on this train, all you need to do is sign up, enter your details, and select your preferred genre. Afterward, you get to rate the music using a bar, which ranges from "I Hate It!" to "I Love It!".
In return, it allocates 3 points for each rating, one that may accumulate to up to 90 points in an hour.
Also, you can earn bonuses by completing several reviews within a period. This bonus reaches as much as $5 if you're able to review 15 songs. There's no need to write an epistle; a short opinion will do the trick.
Apart from this, you can also earn 5 points by undertaking a short survey. Even more, you can earn 25 points for every new member you refer to HitPredictor.
Although, you'll need that person to have rated at least five songs within their first month.
To join this platform, click here.
4. Musicxray

This website is one of the biggest and most reliable platforms for reviewing music. It allows you to join free of charge either through a Sound Cloud profile or via email.
You might also need to synchronize your account with Facebook to ensure it works properly. After, it requests for your preferred category then pairs you with songs that will interest you.
It operates by notifying you via mail of an existing song available for review. Then, you'll need to click the link and give short reports about the songs.
You'll have to do this as early as possible as a Musicxray review indicates that only a limited number of people get paid per song. As such, you'll need to monitor your mail continually.
Musicxray also pays based on the number of songs you listen to. And this depends mostly on the available songs in your preferred category. So, to earn more, it might be wise to pick a genre with more songs.
It then pays $0.10 for each second or as much as $12 per hour. And unlike some other websites, you only need to listen for 30 seconds before you do your review.
Afterward, you can make a withdrawal as long as you have at least $20. It offers payment to your PayPal account. So, working and getting paid comes with no hassle.
To register on Musicxray, click here.
5. Radioloyalty

Established by Michael Hill in 2010, Radioloyalty is an internet radio that pays you for listening to it. It has a wide range of stations and genres to choose from so that you never get bored as you try to earn a few bucks.
Even more, it supports devices like Pcs and smartphones so you can make money listening to music through music apps.
This platform requires you to sign up on it and create a complete profile, and in return, you earn 1250 points. (250 for the sign-up and another 1000 for entering your account information).
This site that's free to join also offers you 10 points for listening for 10 minutes. However, you'll need to input a code every 30 minutes, so they're sure you listened to their radio station.
Also, just like every other website, the pay isn't all great. For every 10 points earned, you have $0.03. As such, you'll need to have listened for long hours to make any substantial revenue.
You also have to reach a minimum of $25 before you can make any withdrawal.
However, this platform isn't so bad as it offers you other opportunities to earn money. They include:
You can get paid by taking surveys provided by their partners. These surveys don't require so much time and afford you an extra source of income.
You can refer others to them and get 10% of their earnings.
You can earn more cash by visiting recommended sites via their page for a specific period.
Click here to join Radioloyalty.
6. RadioEarn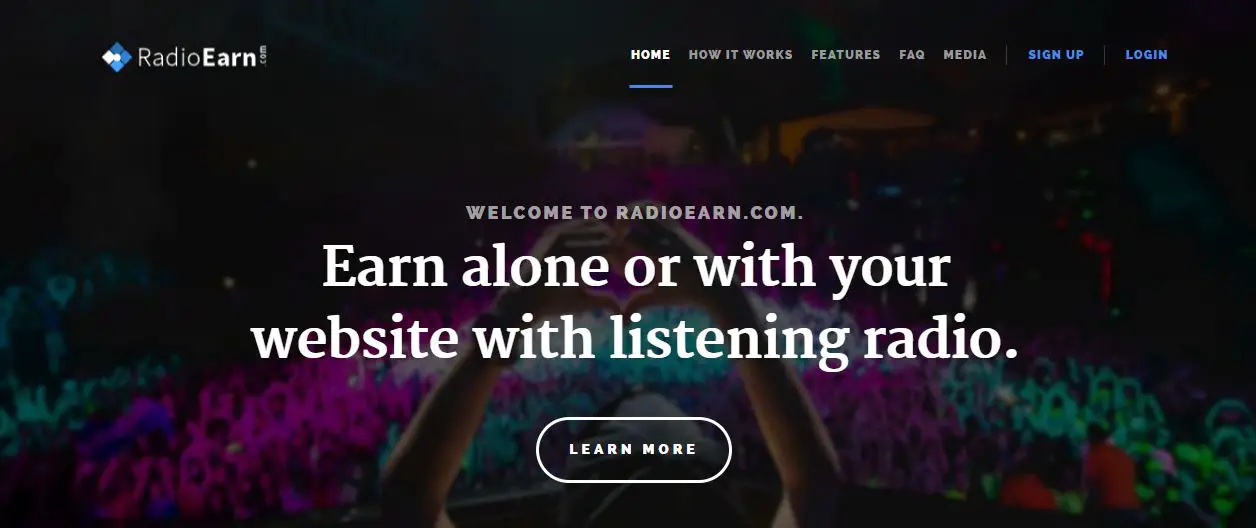 If you want to make easy money while listening to a radio, this is a great choice. It rewards you for playing your radio in the background.
You don't even need to review or give any opinion. It also allows you to avoid stress and hassle when you sign up. All you need is your email, a username, and a password to begin to earn.
After registration, you'll find links to different genres across various radio stations. Usually, this will depend on your location, and you'll need to stay logged in to increase your earning opportunities.
Once you begin to listen, RadioEarn credits your account with 0.25 points for every fifteen minutes spent. You can then convert your coins to dollars and have it sent to your account with PayPal.
There's no minimum payment requirement, and you can request payment monthly regardless of your balance.
It also offers excellent perks if you own a website. It allows you to integrate their program into your site and get paid each time a site visitor tunes in from your site.
To register on RadioEarn, click here.
7. Earnably

Although relatively young, Earnably is an excellent option if you want to make money listening to music. Even more, joining this platform is very easy.
All you need to do is enter your email address and create a username and password. Once your email is verified, you can start earning.
It has a simple interface that allows you to maneuver your way around and earn money through its various earning opportunities. And for all these opportunities, it offers points as rewards for tasks completed.
Also, it has a low minimum payment requirement of $1, which means you can get your money as soon as possible. And to achieve this, you must have earned a minimum of 125 points.
It also offers multiple payment options such as PayPal, Visa, and prominent cryptocurrencies such as Bitcoin and Litecoin.
However, you can decide to wait longer to earn more. In such cases, you'll need 225 points to make $2, 1000 points to earn $10, and 2900 points to earn $30.
Also, you have to pick between three available levels. And your choice will influence the requirements you need to satisfy before you can receive payment.
If you decide on level 1, you'll need to have completed at most ten offers, have at least 500 points, and redeemed your initial payment.
If it's level 2, your account must be at least one week old, and you must have invited a minimum of one person. For the third level, you'll need to have made a minimum of three invitees and have an account that's over a month old.
Click here to register on Earnably.
8. PlaylistPush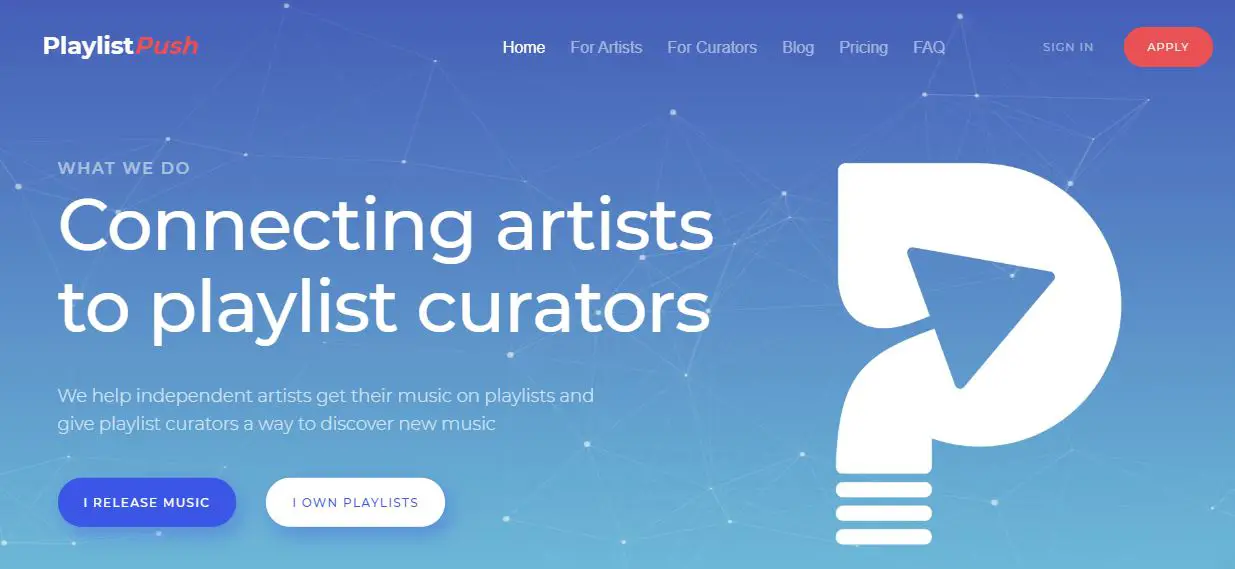 If you want to make money through music apps – Apple Music or Spotify – PlaylistPush is another excellent platform. It collaborates with artists that need exposure by linking them up with curators who receive payment in return for exposing artist to people.
Hence, apart from listening and reviewing songs, this platform also pays you when you add its song to your playlist. However, to be entitled to this opportunity, you need an account on Spotify.
Afterward, you must have a playlist with a minimum of 400 followers and a monthly audience of at least 20 people.
Still, this isn't a total turnoff as you can grow followers at an affordable rate on Fiverr.
If you have met these requirements, you'll receive songs every time there's a campaign to push an artist.
You'll need to review the songs and include them in your playlist. Afterward, you'll get a payment between $1 and $20 depending on your Reputation score.
Also, it pays through TransferWise, so there's no stress or hassle. However, you need to have earned a minimum of $20 before you can cash out.
Click here to sign up as a curator on PlaylistPush and here to buy followers on Fiverr.
Things to Note When Writing Reviews for Music Websites
Writing reviews for music websites isn't a complicated task regardless of whether you're into writing or not. It's just like the simple writing that you usually engage in.
Still, you need to ensure that you convey your thoughts constructively and effectively. So to do a great job, here are a few things to note.
Although you're not required to write a whole page, you still need to provide details that make your review attractive. Avoid general comments like "it was okay" or "it wasn't okay." Go into why you think a particular piece is sweet or otherwise. A three to five sentence review should do the trick.
Make sure you convey your opinion in a simple and accessible manner. As such, write in simple English, keep your sentences short, and be concise in your construction.
Ensure you avoid grammatical errors when submitting your review. This is because a grammatically incorrect review usually equals a terrible rating. And bad ratings equal less pay. In case you're not sure, use a grammar checker.
Conclusion
Thanks to the internet and social media, money-making opportunities are no longer limited to conventional means. Now, from the comfort of your home, you can make money listening to music.
So, if you've got a thing for Spotify or Apple Music, register on any of the platforms listed to monetize your jam sessions. It's like getting paid for having fun. Cool right?