There are many methods to earn money online, but one of the easiest is to get paid to watch YouTube videos.
Nowadays, the best side hustles are the ones that can be done from the comfort of your bedroom and often do not feel like real work.
You're probably among the couple hundred million people that spend hours on their devices. So why not make some cash out of watching a few clips on YouTube or TV.
All you have to do is watch something, and some companies are willing to pay you a few dollars for your "efforts." There are some that will pay you for your screentime even if you reside in a third-world country like Nigeria. Cool, right.
Not too many companies do this, however, but a few do. Continue reading to learn how to make money online by watching YouTube videos, how much you can expect to make, and whether this online business is a good fit.
How to Make Money Online by Watching YouTube Videos or TV
Several companies offer individuals money just to watch a few ads on YouTube or some movies. Some companies use certain platforms or sites to provide rewards for watching specific videos.
There are different paths to take when looking for a way to earn money while watching YouTube videos. I've divided them by platform.
1. Sites
These platforms are the most abundant. These sites are companies that pay individuals to watch YouTube videos or are platforms that help companies to gather data of some sort or spread information.
This information is usually linked in some way to the movies or ads you'll be tasked to watch.
2. Apps
These are platforms that make having the apps a requirement. You generate income by either watching the videos on the app or having it run in the background while streaming to earn money.
If you would like to make money with apps by other means asides from watching videos alone, here's an easy-to-use app where you can earn up to $600 per year in passive income from any part of the world by listening to music.
You can earn far more if you choose to watch videos, refer friends, play games, or take surveys. You can receive your earnings via PayPal or gift cards.
3. Job Opportunities
These opportunities are for those who'd like to make a career out of the get paid to watch videos on YouTube gig. There are some entry-level jobs you can use to make money by watching YouTube videos.
You can even put some of them on your CV. Make a bit of money and get some experience that looks good on paper.
You can work with as many or as few platforms as you like. You can even work with an app, a few sites, and have a job reviewing films. It's all good.
This kind of job can also allow you to get paid to watch TV shows on Netflix.
To make starting up your hustle a bit easier for you, I've compiled a list of the best-paid platforms to get paid to watch YouTube videos. Take a look.
Apps That Pay You to Watch YouTube Videos
Viggle is an app that pays you to watch YouTube videos, movies, or series that you were probably already watching.  You earn one point for each minute you spend watching a video.
All you have to do is tap the Viggle app and then get watching, and you'll be racking up the points.
You can even watch Bonus Shows to stack up some extra points. You can watch videos for money on apps like Amazon Prime, Netflix, and Hulu.
Viggle understands that sometimes you might get tired after a long day of video watching. So, it provides in-show games. Some shows offer 10 points per minute instead of one.
To earn with Viggle, you'll need an iPhone or Android device. Points can be redeemed for gift cards, prepaid debit cards, or other gifts.
On Slidejoy, you get paid for interacting with ads or watching movie trailers. Well, you don't actually have to watch them.
The way Slidejoy works is that it sends you an app as soon as you unlock your device. You can choose to swipe left and interact with the ad or trailer or swipe right and ignore it.
No matter which direction you swipe, you'll get paid the same amount. So you don't have to watch any ads if you don't want to.
If you engage the ad, you might get redirected to a Play Store or YouTube page or the advertiser's website.
To earn more cash, you can refer your friends or connect the app to your Facebook account. You can get paid your money through PayPal or get a gift card.
Or you could choose to donate to your favorite charity. Slidejoy is only available on iPhones and Android devices.
Nielsen is a company that measures TV ratings. They also measure all sorts of statistics and metrics using data gathered from you and me.
To help make compiling data something you'd want to do, they're willing to pay you to watch YouTube videos. You also get paid for the additional data gathered while you browse the web.
With Nielsen, you're free to use the internet as you normally do. You can earn money by watching videos and doing whatever else you want.
Just download the app and sign up, and you're all ready to start earning money with Nielsen. You can make up to $50 a year with Nielsen and gain access to their monthly sweepstakes.
They usually give away over $10,000 split between 400 people every month.
Adfun is an app that through which you can have some fun with friends online and also get paid for watching video ads.
You will get more rewards with this app if you are able to get more people to interact with the videos you watch.
This mobile app is built to help companies gain broader exposure by creating a fun environment for its users and users are rewarded for viewing and sharing ads made by these companies.
5. Instant Rewards
Instant rewards is a phone app that gives you points for watching videos, completing offers, and doing tasks like downloading apps. Each point you earn on this platform is equivalent to $0.01.
The videos that earn you points are usually 15-30 seconds long. You will be rewarded with 1 point regardless of the length of the video.
This means you will earn roughly $2 for each hour spent watching videos on Instant rewards.
You can also earn more with the Instant rewards affiliate program. The program pays you 10% of all the earnings of the people you refer.
Best Websites That Pay You to Watch YouTube Videos
Picoworkers is a micro job website for freelancers where you can earn money by watching videos on YouTube and also by taking some other tasks.
Other ways you can earn from Picoworkers apart from watching videos include.
Signing up for websites
Liking social media pages
Following social media accounts
Unlike most other websites where you can get paid to watch videos on YouTube, Picoworkers accept workers from all over the world and it's a great way to watch videos and make money in Nigeria.
The signup process is very easy and there are often lots of jobs available immediately after signup.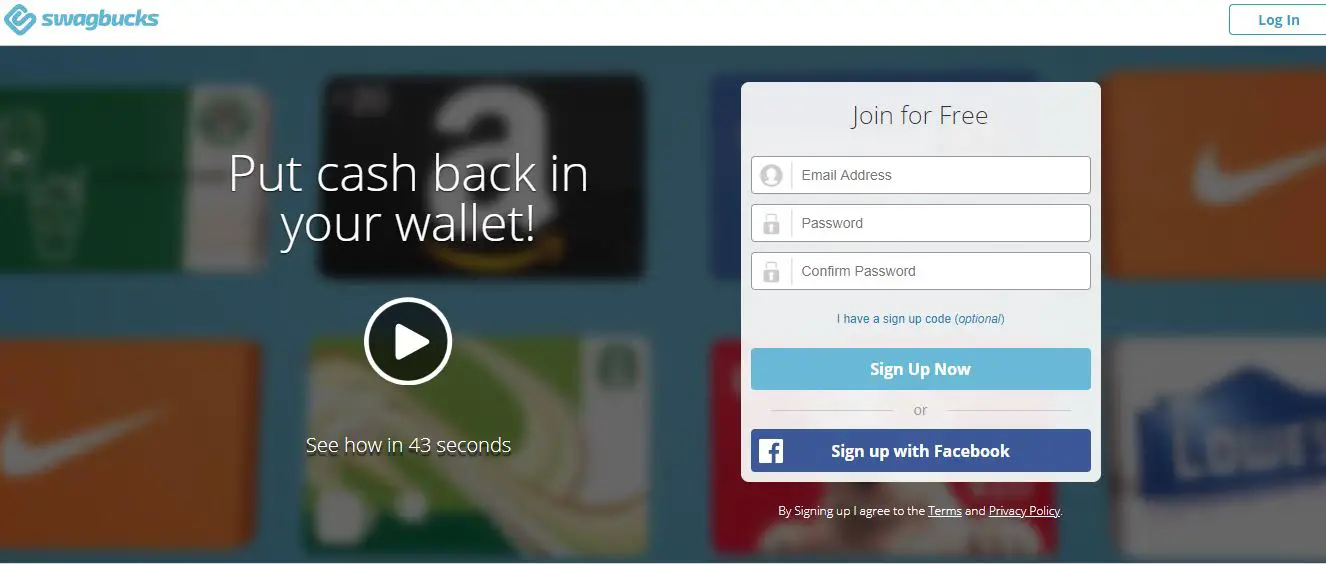 Swagbucks is one of many video earning sites where you can get paid to watch videos on YouTube. However, it is arguably one of the best. On Swagbucks, you can take your pick of over ten different genres to watch.
While watching, you earn points called Swagbucks. These Swagbucks can be exchanged for cash or gift cards. You can make your first bit of PayPal cash just for signing up.
If TV's more your thing, Swagbucks also has an app for TV viewing. You can run the app when you're busy and let it earn points for you.
You can also earn points for doing other things like taking surveys, shopping, surfing the web, or completing tasks.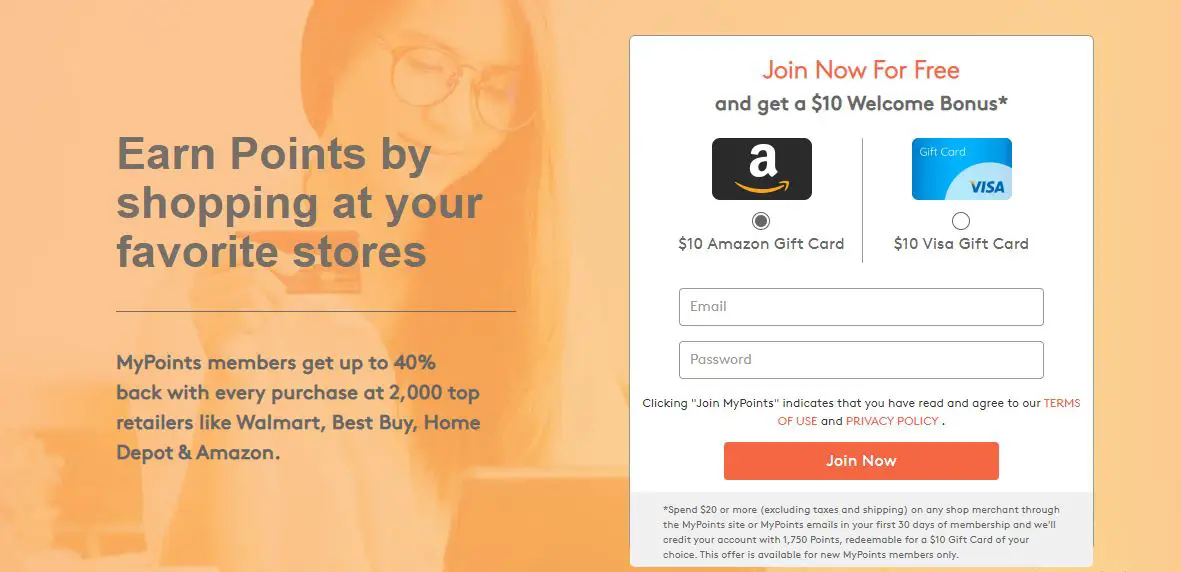 If you have a laptop and a phone, you can have the best of both worlds with MyPoints. This site does allow you to watch movies and earn cash, but you can only do this with your desktop.
If you don't have a laptop, you can still make money with the app, MyPoints TV.
MyPoints is another app that lets you earn money by doing a variety of things. You can answer surveys, play games, print coupons, etc.
You'll also get a $5 bonus just for signing up. The videos you'll be watching will most likely be movie trailers, previews, app trailers, etc.
The minimum payout is $25, and you can get paid through PayPal cash or gift cards.
InboxDollars is one of the top alternatives to Swagbucks. The same company, Prodege LLC, actually owns both InboxDollars and Swagbucks.
You can do a variety of things to earn cash, including, of course, watching YouTube videos. You can watch a variety of short videos with InboxDollars. Movie previews, news clips, cooking or health shows, etc.
You can also do other things to earn cash, like play games, take surveys, watch TV, read emails, and shop.
Before you watch any video or do any other task, you can check how much money it'll give you first and weigh your decision. To get paid, you have to have made $30.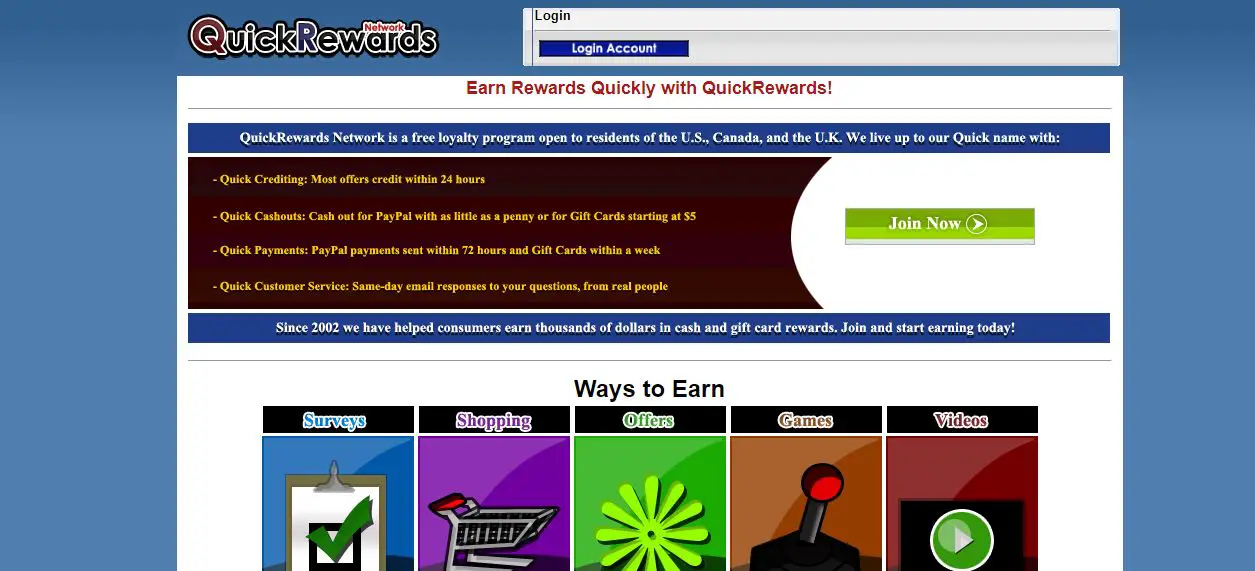 This is another site that allows you to make money by watching videos. You have to watch the videos recommended to you on the site.
You can also perform additional tasks to help you earn PayPal cash fast. You can take as many as three surveys a day.
You'll also have a chance to make money while shopping once daily. You can earn as much as 25% cashback. You can get your points redeemed through PayPal or get a gift card to a restaurant or your favorite stores.
QuikRewards doesn't have much of a delay when it comes to payouts. Often, you can get your cash in 24 hours.
If spending a lot of time watching videos on YouTube is one of your hobbies, this site can help you earn money while watching these YouTube videos. Paid2Youtube was established in 2009 and paid people to upload their own YouTube videos and watch others' own.
This platform is a great platform to generate income through YouTube by watching videos.
You can watch any video on YouTube and get paid for it. And with more than 500 hours of content being uploaded to YouTube every minute, you could earn quite a lot.
Just these two tasks don't pay a whole lot. But you can also earn cash by commenting, subscribing to channels, rating videos, and referring friends.
You also get a certain amount of money every time the person you referred performs a task like commenting. You can withdraw your cash from PayPal once you've earned $10.
Unlike other websites that offer money for sign-ups, iRazoo offers you 100 points straight off the bat. You get to watch videos of varying lengths for cash.
iRazoo has a pretty good stock of videos with topics ranging from cooking to health to tech and sports. This stock gets updated daily, so you're never stuck having to watch the same old stuff over and over again.
Apart from watching videos, you can also complete tasks, download apps, try products, take surveys, submit emails, and play games to earn even more money. Your earnings will be paid to you through PayPal or a gift card for your favorite store.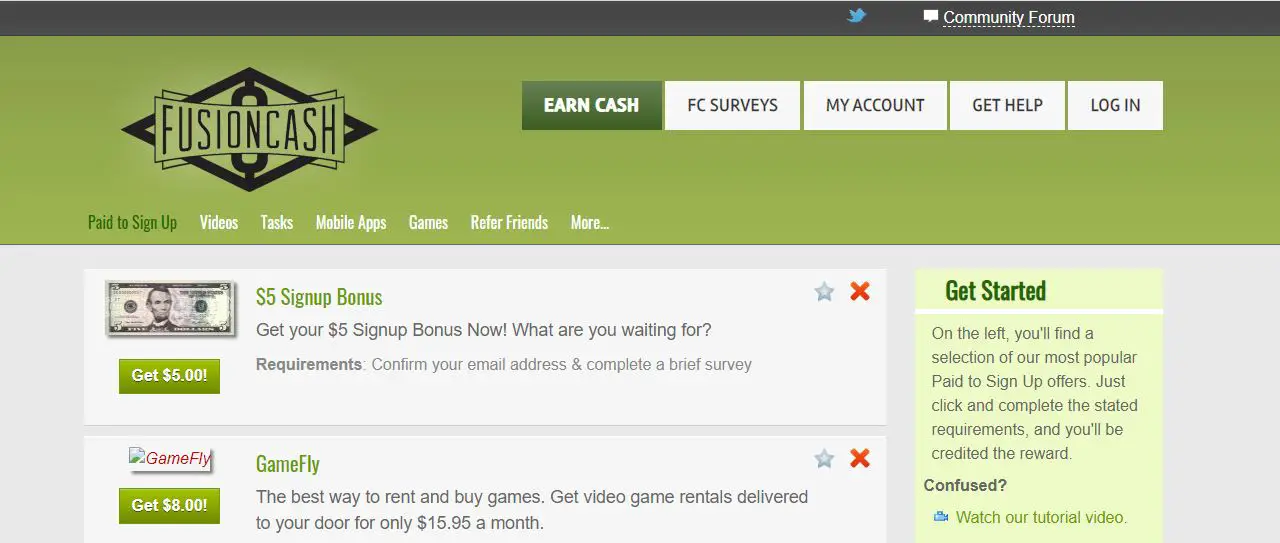 FusionCash is just like all the other sites on this list, except for two differences. FusionCash allows users to make money by watching videos and completing other tasks that will be displayed.
These tasks are displayed every day and are continually being refreshed. The difference between FusionCash and many other sites is that you don't make a lot of money for each individual action.
FusionCash can pay up to $8 for a task. While these tasks may not come as often as we like, it is a chance to boost your payout.
Once you've earned a bit, you can get paid through a check, direct deposit, or through your PayPal account. This variety in payment options is hardly seen on other sites.
Timebucks is one of the few websites to make money online in Nigeria by watching videos.
Apart from watching videos, there are a number of tasks that can earn you money on this platform. You can earn money by taking surveys, playing games, referring friends e.t.c.
Timebucks works with an affiliate marketing system. Any company that wants to promote its brand on the platform must pay a certain proportion. They pay members taking the task a larger part of the pay and keep the rest.
Using Timebucks videos as an example, the company issuing the video-watching task may pay $0.90, while Timebucks pays the registered member $0.81 for watching the video, taking $0.10 as their own cut.
10. Perk.tv
This site allows you to make money by watching videos through its intuitive design. With Perk.tv, after one video is over, you don't have to choose the next one manually.
The app's design makes it so that the following video will immediately start playing once the current one is over. This is fantastic news for those of us who just want to start the video and then leave it to play and earn money.
The videos you get paid to watch include movie trailers and video games. You can also do other tasks to earn money with Perk.tv. This company has a search engine, and you get paid to search the web with it.
You also get paid anytime you use their shopping portal. All points gained from completing these tasks are called "Perk Points." They can be exchanged for cash or gift cards. You can also donate them to your favorite charity.
On SuccessBux, you get paid to watch commercials online. While these ads are short, they are plentiful, so you can make quite a sum if you enjoy doing this type of thing.
Its platform is super user-friendly, so even if you're a beginner at making money with video watching, you'll be able to find what you need just fine.
While watching ads is a more productive activity, you can also make money in other ways. You can respond to surveys, refer people, and even get paid to listen to music.
This company hasn't been around for too long, and, with just over 170,000 users, it is smaller than most of its competitors. However, the user interface is pretty excellent for beginners, which is its selling point.
Jobs That Pay You to Watch Videos
1. Become a tagger
It doesn't happen often, but sometimes, big companies in the movie industry, like Netflix and Hulu, send out notices for taggers.
Taggers help these giants tag movies into specific genres, themes, and age ranges. They label movies into particular areas to make it easier for customers to quickly find the sort of film they want.
These jobs pay way better than most sites or apps. You'll also have a better chance if you're bilingual and if the service is available in your country.
To snatch this opportunity as soon as it arises, keep your eye on Netflix and Hulu's job boards.
2. Write subtitles
Because it takes a lot of time to write subtitles and scripts, lots of filmmakers commission this part of the process to freelancers. You can build a career as one such freelancer. If you're bilingual, you can charge even more.
However, you should charge according to your level of experience. You'll still get work. Maybe, not from professionals and big-wigs, but you will get paid.
YouTubers need someone to write subtitles and transcripts too. You can sell your services on freelance websites like Fiverr, Upwork, and Freelancer.
If you're hoping to work in the movie industry one day, this might be perfect. Experience, pay, and you still get to do what you like to do.
3. Become a critic
This requires you to have some skill in writing and a strong opinion. If you want to make a career out of watching videos, this is probably your best bet.
Besides, learning how to make money online, you'll be getting some money and experience. The pay might not be great at first, but if you stick to it, you might just make it.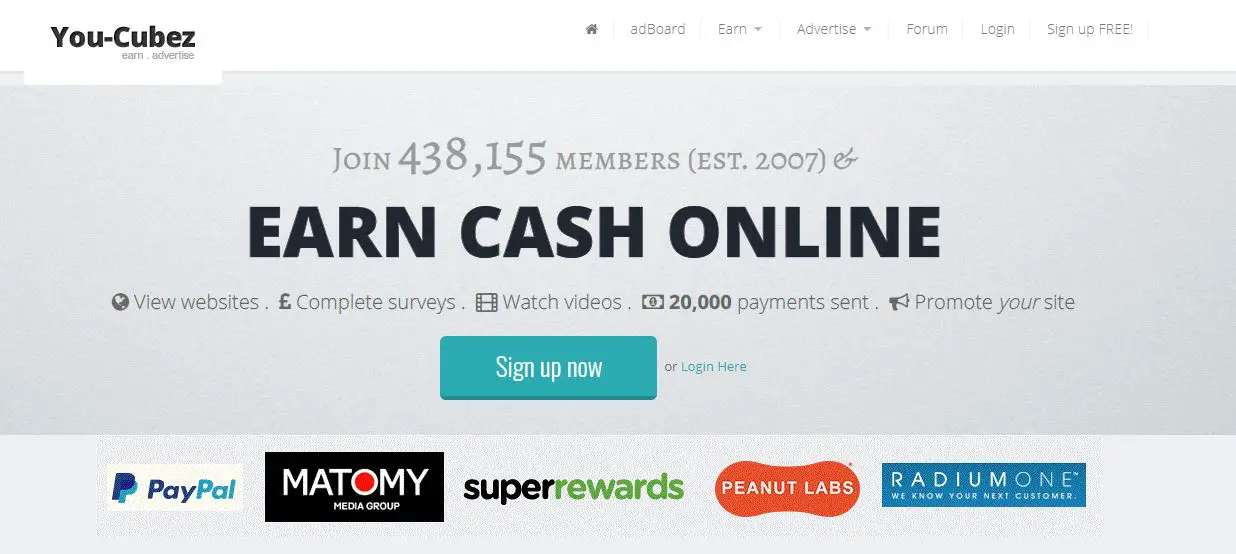 You-Cubez is the middle man between several advertising companies and you, the watcher. These ad companies pay You-Cubez for the views for their ads.
When you watch the advertisements, you, the viewer, get a small cut of the advertisers' money paid to You-Cubez. You can get your earnings out through PayPal or Payza.
5. Get paid to watch TV shows on Netflix
I mentioned the tagger job earlier. This section is about getting paid specifically by Netflix for working for them as a tagger.
Netflix is the number 1 streaming service in the world and they occasionally hire people to help do the job of watching and tagging some of their shows and programs.
If employed, your job involves watching lots of videos on Netflix and tagging each of them with the appropriate metadata. Doing this makes it easy for Netflix subscribers to find the shows and programs they want to watch on Netflix.
In simpler terms, you get paid to watch TV shows on Netflix as an editorial or creative analyst.
Can I Earn Money by Watching YouTube Videos?
Yes, you can earn money by watching videos on YouTube because there are a few legitimate companies that are willing to pay you a few cents for every YouTube video you watch through their platform. These companies are paid by YouTubers that want to get more views for their videos and they pay you a part of this money for each video you watch.
How Much Can You Earn from Watching Videos on YouTube?
Your earning potential is dependent on the platform. Watching one YouTube video might only earn you a few cents on any site or app, so the more you watch, the more you earn. Your income will be significantly higher if you are able to secure a job that pays you to watch videos on YouTube. If not, you might not make much more than $15 to $30 a month.
To maximize your income, I recommend that you perform other tasks on the platform you choose. There are even other platforms dedicated to helping you earn an income online if you help them complete a few jobs.
Other Tasks to Earn Money from Watching Videos on YouTube
There are other ways you can make money from platforms that pay you to watch videos on YouTube. Some of them are listed below.
1. Sharing the videos you watched with others
Some platforms reward you for sharing the videos you watch with your friends. This means that apart from getting paid to watch video ads on the platform, you will earn when you share these videos with your friends.
2. Inviting others to watch the videos
Apps like Adfun pay you some extra cash whenever you get others to watch the video ads you have watched on the platform.
3. Taking Surveys
Surveys can be taken on most of the above-listed platforms while watching videos or after watching them. Earn surveys taken will earn you extra points which can be converted to cash.
4. Searching the web
Swagbucks is a good example of a website where you can earn some extra cash for using its search engine to surf the internet.
5. Leaving comments after watching the videos
Comments give a positive signal to the YouTube algorithm and you can earn some extra rewards on some platforms if you leave a comment after watching videos on YouTube.
How to Ensure Your Earnings from Watching Videos are Paid to You
Before watching videos or taking any task, you need to be sure you are eligible for the job.
Different platforms have different rules and requirements, go through them first, otherwise, you may end up not getting paid for your efforts.
Only a few platforms that pay to watch videos on YouTube accept people globally. Many of them limit their offers to people from top-tier countries like the U.S, U.K, Canada, and Australia.
If the platform you signup for doesn't accept your country, and you cheat the process by using a VPN, your earnings may not be paid to you.
Conclusion
Watching videos on YouTube to earn money seems like a cheat, but it is possible and very legal. However, it's not a side hustle that can make you rich.
To make sure you're earning as much as you can, you can create an account with a few sites above and compare their rates.
Pick the ones that pay well enough and make sure you watch new videos when they're uploaded. In this way, you can make the most out of these sites.