Swagbucks might be the more popular option when it comes to royalty and rewards websites that you can earn money from, but there are a lot more sites like Swagbucks in 2024, that you need to know about.
There are so many reasons why people typically look for similar websites like Swagbucks.
It could be because of the low rewards.
The slow and ineffective nature of their customer care response.
The country's limitations and lots more.
Sometimes, you might not even have any issues with the Swagbucks platform, and only look for other websites like it to sign up to, as a way to maximize your earnings (This, I always advise)
Whatever the case is, if you are on the lookout for other websites like Swagbucks in 2024 that work, then you better stick around, as I have quite the list for you.
Before we kick off our list, I have to tell you this.
Just like you can't become a millionaire with Swagbucks, the same goes for all the websites that you would find on this list. You can only make a little extra cash for your trouble, and that's it.
15 Reward Sites Like Swagbucks
InstaGC is one of those top sites like Swagbucks where you get rewarded for your opinion but it's a little different. Before we highlight that one little difference, let us talk about this website for a bit.
This platform is most famed for its instant prize delivery, and customer service.
There are a few ways in which you can earn instaGC points, and they include:
Shopping online
Taking surveys
The payment threshold of this site is $1, which is impressively low.
The only issue is that these payouts only happen via gift cards. What that means is that you can't get paid cash via PayPal or any cash at all like with Swagbucks (This is the difference).
But, on the upside, these gift cards work for more than 360 brands, including top retail stores and restaurant gift cards, so it isn't too bad.
For every point you earn on this platform, you automatically get one penny. A quick calculation would see that you get $1 when you hit 100 points and $10 when you hit 1000.
After you sign up to the platform, you are offered 10 points, and right after, you can kick off your points-earning endeavors on the platform.
Another free reward site like Swagbucks is Survey Junkie and this platform is one of the highest-paying survey websites on the internet.
On Survey Junkie, you can earn as high as $50 per survey and withdraw your earnings in cash.
There are thousands of individuals and firms interested in getting feedback. Your work will then be to provide these answers in return for cash.
Well, you'll enjoy this platform more if you are more about taking surveys, joining focus groups, and trying out new products.
This is because, unlike Swagbucks, it allows you to focus on those few options. While you may get distracted by videos, cash-back shopping, and web searching on Swagbucks, you avoid them with Survey Junkie.
You'll need to rack up 100 points to earn your first dollar. Then, when you rack up your first thousand points, you can withdraw your first $10. The great thing is that, unlike Swagbucks, it's quite easy to rack up these points.
For instance, you get 25 points just for signing up. Even better, you can join various focus groups to improve your chances of earning. And then you have got access to tons of high-paying surveys.
From phone surveys to journals and product testing, you'll hardly run out of surveys.
Also, generally, you'll get more pay on Survey Junkie than on Swagbucks. For instance, you can earn 50 cents for a particular survey on the Swagbucks app. Then, with Survey Junkie, you can earn 90 cents for the same survey. Cool right?
There's also the organized dashboard and cool interface that you'll enjoy. You can easily navigate through their page as you look to earn.
Also, you won't have to worry about hassles when setting up. So, if you're looking for free money sites like Swagbucks, but only better, Survey Junkie comes in.
For you to get started, you'll need to sign up. However, signup is limited to those who reside in the United States, Canada, and Australia.
If you live outside the above-mentioned regions, you can still make money from Survey Junkey through their affiliate program. You can sign up for the affiliate program here.
Vindale is one of those market research platforms that are similar to Swagbucks.
Immediately after the sign-up step, you get $1.
They work with top brands and retail chains like Disney, Amazon, and even Netflix.
Their maximum payout is $50, i.e., you have to reach $50 in earnings before you can cash out, but that's okay as some surveys you take on this site can earn you as much as $50! (neat, yeah?)
That being said, not every survey pays that high, and some may pay as low as $0.50.
Vindale research might be a site like Swagbucks, but they do not work with points.
You only get your earnings in the form of cash in your account. Their payment is via PayPal.
Below are a few ways you can earn cash on this site:
Opening emails:
Each time you open or interact with any of the advertiser's emails, you earn $0.10
Referring friends and family:
When you tell people about the platform, and they sign up, you get paid $5
Watching videos:
There is a wide variety of videos to watch on the platform, and for each 1-minute-long video you watch, you are paid $0.05.
 Earning codes:
When you take part in challenges and polls, you earn $0.10. These are available to take part in all through the week.
Submitting your photo:
When you submit your photo to Vindale, to help the platform confirm that you have received your first pay, it will earn you $5.
But this is only after you get paid.
The amount you get paid for the tasks you do isn't much, but if you are active on the platform, the final amount might come to be a tidy sum.
Cashcrate is a rewards program that kicked off in 2006.
From that time to date, they have had more than 200,000 individuals sign up to, and use their platform.
The age requirement is to be at least 13 years of age.
With Cashcrate, you earn $1 for just signing up on the platform.
It's one of those websites like Swagbucks, but easier to work with, which lets you make money by taking part in polls and playing games.
You also earn by taking part in online surveys.
Referring friends and family.
Shopping online, and activities you would typically find on Swagbucks.
The Cashcrate program has a tiered structure, and here, you will earn 20% of the total rewards that your referrals earn.
You also receive 10% of all the earnings that the people your referrals refer. Let us say you refer your sister, you will earn 20% of all her earnings. When your sister, in turn, refers someone else, you will earn 10% of what said someone else earns.
In regards to surveys, you can earn as much as $50 a month by taking part in up to 2 surveys a day.
There is also a long list of tasks you can perform on the platform to earn rewards, as stated above.
Their payout minimum requirement is $20.
That means you can only withdraw your earnings after you hit the $20 mark and above.
Also, by posting your rewards checks online, you are entitled to a bonus earning, which is yet another way to earn cash with this platform.
As with Swagbucks, the payment is offered via PayPal.
With Panel Payday, we have a huge one on our hands.
When you sign up, you get a whopping $25 just for that! (yep, I bet you like this one already).
Bear in mind that panel research does not carry any survey of their own on their website.
On this website, you can get redirected to sites that assign tasks that pay as low as $1, and some that pay as high as $50.
Ways in which you can earn cash on the Panel payday platform include becoming a mystery shopper, taking online surveys, becoming part of a focus group, and lots more.
Here, you make the most amount with online surveys than with any other tasks.
Daily invitations to take part in these surveys are sent out by the platform.
You can accept or decline invitations and only go with those that interest you.
Panel Payday is known to partner with top survey companies, and a few of them give you access to some high-paying surveys.
With this partnership, they try to pair their users with at least two to four extra surveys per month.
Depending on which of their survey partners provide the surveys you take part in, you could either be paid with points or via cash payments.
The issue most people have is that they may not have the time it requires to execute full surveys daily, and hence, can take these extra 2 to 4 additional surveys instead.
Just doing these few surveys a month, can still earn you a tidy amount a month.
Zoombucks is another excellent example of an alternative site to Swagbucks, and it mostly tries to link up brands that require engagement with new members.
There are a bunch of ways you can earn points which can be converted to cash or used via a gift card, and they include:
Taking part in surveys could earn you between 100 to 1100 points.
Watch videos and earn at least 7 points for each video you watch on the platform
You can also download apps on your devices and help companies test out apps. Here, all you need do is download, install, log in, and complete a stated tutorial. After all that, you earn 200 points.
Earn by inviting your friends and family to join and use the platform. For each person you refer, you get 250 points.
By accepting certain offers, you can also earn points. A good example is by signing up for the free trial version of Amazon Prime, where you earn 1039.5 points.
The minimum payout with the Zoombucks platform is 3000 points, which is about $3.
This can be paid out via either a gift card or PayPal.
With Paidviewpoint, you hardly ever get invited to take long surveys, as they are mostly short and to the point.
The average earning you can get per survey is about $2.
The problem most people have is that they keep getting disqualified from taking surveys on other platforms, and hence not getting paid.
They are quite different from Paidviewpoint.
Once you take on a survey, you will get paid, but…..
Do not get too excited, as they have sophisticated software that is used to ensure that you don't get re-invited to take part in more surveys.
Through Trustscore, a patent-pending software, they can monitor your behavior as a survey taker, to determine if you are just randomly answering the questions when you answer too quickly and if you do not read the questions long enough to offer true answers.
When it is determined that you didn't pay enough attention to the survey, you won't be invited to take part in more surveys.
The key to winning on this platform is to ensure that you take the surveys seriously.
Pay adequate attention before you answer.
This way, you would be invited to take part in more surveys in the future and make more money on the platform.
Their payment threshold lies at $15, and once you reach this amount and over, you can receive your earnings via PayPal.
Treasure Troopers is a rewards website like Swagbucks, but its activities are mostly centered on content, games, and virtual treasure hunts.
They have been going strong for over a decade, and offer every user a sign-up bonus.
If you are all about virtual fun, then this is the rewards program for you.
There are various tasks you can do on the platform to earn rewards.  You can earn between 50 cents to $50.
Their payout threshold is $20, and you are sent your payout checks monthly.
The monthly payment structure has recently gotten a tweak to it, as you can now receive instant payouts via PayPal when you reach the stated payment threshold.
According to users, this is one of the more preferred sites like Swagbucks options.
With Mintvine, you can earn points by shopping, taking part in surveys, being active on social media, and joining daily polls.
If you are an avid shopper, whether online or offline, you would especially love this platform.
Their payouts have been on record to offer higher payouts than most rewards sites you might be used to.
They also have a referral program, where you can refer your friends and family and receive 15% of all the earnings of those you refer.
Their withdrawal threshold is 1000 points, which is approximately $10, and you can receive this amount in cash.
For signing up, Mintvine will pay $2, which is about 200 points.
Also, you can opt for the Dwolla direct deposit account option to receive your earnings.
And, if you would prefer to receive your earnings via gift cards, that is also an option and can be redeemed at most top retail stores.
Prizerebel is another one of those superb sites like Swagbucks that has been doling out rewards to users for years now.
It was established in 2007 and offers you rewards for performing many daily tasks on the platform.
These rewards for each task can range from between 2 to 200 points, and be cashed out via PayPal, or redeemed as a gift card.
Earning rewards on the Prizerebel platform is quite easy.
And just like with Swagbucks, you can earn rewards in several ways which include:
Hunting for promo codes on various offer walls
Downloading and testing out apps
Watching videos
Taking part in surveys
Installing the Prizerebel browser extension
By referring friends and family
Entering draws and picking lucky numbers
Taking part in contests and raffle draws
Taking part in daily challenges
Achieving membership tiers (this part, we will get into in a little bit)
For the tiered membership aspect of this platform, when you hit the 1000 points mark, which is about $10, you would have attained the silver level.
As a silver-level member, you would now be able to cash out on your earnings when you hit the $2 mark, which is about 200 points if you prefer an e-gift card option.
You can cash out via PayPal when your earnings are up to 500 points, which gives you $5.
Okay, let us say that you don't really spend much time on survey sites, rewards, and loyalties sites, but you love to shop online a lot and love getting discounts even more, or cash back; the Rakuten platform, is just the one for you.
Swagbucks also offers this cashback reward structure, amongst other things, but for Rakuten, it is strictly that. I.e.
A website that lets you get some cash back when you shop online, from a multitude of stores.
This platform boasts 12 million users, and the documented numbers say that they have helped millions of people collectively get cashback, which runs to the tune of $1.7 billion (wow!)
I will list below, a few of the ways you can get cash back with the Rakuten platform, and some good-to-know facts about them
First, they are partnered with over 2500 stores worldwide. What this means, is that you would definitely find a few of your favorite stores, and brands to get cashback from on the Rakuten platform.
By means of their browser extension, you can quickly and almost immediately score some great retail deals as they happen. I.e., you get deals and discount notifications.
You can get coupons that offer you discounts that are up to 72%
Their cashback services don't only apply to retail and online stores, as you can also get cashback when you book flights, hotels, or even use a rental while on travel.
There are stores on the platform that often have cashback sales, which is an excellent way to save even more money.
They also offer a cashback card to their users that comes complete with an added 3% cashback.
You can also get cashback when you shop with one of their partners in-store.
They also have a referral program, where you earn $25 after each referral makes their first buy on the platform. These people you refer also get $10.
All your earnings can be received via PayPal when you hit the $5 required minimum. You can also get your payments sent to you at home via check, and this method has the same $5 requirement.
With Mypoints, you can play games, redeem coupons, buy e-gift cards, play video games, take surveys, surf the web, shop online, and even read sponsored emails and get paid, just like with other reward sites like Swagbucks.
These royalties and rewards platform launched in 1996 and has been a popular favorite for people who are big on earning extra cash on platforms like it.
This platform is more than just one of those free reward sites like Swagbucks, as it is owned by the same company, as Swagbucks (Prodege LLC).
The only difference between both platforms is that their payouts for earning rewards or points vary.
The gift cards of both platforms also possess varying redemption values.
With Mypoints, you can receive your cash payouts via Visa prepaid cards, or PayPal cash.
In regards to the gift card option, they offer more than 70 gift card options for retail stores and brands and even flights, but only United Airlines' frequent flier miles.
Below are a few more ways you can earn with Mypoints:
By finding and signing up for local deals, this could include LivingSocial vouchers, and also Groupon deals
Discovering new content, and ultimately more ways to earn
By printing and using coupons for your local grocery stores.
Another big difference between the Mypoints and Swagbucks platforms is that some of the rewards on the Mypoints platform aren't available on Swagbucks, so most times, users prefer to combine the use of both platforms to enjoy full benefits.
There are lots more you can come across in the Mypoints gift catalog, so have at it, and go with only the best.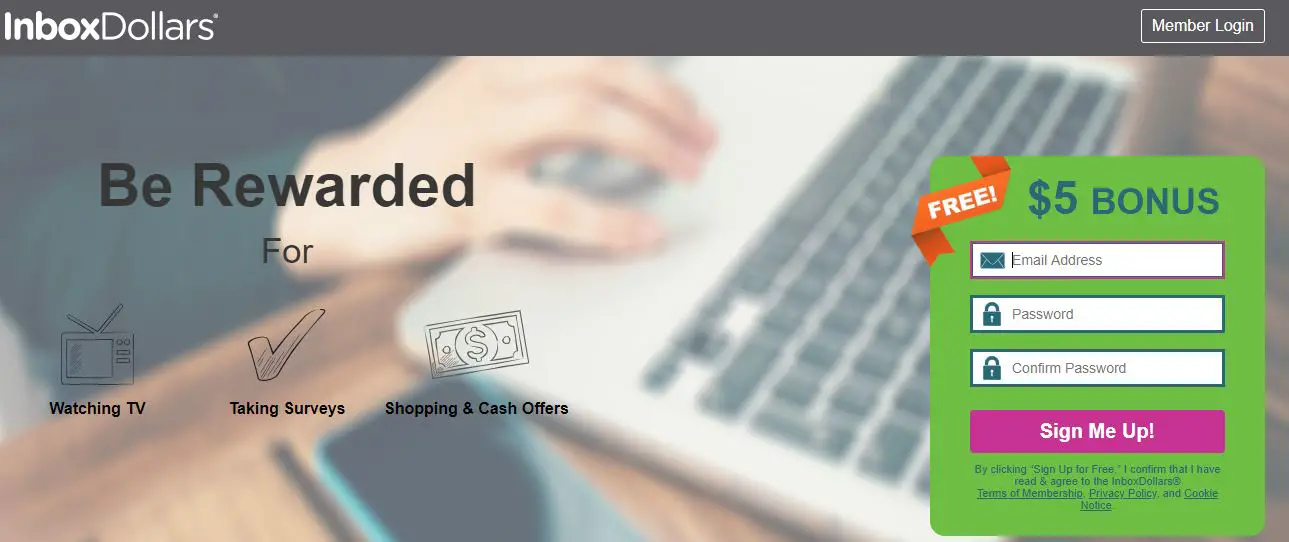 This platform was launched in 2000, and to date, they have been on record for paying out more than 57 million dollars in total to its users.
Inboxdollars most times is the first name that comes up when you look up sites like Swagbucks.
When you sign up, you are immediately given a $5 signup bonus.
Then, you can proceed to take surveys, read emails, play games, watch videos, and even refer your friends and family to earn more money.
You will get paid for every lead you bring to the platform.
On Inboxdollars, you aren't awarded points like with Swagbucks but are paid straight cash.
You can receive your earnings via prepaid Visa gift cards, cheques that can be mailed to you at any given address, and retail gift cards.
Like the Swagbucks platform, the Inboxdollars platform also has had a long-standing A+ rating with the renowned Better Business Bureau, and that should tell you that they are a solid platform, just like Swagbucks.
They also have an app, that works excellently with both Apple products and Androids, to make your earning process easier and even more seamless.
Most people would straight up tell you that Irazoo is a survey site, where you can take a wide range of surveys for some extra cash because they are mostly famed for that.
It is one of the not-so-popular sites like Swagbucks, but, it does offer way more ways to earn money on its platform.
You can also play games, download, install, and test out free apps, find and redeem daily and weekly promo codes, watch movie trailers, and even take part in free trials.
All of the above-mentioned pay you an amount of money to take part in.
Though this platform is most famed for its surveys, the download, installation, and testing of its apps are the best ways you can earn even more money with it.
After the stated time duration given by the app companies to have the apps on your phone, you can always delete and download new apps from the platform; and make more money.
In the number of years that this platform has been in business, it has been documented to pay out more than 8 million dollars to its worldwide users, who run in the thousands.
Now, $8 million might not seem like a lot when that number is compared to that of Swagbucks, but it is enough to reassure you that the platform is safe and legit to use.
For the daily and weekly promo aspects, you are required to visit their pages on Twitter and Facebook, to take part in that.
Some people find this tasking to do, but if you are an avid social media user, you could always use the "see first option", which lets you see the posts on social accounts immediately after they post. You get notified, i.e.
The rewards may not be a lot at first, but over time, and with a little more dedication, you could gather enough points to give you quite a tidy sum when you are set to cash out.
15. Sendearnings
With Sendearnings, you can earn money in a number of ways.
It is quite similar to Inboxdollars, but no surprise there! As it is also owned and run by the same company as Inboxdollars.
You can earn by taking part in surveys, online shopping, reading emails, playing games, etc., but the most popular way to earn cash on this platform is through printing and redeeming coupons.
If you are someone who loves to save on groceries and shop locally, you will benefit a lot from this platform.
Find coupons for things you need on the platform, and once you redeem them, you get some cashback to your Sendearnings account.
Their payout threshold is $30, and you can receive your earnings via prepaid Visa card or cheque.
Final Words on Sites Like Swagbucks
The location limitation of Swagbucks has been known to affect loads of people all over the world, who have a keen interest in earning some extra cash from rewards and loyalties websites like Swagbucks.
If you are currently affected by the Swagbucks limitation, I hope you were able to find another platform in this article that is open to your country.
That being said, it is important to remember that these platforms can't and won't make you rich, and should only be used to earn an extra income.
If you are looking for a more sustainable way to earn the big bucks, then I would strongly advise investing some of your time and effort in learning about affiliate marketing.
You can find all the information you need at Wealthy Affiliate (a top-notch platform that teaches you affiliate marketing for free).
I wish you all the best of luck in your finding financial freedom journey.