If someone offered to pay you for doing something beneficial for you, two things would come to mind.
One, "I'm getting scammed" or two, "this fella must be off his rockers!"
Believe it or not, people get paid to search the web daily, and if this is something you would be interested in knowing more about, then stick around my friend, as I have the full break down for you.
Get Paid to Search The Web: Here Is How it Works
When companies offer to pay you to search the web, it is usually for two reasons.
1. They are trying to get you to switch over to their search engine
I don't care how old or young you are, but when the topic of search engines come up, Google and Bing are the two that come to mind.
Because we are so used to these two search engine powerhouses, on some level of our subconsciousness, we might have even forgotten that other search engines exist or that it is possible for them to exist.
It would interest you to know that tons and tons of search engines exist apart from google and Bing, and they are all battling to get in, and stay in the spotlight.
Lots of search engines trying to break into the business, or simply trying to gain notoriety, would pay you a certain amount of money each time you make a search on their search engine.
Since we probably search the web for 5 billion things before the day ends (I know I do), this might seem like an easy way to make money by doing nothing.
All these search engine companies require from you, is to turn to their search engines as your default search engine.
Yes, you indeed get paid each time you make a search, but with most of the search engine companies, it is not possible to determine how much you get paid exactly for each search you make.
Like with lots of other tasks you can perform online for pay, do not expect to get rich or make millions of dollars by searching the web.
It isn't just possible, and you would see why when we get to the pros and cons aspect of this article.
Only turn to searching the web for pay, if you are looking to make extra money on the side, and nothing else.
2. They pay you as a search engine evaluator
What is a search engine evaluator? I bet you are wondering.
Well, a search engine evaluator is a person that gives candid user experience reviews after they use a search engine.
To explain further, a search engine evaluator is an individual who helps to filter search engine results, and if you really think about it, this is just basically searching the web, but with extra steps.
How does it work exactly?
First, you sign up for a search engine evaluation program, and when you meet the program's requirements, you would be accepted into the program.
Next, you would be required to use the company's search engine like you would use the search engine on your desktop every day for your personal web searches.
Each search engine company has its individual evaluation duration; after which you would be required to give honest feedback on your user experience.
When everything is concluded, you would be paid for your time, and feedback.
I really can't give you a pay range, as it varies with every search engine company.
By helping to rate and filter the results that come up for a search engine search, they help to ensure the better user experience of a search engine.
They help to match the intent of a web user with the relevant results of their web search.
I mean, imagine making a search, and 8 out of the 10 results you got were absolute trash?
Using the internet, especially for important research, would get mighty stressful, and your productivity retarded by a lot.
All this job requires is for you to heed to a given set of guidelines.
Generally, five major companies are known to hire people like you and I for the job.
payments
In regards to payments, it really does differ by country, and the hiring company.
There is more information online on how to become a search engine evaluator if you are considering this line of work.
But….
I know I said that getting paid to search the web shouldn't be seen as a real job, as the payouts are very low, but that isn't the case when you sign up and become a search engine evaluator.
It is said that the earnings lie in the range of $12 to $15 per hour, and it is even said that some people make as much as $20 per hour.
Working as a search engine evaluator isn't a fixed job, as you are hired as an independent contractor that could be let go at any time. You would even be required to fill out a tax form at the end of the year like any other job.
Platforms like Leapforce, Appen butler hill, and Lionbridge are excellent platforms where you can sign up to and become a search engine evaluator.
You can check those out at any time.
Now that we have touched on the two ways in which you can get paid to search the web, let us touch on the pros and cons of the searching the web for pay endeavor.
This part should help you decide for yourself if this is something you would consider to make money online.
Get Paid to Search The Web: Pros
1. It is easy to do
Searching the web is one of the easiest things to do.
I would know, I do it every day.
Whether for work reasons or just because, we all search the web a lot for free, so, getting paid to do it, is pure delight!
So, though you are getting paid to do it, it feels nothing like actual work.
2. It doesn't take time
Searching the web takes a few seconds for each search at most; hence, it isn't something that takes forever to complete.
Just type, type, type away at your keyboard
3. It doesn't require any qualification
If you have ever searched the internet with your phone or pc, then you are more than qualified to get paid to search the web.
Unlike some online pay endeavors that require you to know a bit of coding and stuff like that, nothing like that is required of you before you get paid to search the web.
4. It doesn't cost money
With lots of good ways to make money online, it typically requires you to spend or invest some kind of money in it, but you don't have to spend any money to get paid to search the web.
All you need to do is to find an excellent search engine company and sign up for their program.
5. The scam rates are low
The problem most people have with earning a living online is that they get scammed a lot by these too good to be true companies.
Most people I have met immediately stop listening when you try to talk to them about ways to make money online.
In regards to getting paid to search the web, there are few of these scam companies; hence you have no worries.
There are more reputable search engine companies than the scam ones.
Try to sign up to some of the popular programs with great reviews, instead of trying to explore newer companies.
A quick google search would fetch you some of the top ones, and I will be listing the best ones you can work with later on in the article.
6. It is very flexible
When you get paid to search the web, it only has to be at your own time. I.e., you only work at your own time.
You can decide to spend the whole day searching the web and get paid for it, or you can invest your time in it every other day.
Unlike other ways to earn money that you need to answer to a boss and have to sign in and out, this would be an excellent option for you if you do not fancy jobs that require you to work at their own time.
7. They have one requirement
Unlike with the other ways to make money online that require you to do this or that, all it takes to get paid to search the web is to switch out one search engine to the other, and that's it.
If you were using the xxx search engine for your daily searches, all you need to do is to switch it for this new search engine that pays you to use it.
Get Paid to Search The Web: Cons
1. It doesn't pay a lot
As I said somewhere up there in this article, you can't get rich or not need an actual job.
The amount paid for this kind of work is very little.
If you were to earn a substantial sum of money from searching the web for pay, you would have to invest a lot of man-hours to make anything substantial.
This time would have been invested into doing even more profitable things, which my favorite is affiliate marketing.
The sad news is that even if you were to invest a lot more time in this endeavor, you still wouldn't make a lot of money.
2. Revenue tracking is near impossible
We know that yes, people do get paid to search to the web, but how much exactly? No one knows exactly.
Knowing how much you get paid exactly for an endeavor is important, as it lets you determine if it is worth your while, and how much you would earn over a period of time.
Because of this little hitch, the only way you can be able to determine if this is something that is good enough for you to invest your time and effort is if you actually start the endeavor.
3. You can't join more than one program
I mean, you can, but how many search engines can you use in a day for your searches?
The point is, it would take a whole lot of time to use all the search engines, which programs you signed up to.
It would take a lot of time and pay you very little, so it is honestly not worth your time.
Now, it is time for us to get to our top list of websites where you get paid to search the web, so sit tight, my friends.
Top Websites Where You Get Paid to Search The Web
If you know google, then you probably have heard of Bing.
Bing is a Microsoft search engine, and to most people, a top competition of the google company.
It is said that the Bing search engine gets 20% of the total number of web searches in comparison to Google's 60%.
This might be a good reason why they have a rewards program, as a way to try and beat the competition, or at least try to level up.
With the Bing rewards program, it simply requires you to sign up to the program, and then being to use the Bing search engine for all your daily searches.
For each search you make, you will be offered reward points.
To make this even easier for you, you can simply make the Bing search engine your default search engine via your browser settings.
You don't have to always head over to Bing each time you want to web search for the program, though, some people prefer downloading and installing the Bing search browser toolbar.
The sign-up process, is simple and requires you to own a Facebook account or a Microsoft account, and you are set.
How much can I get paid?
Well, as stated earlier in this article, I have no idea how much you get paid for a search on any of these programs, but with the Bing rewards program, it is possible to know how much you can earn in a day.
One Bing rewards credit is equivalent to one penny, and you are only allowed to earn 15 a day.
How many searches do you have to do in order to earn this one penny? I have no idea.
15 pennies by 30 days is just too low, in my opinion, but it is what it is.
Also, you can see your earnings as you go via your Bing rewards program dashboard.
You can also view your special offers, daily quizzes, and voting via this dashboard.
The Three Ways You Can Withdraw Your Earnings From The Bing Rewards program
When you are set to receive or withdraw your earnings, you have three options to do so, and they include:
Payment via gift cards
Since this is an online gig, it totally makes sense for a payment option to be via gift cards.
You have a variety of gift cards to choose from, including burger king, Amazon, Starbucks etc.
When you have reached the cash out threshold, you can cash out via any gift card of your choice.
Just head over to the appropriate outlet and redeem your gift cards. Or like for Amazon, simply redeem it online.
Payment via online subscriptions
This is one of the rarer payment methods, but it does work.
When you reach the required cash out threshold, you can choose to have your earned Bing credit go to some of your online subscriptions, including Hulu and skype.
If you are an avid subscriber of some of these platforms carried by the platform, you can easily have your monthly earnings go towards your subscriptions.
If you don't care for any of that, you can simply go with the other payment methods.
Payment via sweepstakes entry
With sweepstakes run by the Bing rewards programs, you can win some pretty neat stuff like Xbox or iPhones.
You can put your Bing rewards programs credits towards entering the sweepstakes competition, and win a wide range of high-end items.
The credit amount required for each is different for each individual sweepstakes entry.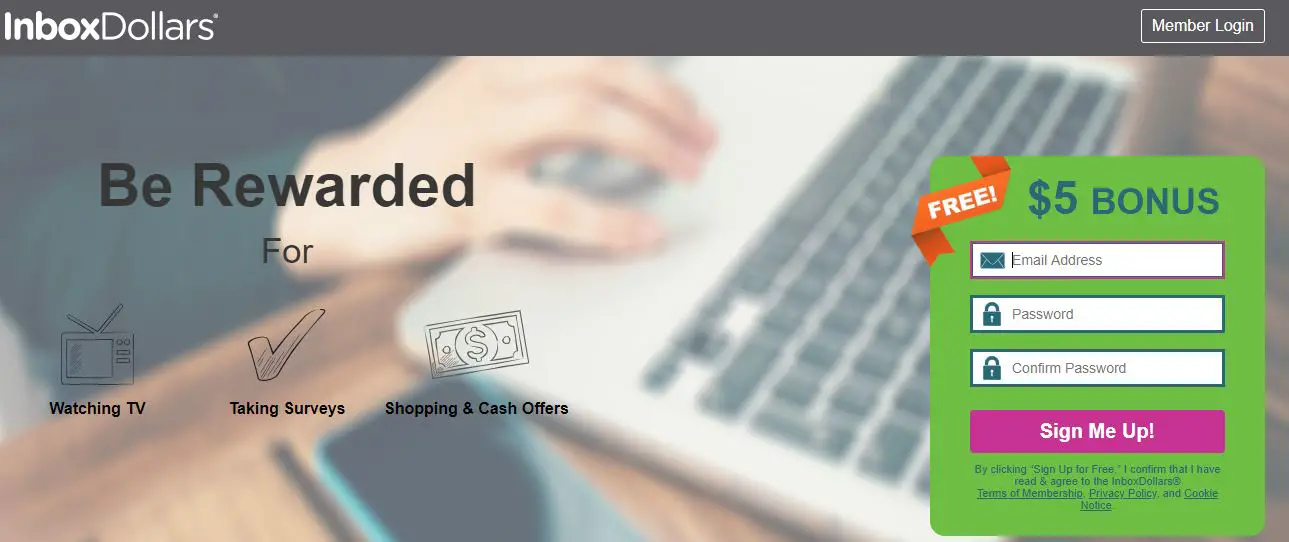 Unlike the Bing rewards program that pays you strictly for searching the web, the inbox dollars platform pays you for a lot more than that.
With inbox dollars, you get paid to search the web and to complete other tasks like playing games, reading emails, taking surveys, amongst other things.
When all the points you have earned on the platform are up to a $30 equivalent, you are eligible to request for payment, which is typically sent to you via cheque.
Every new user that signs up to the platform gets a sign-up bonus of $5.
And they also have an affiliate program, where you can earn a commission, each time you refer someone to the platform and they sign-up.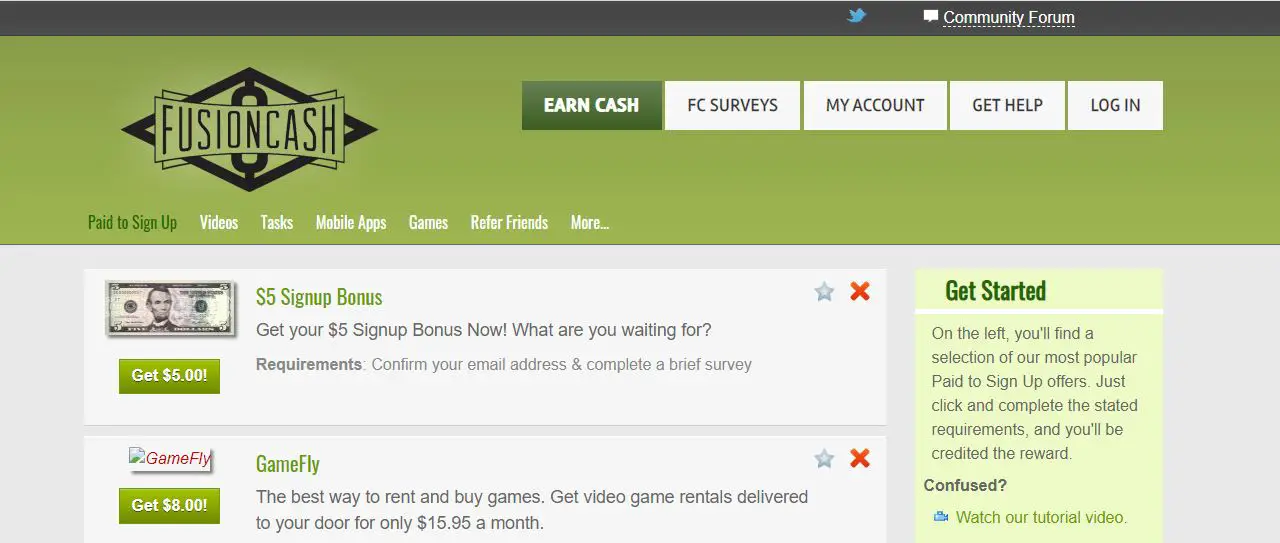 The Fusion cash platform simply expects you to download, and install their search engine toolbar, and search, search, search away!
With this platform, you get paid 1 cent each time you make four web searches via their search engine.
If you an avid web searcher like most people are, this sum can pile up before you know it.
In addition to getting paid to search the web, you can also get paid to read emails, listen to paid radio, watch videos, taking surveys amongst other online tasks.
Like with the inbox dollars platform, you also get an instant $5 sign up bonus.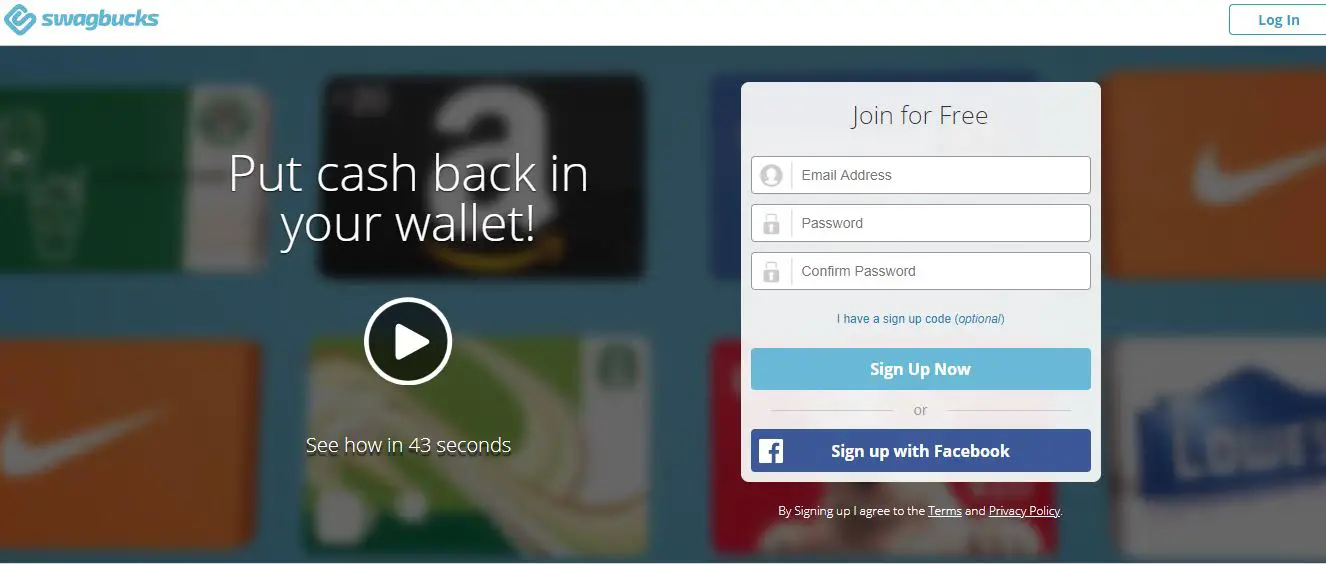 Swagbucks is one of the more popular platforms when it comes to well-paying surveys, but you can also get paid to search the web on their platform.
Signing up
Immediately after you sign up, you get a $10 sign up bonus.
The sign-up process is easy, and after the sign-up process is complete, you can head over to the Swagbucks search section.
This section is all about getting paid to search the web, and though they don't tell you exactly how much they pay per search, they do pay you 50 Swagbucks points when you send them one hour of web search activity.
The great thing about the Swagbucks search is that they use the yahoo search engine, which is as good as any excellent search engine, which means you might not really notice any significant difference by making this search engine your default one.
In addition to getting paid to search the web, you can perform other tasks like watching ads, playing games, watching videos, taking surveys to earn extra cash.
Most people would typically complain that their $25 payout threshold is quite high, but trust me when I say that there are lots of other platforms that require you to reach a higher minimum before you can cash out.
The key to meeting the payment threshold is to take part in the other tasks on the platform to meet the threshold faster.
Payment
Their payment method includes the redeeming of gift cards for a wide range of brands and businesses.
You can also receive your pay via a direct PayPal deposit. Whichever rocks your boat.
Bonus cash opportunity
You can sign up for their affiliate program and earn $5 each time someone signs up to the platform via your affiliate link.
You can learn all about affiliate marketing and affiliate programs for free.
With the wonder platform, you are required to become a full-on search engine yourself (yep, I will explain in a bit)
Wonder connects you with real-time individuals who are looking for answers to their searches.
First, the wonder platform furnishes you with questions from individuals all over the world.
Next, you would have to do a thorough research on the topic, provide an excellent answer, and are also required to supply the asking client with where you got the information used to back up your answer.
The sign-up process
After the official sign up process, you would be provided with a sample search, and afterward, if you meet their requirements, you would be officially accepted into the program.
If you don't meet their requirements, well, you know what happens.
The key to succeeding here is to take your time and conduct your research intelligently.
The payment method is via PayPal, and this is done every two weeks, and you can earn between $8 to $35 per answer, depending on the difficulty of the questions.
With google Screenwise, some would say that you would merely be making the best of an uncomfortable situation.
This platform asks that you let them gather data from your web searches and demographic information, and ultimately sell it to market research companies (and give you a tiny share of the money I guess, lol)
All you need to do is to install the app, and allow it run in the background gathering this data.
I bet you are raising eyebrows right about now.
I mean, why would anyone willingly let other people sell their information?
But look at it this way, literally all the platforms you use probably already sell your data to the research market companies (allegedly), so why not cash in also?
At least, you are getting paid in this situation, hence the saying of making the best of an uncomfortable situation.
Conclusion
Getting paid to search the web has been a great go to for people to earn that extra income in their spare time, and if you can afford said spare time, you might want to check it out too.
But, if you are looking for better ways to earn a substantial income online, then Wealthy Affiliate teaches you all about that for free here.