The 9 Best Landing Page Builders for Affiliate Marketing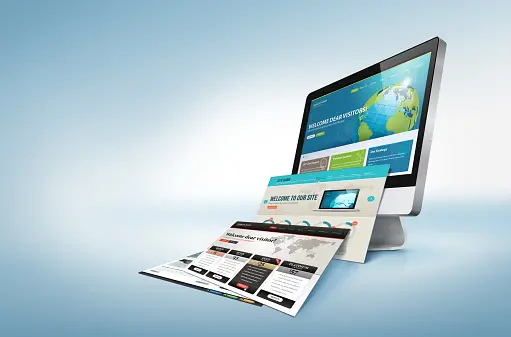 The number of affiliate marketers is on the rise, and the competition's getting tough, even in niches that get relatively low traffic.
There are ads everywhere selling this and marketing that, and if you want to make a good amount of money from affiliate marketing, you're going to have to step up your game.
Affiliate marketers have many tools to do this. Still, one indispensable one is the landing page, which is why you need to find the best landing page builder for affiliate marketing.
In ye olden days, people needed to first study, then fiddle with the computer for long hours before finally building a landing page. Non-techies like us needed to pay large sums to get their pages up and even more for maintenance.
But now, you can build your lander all by yourself without spending huge amounts of money.
However, there are loads of landing page builders finding the best one for your needs can be a real headache. So, to save you some time and stress, I've picked out eight of the best landing page builders for affiliate marketing.
But, before we check them out, I want to give a quick run-through of a couple of important facts. If you already know why you need a landing page and a landing page builder, feel free to head over to skip the next few subheadings.
But if you're a little confused on why a landing page and a builder is necessary for today's affiliate marketer, keep reading.
Why are Landing pages necessary for Affiliate Marketing?
For affiliates, especially those who don't have websites, or those that wish to promote affiliate offers without a website, a landing page is an indispensable tool.
An affiliate landing page is a website but not a website. It gives a bit of information about your affiliate offer and has an email opt-in with a call to action button. Around 68% of B2B businesses use landing pages to drive conversions.
You generate leads with a landing page by prompting users to add their emails to your mailing list so they can learn more about what you're offering.
This way, you can send them information that'll make them inclined to buy your affiliate products.
Also, making more landing pages can help to boost your SEO, thereby making you more visible. Companies have been noted to increase conversions when they increase the number of landing pages from 10 to 15.
This isn't to say you should create 15 landing pages but that an increase in landers is way more likely to generate conversions.
The Advantage of Landing Page Builders
Finding the best landing page builder for affiliate marketing is the first step to getting an edge over your competition. The next step is to use the great and easy-to-use tools to make a unique and attractive page.
The main advantage of a landing page builder is the ease of production. You can make a landing page within a few minutes from your bedroom without anyone's help.
Plus, you can create an affiliate landing page on your own, even if you know nothing about coding. Of course, this is within the condition that you've chosen the best landing page builder for affiliate marketing.
Luckily, I've compiled eight of the best landing page builders available for you. Later I'll give you a couple of tips on building the best landing page you can.
Best Landing Page Builders for Affiliate Marketing
Systeme.io is the best landing page builder for affiliate marketing in my opinion. It's an affiliate landing page builder that is very easy to use and has lots of editable high converting affiliate marketing landing page templates to work with.
It comes with an affiliate marketing-friendly autoresponder through which you can send out email marketing campaigns promoting your affiliate links to your list.
Systeme.io is the best free funnel builder for affiliate marketing because it has an absolutely free plan that allows you to build up to three landing pages/funnels, create an email list of up to 2,000 leads e.t.c.
It has 3 premium plans which are the Startup plan which costs $27 per month, the Webinar plan costs $47 per month and the Enterprise plan costs $97 per month.
The startup plan is the best plan for affiliate marketing beginners because just like every free thing, there are some limitations with the freemium plan.
You will be able to avoid such limitations and at the same time have all that you need to start and grow a successful affiliate marketing business with the startup plan.
The software company also provides you with in-depth training on how to make the most out of the software and their support team is one of the very best, they typically respond to queries within an hour.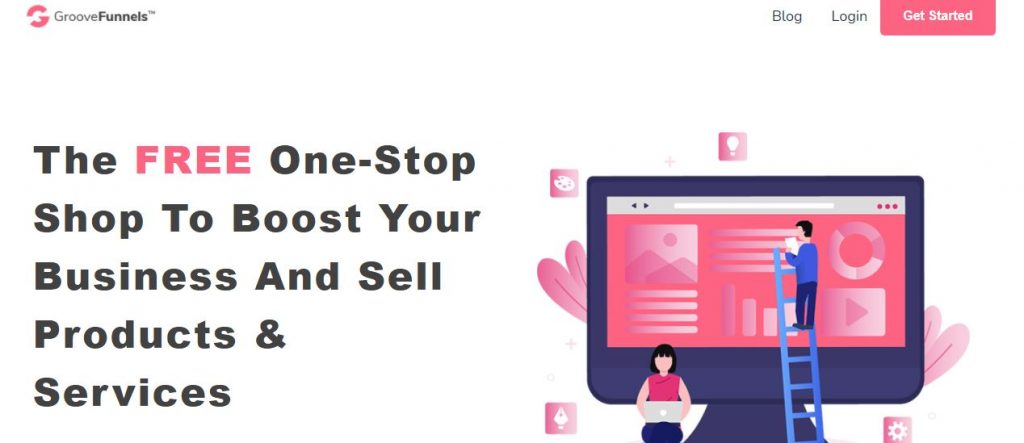 GrooveFunnels is a new player in the world of landing page builders. However, it was built with affiliate marketers and sellers in mind, making it one of the easiest to use builders on this list.
When you get a GrooveFunnels account, you also automatically get access to 20 other tools and services, including GrooveMail which is an affiliate marketing-friendly email marketing automation software, GrooveSell, an easy way to create sales and checkout points, GrooveVideos, a user-friendly video player, and more.
Because there are so many services and software available with Groove, the company created Groove Academy. Groove Academy is a service under Groove's empowerment scheme, meant to teach you everything you need to know about Groove.
Apart from this, Groove also has an affiliate marketing training program, which is great news for marketers like yourself!
Did I mention that you can get all this for free? You can make up to three landing pages or websites absolutely free.
While this is one of the best free landing page builders available, I'm not sure how long this will last.
However, it will be smart to purchase their lifetime access and have all the full premium features to yourself forever before they revert to mandatory monthly subscriptions like every other page-building software companies.
It'll definitely save you a lot of money to have all the programs you need with a single payment plan.
Builderall is a software that can build practically any page you want. Whether it's a landing page or a full website, Builderall has the intuitive, user-friendly tools to create a great design to suit your needs.
While you build your landing page, Builderall also gives you access to its affiliate marketing friendly autoresponder (mailing boss) and a whole suite of tools to optimize your page and get the best results.
And if you don't want to do it yourself, you don't have to. Builderall has over 300 done-for-you landing page/sales funnels with professionally written lead magnets.
Many of these sales funnels have been made with affiliate marketers in mind, so you can pick a sales funnel that matches your affiliate offer, edit the thank you page by inserting your affiliate link in the right place and you are set to start promoting.
There's A/B split testing, so you can ensure that your lander works just how you want it to.
Did I mention that you can also create sites that are perfectly optimized to mobile versions with Builderall?  Well, you can. And you can get started with a 30 day 1 dollar trial.
Builderall has two plans: Premium and Funnel Club.
While the Premium plan is enough for most individuals, the Funnel Club is a great option if you will like to have hundreds of professionally designed sales funnels with lead magnets at your disposal.
Considering that the monthly fees for both are $69.90. But for the funnel club, you'll have to pay $199 for your first payment and then pay only $69.90 for your monthly subscription. This saves a lot of money compared to the regular $99.90.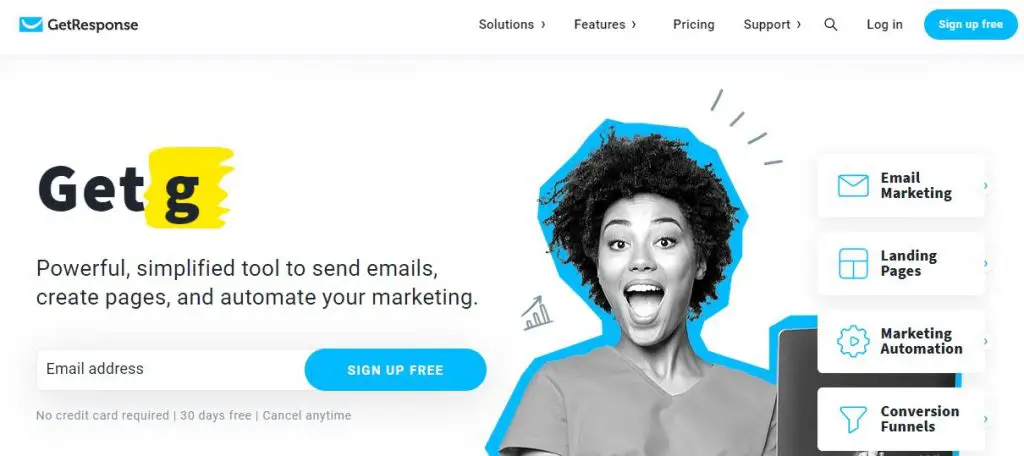 If you've ever searched for an email automation software, you may have heard of GetResponse. However, GetResponse doesn't only specialize in email marketing.
It's also a great affiliate page builder and has the added benefit of being an email marketing software as well.
GetResponse's landing page builder has an easy-to-use drag-and-drop design. You can add many features like forms, pop-ups, videos, and webinars, etc.
You can also add your products and services in GetResponse or import them from other sites like Etsy, WooCommerce, Stripe, BigCommerce, Shopify, Magento, and PrestaShop.
With the help of these features and the GetResponse Conversion Store and prebuilt funnels, you can turn your landing page into an online store in its own right.
Plus, you can also integrate GetResponse with your other tools like Facebook Ads and Google Ads and create an effective sales funnel. Once you're done building, you can test it out on both desktop and mobile devices.
Build as many landing pages with their least expensive plan of only $10.46/month. However, once you get over a thousand leads, you'll automatically be upgraded to a higher plan.
Now we're going to up the ante with the best landing page builders for affiliate marketing that only offer landing pages. We'll begin with one that most technologically-challenged people will appreciate.
Leadpages is known for its simple and user-friendly interface. Its design is minimalistic but still eye-catching, and the same can be said for its hundreds of templates.
Leadpages has been around for a long time, going from a simple landing page builder also to include website creation within its services.
This lander builder's advantages are its relatively lower prices compared to other builders of its caliber.
It also has a reputation for being the fastest lander builder to use, which is maintained by its clean, distraction-free interface and over a hundred templates.
There's also the option of integrating it with various other platforms like WordPress. It's one of the better options for people who aren't familiar with creating any web page.
However, its cheaper Standard plan ($37/month) include A/B testing. You'll need to upgrade to either of the two more expensive plans to get that and advanced customization options.
But if you don't really care about these caveats or can't afford to pay for a more expensive subscription, then Leadpages might just be for you.
Thrive Architect is the one and only WordPress plugin on this list— which should make it clear how great it is. WordPress is a platform that hosts over 450 million websites. That's about 35% of the internet, which is a whopping sum.
A lot of you reading this probably have a blog up somewhere on WordPress, so of course, we're going to show an affiliate landing page builder that you can use to make money off of it.
Thrive Architect is a great option for WordPress users for one simple reason — it's a money saver. This plugin has a lot of features apart from making landing page building easy.
It allows users to create animations, share as a tweet, font icon manager, custom font manager, etc.
Thrive Architect can also serve as a great Instagram bio link tool for affiliates that want to promote multiple affiliate links on Instagram.
In addition to that, there are also over 200 templates available and several options for integration with other apps and software. For a one-time payment of $67, you get a license with all features included.
However, thrive architect is just one of many products of Thrive Themes, and to get the best out of it, you will need another Thrive Themes product called Thrive Leads in order to build a mailing list.
This also comes with a one-time payment of $67.
Becoming a Thrive Member for $19/month ($228 yearly) and gaining access to all of Thrive's plugins, and themes is a great option. Just so you know, if all these products were sold separately, you'd be paying about $940. A good deal, yes?
Instapage has been a very popular lander builder for a long time. This software has several draws for affiliates — speed, lots of marketing landing page templates, and great customer care.
With this landing page builder, you can make several landing pages within a few hours. Thanks to a feature called Instablocks,  you can choose templates, customize them, and then save them to re-use later.
This is a treat because there are over 100 templates to choose from, and customization can be made with just a touch. 
There's also the pro of being able to integrate other services like Facebook Ads, AdSense, Google Analytics, WordPress, etc. In this way, you're able to gain more from your landing page.
If you choose to create several landing pages, Instapage has organizational features to help you keep your related pages together and avoid confusion.
They also have a very responsive customer support service, which can be extremely helpful for beginners. But, their prices are quite high, starting from $199/month for the Business plan, and this plan doesn't even cover all the features.
Their Enterprise plan gets everything, but pricing is customized based on the user's needs. However, if you need a guiding hand on your first foray into affiliate marketing, it may be worth the cash.
There's a handy 14-day free trial available so you can test it out before putting your money on it.
This is also another well-known landing page builder. It's one of the absolute best landing page builders for affiliate marketing and just website development in general.
Unbounce makes it easy to create a unique space on the web that conveys the message you want without having any knowledge of coding. 
You can create landing pages easily through a drag-and-drop tool or choose from over a hundred templates. You can also choose to add custom scripts to your page or even apply a custom script to multiple pages at once.
If you've got a winning combination, you can easily copy your entire landing page or elements of it onto other pages or even create an entirely identical page.
Making forms, pop-ups, or prompts is also quite easy. You can even set them to show up when a customer searches a certain keyword.
Your landing page can also be integrated with WordPress, Zapier, and other third-party tools, plus you get access to over 850,000 images from Unsplash and 950+ Google Fonts.
Unbounce has four plans, with the cheapest starting from $80/month. You can save 10% by paying yearly. For each plan, there's a limit on conversions, traffic, and domains.
For example, the cheapest plan caps at 1000 visitors and 500 conversions per month with only one domain. The most expensive plan valued at $300/month sets 50,000 visitors and 3000 conversions per month with a limit of 15 connected domains.
You can, of course, get an even higher and more customized plan. However, don't forget to use up your 14-day free trial and check out the features first.
HubSpot isn't typically added when listing the best landing page builders for affiliate marketing. However, it recently added landing pages as a new feature, and it's been loudly applauded.
HubSpot shares a likeness with Groove Funnels and Builderall, though it is more focused on customer relationship management (CRM).
It has a full suite of marketing, sales, and customer relationship management tools, each under its specific category.
Landing page creation is under the new CRM Hub. Even though this is a newly created category, the landing page builder has lots of features, including lots of professional templates, personalized content, A/B testing on multiple devices, and more.
You can also edit and change your landing pages even when they're already published.
Because HubSpot is a CRM marketing tool and it has so many features already, it's also a huge pro that your landing page can directly integrate with these tools to make it that much better.
However, HubSpot mobile optimization is limited with cheaper plans, and you cannot make changes across multiple pages simultaneously. A basic subscription costs $40/month with limited features. But hey, you still get a free two-week trial.
And those are our eight best landing page builders for affiliate marketing. There are lots more on the market, but these are the ones that I believe you definitely won't regret purchasing with the best first.
My top five lander builders – Groove funnels, Builderall, GetResponse, Leadpages, and Thrive Architects are my definite recommendations. All the suggested software are great but, in my opinion, these five give the most value for your money.
Now, we'll move on to other subheadings. Let's check out what you should look for in a lander builder.
What to Look Out For in a Landing Page Builder
I'll keep this simple. There are six factors you should keep an eye out for when searching for the best landing page builder for affiliate marketing.
Mobile Optimization: There's so much mobile traffic on the internet these days. Your landing page builder needs to have templates that are or can be optimized for mobile devices.
Templates and Customizations: You need a sufficient amount of templates to choose from and the freedom to manipulate them.
Features and Integrations
Ease of Use: You definitely don't want to end up frustrated while trying to build your lander.
Loading Speed: Definitely important for your future visitors. If the loading speed is too slow, chances are your visitor will find another lander to check out.
Value: Is the price they're asking worth the service they're providing?
Now that you have a general idea of what and what not to expect from a good landing page builder, we should move on to the page's actual content. What makes a good affiliate landing page?
Tips for Creating an Affiliate Landing Page that Converts
Aesthetics: Beauty is only skin deep, but prettier things do get more (positive) attention. It would be best if you aimed to create a page that's pleasing to the eye. Use contrasting colors, leave a lot of whitespaces to give a cleaner look, choose a good-looking but legible font, etc. This is actually up to you, so express your creativity to the fullest. However, never let the page get cluttered. It detracts from the main goal, which is to convert visitors to leads.
2. Catchy Headline/Title: Your headline can be anything, but it should summarize the message you want to pass and should be bold and clear to grab visitors' attention and make them want to continue reading.
3. Use Media: The power of the media should not be underestimated. In fact, using videos on landing pages can increase conversions by 86%.
If you're camera-shy, you can use animated videos or make a video with graphics only. Here's an example of a high converting affiliate landing page with an explainer video.
4. Explain the Benefits: You need to give them a clear picture of the transformation the product can bring. This will make them more likely to respond to your CTA.
5. Less is More: The whole purpose of building an affiliate landing page is to entice people to want to learn more about your offer without rushing off to google it for themselves.
You can do this by revealing some benefits of the product without giving away the full story. That way, your visitors want to learn more, and they want to hear it from you.
6. Test: Test your lander for any lag or slowness regularly. Long delays in loading speed can put off even the most eager customer.
Also, test the links, navigation, and mobile optimization.
Conclusion
Here's the summary of this article in four sentences:
You need a landing page, and you also need a landing page builder to save you time, money, and effort when creating a lander.
Finding the best landing page builder for affiliate marketing isn't all that difficult if you check out our list.
You can also find a builder with great affiliate landing page templates on your own while paying attention to the six important factors.
To create a landing page that converts, you need to create visually pleasing, efficient, mobile-optimized, bold, and explanatory landers.
I hope we've helped you find a lander builder that suits your affiliate marketing needs. However, please remember that the content makes the page and the page makes the conversion.