By opting for an annual payment plan, you can enjoy a 17% GoHighLevel discount. This translates to receiving two months of GoHighLevel completely free of charge.
Furthermore, GoHighLevel has previously offered sales events with substantial discounts of up to 50%. I benefited from that discount but it's presently not available.
Is There a GoHighLevel Discount?
Opting for an annual payment plan with GoHighLevel unlocks a notable 17% discount, allowing you to enjoy the equivalent of two free months of service.
In the past, GoHighLevel has conducted sales events, though the availability of future sales is uncertain.
It's advisable to bookmark this article to stay informed in case any such promotions are announced. Rest assured, we'll promptly update this page with any relevant information.
Listed below are GoHighLevel standard discounts that are presently available:
Agency Starter Account Annual Discount
Ordinarily priced at $97 per month or a total of $1164 for the year, you can choose the annual subscription for Agency Starter at $970 and enjoy a saving of $194 for the year. (Access the annual Highlevel discount here).
Get Started With Agency Starter Annual Discount
Agency Unlimited Account Annual Discount
Normally priced at $297 per month or a total of $3564 for the year, the annual subscription for Agency Unlimited is available at $2970, resulting in a saving of $594 for the year.
Get Started With Agency Unlimited Annual Discount
Save $83/month on SaaS Mode GoHighLevel SaaS Mode Annual Discount (HighLevel Pro Discount)
The regular cost of HighLevel SaaS Mode (also known as HighLevel Pro) is $497 per month. By opting for an annual subscription, you can save $83 per month, totaling $4,970 for the year. In comparison, the yearly cost without the discount would be $5,964.
Upgrade to GoHighLevel SaaS Pro
How to Get GoHighLevel Discount
Follow the steps below to get the 17% annual GoHighLevel discount plus a 14-day free trial.
Step #1: Sign up for a 14-day free trial for your preferred plan
Follow these steps to start your GoHighLevel Free Trial:
Click on this link to visit the GoHighLevel webpage.
After clicking the GoHighLevel 14-Day Free Trial link, you will be directed to a page where you need to enter your information.
First, enter your preferred "Company Name."
Then, provide your full name, email address, and phone number.
For visual guidance, refer to the image descriptions below: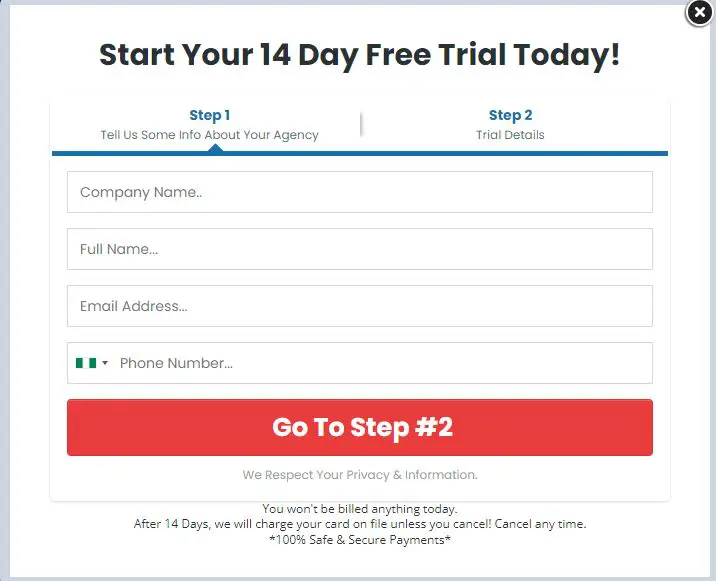 Once completed, click the large red button labeled "Go To Step #2" to proceed.
The next step is to enter your trial information. To initiate your Go High Level 14-Day Free Trial, choose either the "$97 Agency Starter Plan" or the "$297 Agency Unlimited Plan."
For a comprehensive understanding of GoHighLevel pricing plans, you can review the detailed breakdown to determine the plan that best suits your needs.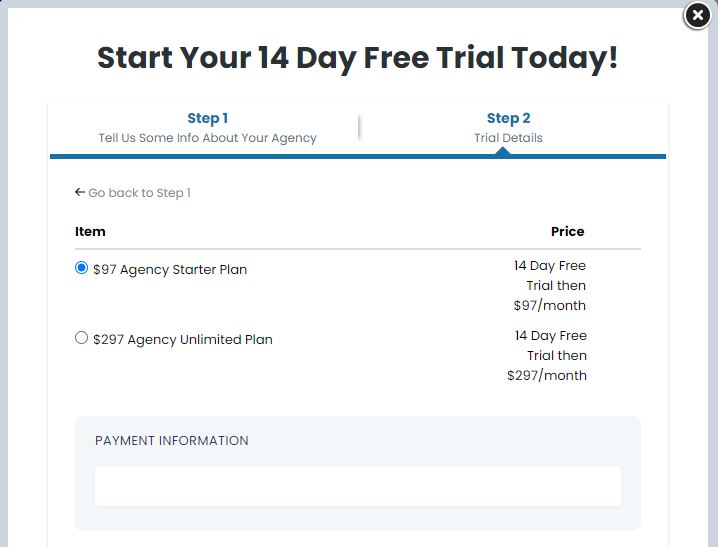 Step #2: Locate the upgrade button
Begin by logging into your GoHighLevel 14-Day Free Trial account and locate the "Upgrade" option at the bottom of your GoHighLevel dashboard to access the 17% annual discount.
Click on this option to proceed with the account upgrade. On this page, you can select between the monthly subscription fee and the annual pricing option.
Step #3: Change To Annual Plan
To take advantage of the benefits of the annual GoHighLevel discount, simply click on the "Pay Annually" tab to access the price breakdown and determine your potential savings (this step may be necessary if the system hasn't automatically selected the annual plan for you).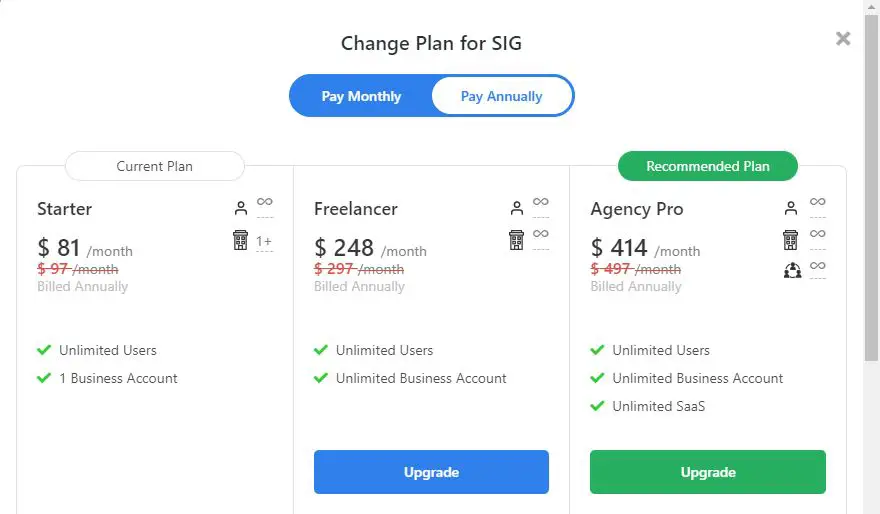 Once done, the pricing details will be updated, and you'll enjoy a 17% discount applied to any of the yearly plans you decide to opt for.
GoHighLevel Promotions
During both 2021 and 2022, GoHighLevel hosted an exclusive Black Friday sale, offering attractive discounts.
New customers enjoyed a 50% discount on the first three months of their GoHighLevel subscription and received a complimentary T-shirt. Existing customers were granted a 40% discount on an annual plan (limited to the initial 100 users who applied).
While the occurrence of future sales by GoHighLevel remains uncertain, we will promptly update this page with any new developments. We recommend bookmarking this page to stay up-to-date and informed.
GoHighLevel Coupon Codes
As of now, there are no verified GoHighLevel coupon codes accessible. A quick Google search for "GoHighLevel discount" yields several coupon websites displaying codes that purportedly offer substantial discounts. However, it's important to note that many of these links simply direct you to the GoHighLevel homepage without any applied discount. Please exercise caution and verify information before proceeding.
FAQs About GoHighLevel Discounts
Can I Get a GoHighLevel Discount?
By opting for an annual subscription to any of its plans, GoHighLevel extends a 17% discount to its users. This translates to savings of $194 for the Agency Starter plan, $594 for the Agency Unlimited plan, and $994 for the Agency Pro plan.
Is There a GoHighLevel Coupon Code?
Currently, there are no active GoHighLevel coupon codes accessible. Nevertheless, you can utilize this page to access a complimentary 14-day trial.
Where Can I Find Out About GoHighLevel Discounts?
Be sure to bookmark this page and our Black Friday article to stay updated on the latest GoHighLevel discounts and sales. Whenever GoHighLevel makes any announcements, we'll promptly update this page with the relevant information.