You have two options for signing up with GoHighLevel: either create an account directly on the GoHighLevel homepage or use a snapshot link provided by another GoHighLevel user.
When you sign up as a new customer, you'll automatically receive a 14-day free trial for your first GoHighLevel experience.
In this guide, I will walk you through the complete signup process for creating a GoHighLevel account. Additionally, I'll explain how to enroll in the GoHighLevel SaaS mode plan and provide insights on maximizing the benefits of your GoHighLevel signup.
How To Signup For GoHighLevel
Setting up a GoHighLevel account for your business is a simple and clear-cut process. You'll require a functional email address, valid credit card information, and your personal details.
Initially, you can choose between two primary GoHighLevel plans during the signup: the Agency Starter Account and the Agency Unlimited Account.
For enrollment in the Agency Pro or SaaS Mode Account, you'll need to access your GoHighLevel dashboard. I will provide instructions on how to do this later in this guide.

To initiate your GoHighLevel Account, adhere to these instructions:
Step #1: Click on this link to access the GoHighLevel webpage
The first step is to visit the official GoHighLevel website.
Step #2: Navigate the menu and opt for "14 DAY FREE TRIAL."
Look for the first red button situated at the upper left corner of the homepage, positioned adjacent to the introduction video or above the demonstration video. Nevertheless, numerous buttons are distributed across the GoHighLevel homepage.
Consequently, before proceeding with the signup process, you have the option to peruse and navigate through the homepage to acquire a better understanding of GoHighLevel.
Upon clicking the red button labeled "14 DAY FREE TRIAL," a pop-up form will emerge, prompting you to input essential details such as your company name, full name, email address, and phone number.
Step #3: Fill out the form and click on the "Go To Step #2" button
Fill out the above-mentioned form and click on the red button that says "Go To Step #2" and you will be taken to the next step.
Step #4: Choose a pricing plan that aligns with your needs
You can choose either the HighLevel Started plan or the Unlimited package depending on the need of your agency or business. You can check this HighLevel pricing guide in order to help make the right choice.
GoHighLevel exclusively accepts credit and debit cards for payments. Attempting to use any other type of card is unlikely to be successful.
It's important to understand that inputting your card information during the account sign-up process does not imply immediate billing. Charges will only be applied once your trial period concludes. Furthermore, you retain the flexibility to cancel your GoHighLevel account at any point.
Step #5: Click the "Start Your 14 Day Free Trial" button to continue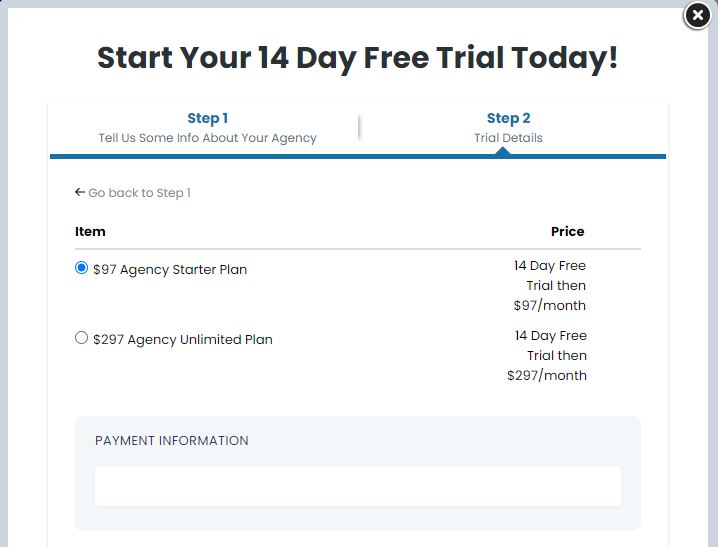 Step #6: Complete the Go High Level signup process
Upon providing your billing details and clicking the red "START YOUR 14 DAY FREE TRIAL!" button, you will be directed to a page presenting a "Done For You Setup" option. On this page, you can watch the accompanying video and review the details of the offer.
It's important to understand that you have the choice to either accept or decline this offer. Should you decide to proceed with the offer, an immediate charge of $299 will be applied.
If you wish to avoid this charge, kindly ensure that you click the text "No Thanks, I don't need this now" located at the bottom of the page.
Subsequent to the Done For You Setup offer, you will be prompted by GoHighLevel to provide some essential business details on the ensuing pages. Continue through these steps until you successfully reach the GoHighLevel dashboard.
Step #7: Congratulations! You've officially created a GoHighLevel account
Please keep in mind that GoHighLevel does not impose any long-term contracts upon its users.
You have the flexibility to downgrade or terminate your account whenever you wish, and this can be accomplished with a few simple clicks directly within your dashboard.
How To Sign Up For GoHighLevel SaaS/Agency Pro Plan
In order to upgrade to the HighLevel SaaS pricing plan as an existing user, you must have signed up for the Agency Unlimited account first. Then follow the step-by-step guide below to upgrade your account.
But if you are yet to join the platform, simply click on this dedicated link to the GoHighLevel SaaS sign-up page to get started.
Step 1: Log in to your GoHighLevel account dashboard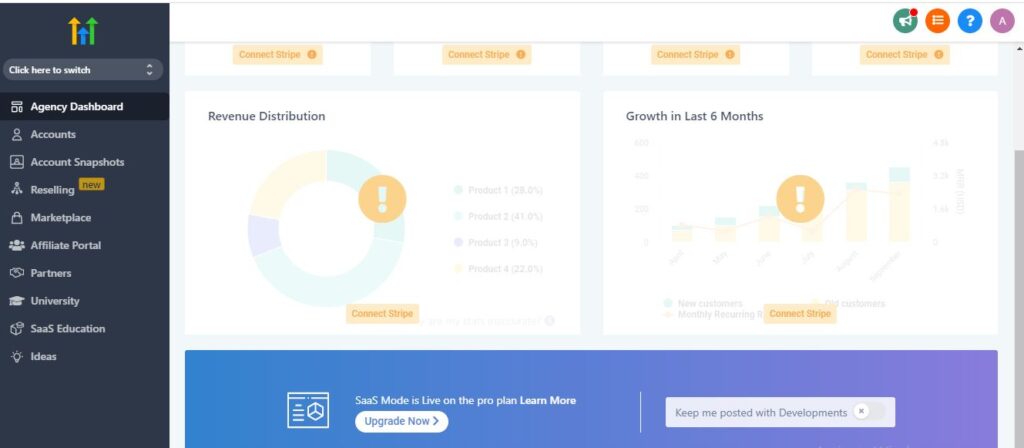 Step 2: Click on the Upgrade Now button at the bottom of the page
Once you're on the GoHighLevel dashboard, locate and click on the "Upgrade Now" option located at the bottom of the page.
This action will trigger a pop-up window where you can choose to upgrade your payment plan from monthly to yearly. You will also find the option to upgrade to the GoHighLevel Agency Pro/SaaS Mode plan.
Step 3: Click on the "Upgrade" button under the Agency Pro section
Ensure that you indicate your preference for either monthly or yearly payments. Opting for the yearly option can lead to long-term savings.
Step 4: Click on "Confirm & Pay"
After making your selection, click on "Confirm & Pay."
5: Congratulations!
You have successfully upgraded to the GoHighLevel SaaS Mode. It's important to note that even if you decide to upgrade your account during the free trial period, you will only be charged once your trial ends or when your next billing cycle is due.
How To Get The Best Out Of Your GoHighLevel Account
Let me share some exciting features of GoHighLevel that will help you maximize the benefits of your GoHighLevel account.
#1. GoHighLevel Snapshots
GoHighLevel offers a unique feature known as Snapshots, which allows you to share entire funnels from one GoHighLevel (GHL) account to another. This includes the ability to import email and SMS campaigns, workflows, settings, triggers, and all elements associated with the funnel.
The most remarkable aspect is that when you start your GoHighLevel free trial, you'll discover ready-made snapshots tailored for various industries. These Snapshots can be effortlessly set up with just a few clicks.
This functionality is incredibly powerful as it enables you to seamlessly enter any industry you're interested in. It equips you with all the essentials to swiftly launch your sales funnels and marketing campaigns, driving lead generation and sales from the outset. You can then make adjustments and improvements as you progress.
For marketing agencies, this feature is a game-changer. You can use one client's account as a template to swiftly establish similar setups for other clients, streamlining your scaling process. This eliminates the need to create everything from scratch for each new client.
As depicted in the image above, GoHighLevel Snapshots even provide Facebook ad templates for each snapshot, accompanied by step-by-step training on how to set them up.
Below, you'll find a selection of pre-designed industry snapshots offered by GoHighLevel:
Attorney Snapshots
Auto Dealers Snapshots
Chiropractor Snapshots
Coaching Snapshots
Crossfit Snapshots
Day Spa Snapshots
Dentist Snapshots
Gym Snapshots
Hair Salon Snapshots
Home Services Snapshots
Marketing Agency Snapshots
Martial Arts Snapshots
Medical Snapshots
Mortgage Snapshots
Pest Control Snapshots
Real Estate Snapshots
Restaurant Snapshots
Solar Snapshots
Yoga Studio Snapshots
These ready-to-use snapshots cover a diverse range of industries, providing you with valuable templates and resources to kick-start your marketing efforts effectively.
#2. GoHighLevel Support And Community
GoHighLevel boasts a supportive Facebook community comprising over 18,000 members.
Within this group, you have the opportunity to pose any inquiries you may have, receive swift assistance, and connect with prominent business proprietors and entrepreneurs who utilize GoHighLevel.
Should any queries arise during your GoHighLevel trial, you can address them within this private Facebook group, where a helping hand awaits.
Additionally, you can participate in the live Zoom chat room that GoHighLevel has established at https://speakwith.us/success.
These live sessions are available from 7 am to 10 pm, Monday through Friday (CDT). In this setting, you gain direct access to GoHighLevel's experts, affording you the chance to inquire about any topics you require clarification on.
The amalgamation of these resources provides you with all the assistance needed to initiate your business effectively throughout the duration of your trial. These combined features solidify GoHighLevel's position as the premier white-label funnel builder in today's market.
#3. GoHighLevel Training
GoHighLevel offers a comprehensive range of instructional videos and articles that guide users through the utilization of the GoHighLevel software.
These resources are accessible at https://help.gohighlevel.com/support/home/. This repository of training materials expedites the learning process, enabling you to quickly grasp the software's functionality and derive optimal outcomes from your GoHighLevel free trial.
Furthermore, GoHighLevel conducts live workshops on a weekly basis, where they delve into the most effective strategies for leveraging the GoHighLevel software.