Instagram is a social media platform with an emphasis on graphics and business owners can harness its large user base to get a huge amount of customers for their businesses.
But the one link policy by Instagram can significantly reduce the amount of traffic and clicks one can get from the platform.
This is why an Instagram bio link tool that can help maximize that single link in bio is a must-have for any marketer or business owner that wants to thrive on Instagram.
I tried out a bio link tool called Shorby and in this Shorby review, I will discuss what Shorby is, how it works, how to use it, and its pros and cons in order for you to be able to decide if this tool is meant for you or not.
Shorby Review – What's Shorby All About?
Shorby is a link in bio tool that helps bypass the one-link limitation of Instagram and at the same time provides some other essential tools to help brand your bio link and engage with potential customers outside of Instagram.
With Shorby, you can create a page that carries the links to all the pages you want to send traffic from Instagram to and use the link to that new page as your bio link.
Moreso, some links are prohibited on Instagram, adding any of these links to your bio can cause the problem of the Instagram link in bio not working, Shorby helps you get away with this.
How Does Shorby Work?
Shorby is a marketing tool for Instagram users that works by creating a bridge that connects Instagram to different website pages and social media accounts of business owners that want to get more clicks, leads, and sales for their businesses with the aid of a single bio link.
Shorby Features
Shorby has three major features and we will review each of them one after another.
1. Creation of Micro Landing pages
The biggest Shorby feature is its ability to serve as an Instagram bio link tool that helps create micro landing pages through which multiple links can be promoted within a single bio link.
This means you are free to add links to all the important pages of your website to the landing page created by Shorby and you no longer need to replace your bio with another link from time to time.
Shorby pages are mobile responsive and as well customizable. Links you can add to your Shorby landing pages include;
Links to all your social media pages
Links to the latest content on your website pulled from RSS feed.
2. URL Shortener
The Shorby URL shortener is a link shortener that works perfectly on Instagram.
Shorby makes it simple to shorten a link by simply copying and pasting it. And the link comes with some pretty useful analytics. You immediately receive basic click tracking analytics.
In other words, you'll be able to see how many Instagram users clicked on your link.
This is extremely valuable to any marketer because it allows you to better understand the preferences and dislikes of your target audience.
3. Interact Via a Link
This final feature is ideal for businesses that rely on one-on-one communication with their customers.
Shorby can assist with this by creating shortened links that initiate a live chat, phone call, or email conversation with various services.
You can choose to leave this link as a nacked URL. Alternatively, you can create a hyperlink with customized text such as "I'd like additional information about this service."
This can be configured using any supported messenger. They include the following:
Remember that you can also add tracking pixels to any of the above-mentioned apps.
Understanding Shorby's features is beneficial, but mastering them is even better. Wouldn't you concur?
How to Use Shorby
Shorby is a three in one tool that can be used for three different functions. Shorby is relatively easy to use and we will discuss how to use it to create;
Smart pages (micro landing pages)
Signup here for free to follow this Shorby tutorial.
How to Create Smart Pages With Shorby
Shorby's smart pages are all based on a fixed template. However, you have complete control over the content contained within that template. Additionally, you can choose whether or not to include specific elements.
The template has a space for a logo, a page title section, an area to add your messenger links, a block space, and a space for your social media links.
Adding an image, logo, title, and subheading is incredibly simple and takes only takes a bit of typing and a couple of clicks.
Clicking the "Add Messenger" button will trigger a box titled "Messengers" which contains all the icons of the supported messengers and space to put your messenger account details.
Include your information there and your prospective clients will find it easy to contact you outside the Instagram platform.
Following that, you should include some Blocks. Three types of blocks are available: Buttons, Card Subtitles, and text Dynamic feed.
If you choose to include a "Button or Card", you're presented with a variety of templates with varying layouts and background images.
These templates also apply to alternative selections. Additionally, if you're advertising goods or services, you can include a price tag.
To include a static link on your page, all you need do is select the "Button or Card" option, enter your link in the website section and name your link. Then click on the green icon at the top of the page.
The second is the more practical option. A dynamic feed obtains content from an RSS feed. This means that the content on your landing page will be updated automatically to include a link to your most recent blog post.
This means you can automatically display your most recent content. Additionally, subtitles and text can be used to clearly divide your blocks. There is also a drag-and-drop feature for rearranging their order.
Adding social media links is as simple as copying and pasting the link to your social media profiles into the required text box.
Following that, you can navigate to the Settings button mentioned previously. By clicking it, you'll gain access to color schemes, tracking pixels, and the ability to create your own Shorby custom link.
Hit the publish button when you are done and your landing page link is ready to be used as your bio link.
How to Create a Short Link with Shorby
Click on the "Create" button and choose "Short Link".
Paste the URL you intend to shorten into the field provided, click the "Shorten" button and Shorby URL shortener will generate a short link ending with the default domain shor.by/. You can change this to your custom domain on some Shorby plan.
How to Create a Messenger Link
On Shorby, creating a Messenger Link is a straightforward task because the Shorby messenger app allows you to create it quickly.
To create a messenger link, click on the "Create" button and select "Messenger Link" Following that, you'll select the service to which the link points, and then complete a brief form. Input the following data:
The email address/phone number to which the message should be sent.
A name for the shortened link that is unique to you.
Text that has been pre-defined for services that support it (discussed under "Creating a Landing Page").
After that, you simply add your tracking pixels and hit the "Create" button and that's it!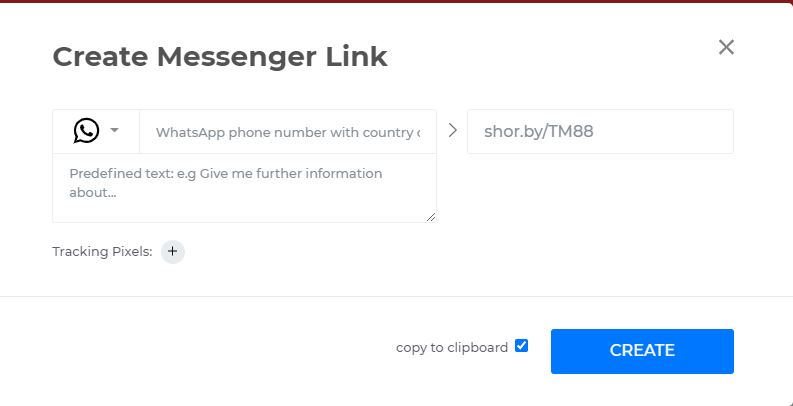 Shorby Alternatives
Shorby is not the only bio link for Instagram tool available on the internet, there are a number of Shorby alternatives available.
Here are some of them:
Linktree
Campsite
Feedlink
Link in profile
Tap Bio
Milkshake
ShortStack
Link.bio
Next on this Shorby review is to compare Shorby with the most popular Shorby alternative which is Linktree.
Linktree vs. Shorby
Both Shorby and Linktree work by creating a landing page on which you can add your links and guide your visitors to your website.
Linktree, Shorby's direct competitor, has a lot to offer, with the creation of unlimited bio links and analytics as two of its standout features and unlike Shorby that only has a free trial, Linktree comes with a free plan. They did, however, come short in link customization.
All Linktree users must have the domain name "linktr.ee". This cannot be altered in either the free or professional versions. Additionally, there is no link shortener or a messenger link generator.
In comparison to Linktree, Shorby appears to be a more versatile player. It includes a link shortener, scheduling, a dynamic feed, a messenger link app, among other features.
As a result of these considerations, I believe Shorby is the more dependable Instagram link in bio tool.
Shorby Review – Pros and Cons
Pros
Shorby is exceptionally user friendly
Simple to operate
Has a messenger link creator
Makes the promotion of affiliate links on Instagram easy
Includes tracking pixel
Includes the ability to create a custom domain
Possess a link shortener that works on Instagram
Cons
It's expensive
It does not come with a free plan
Shorby Review – Pricing
Shorby offers three different pricing packages.  Shorby Rocket, Pro, and Agency.
The Rocket plan is $12 per month when billed annually, or $15 per month when billed monthly. You receive five smart pages and other features except for dynamic feeds, countdown timer, Google analytics, and block scheduler for this price.
The Pro plan includes more features but costs $24 per month when paid annually and $29 per month when paid monthly. All Shorby feature is included, and you are allowed to create 50 Smart Pages.
The Agency plan costs $82 per month on a yearly payment basis and $99 per month on a monthly payment basis. This plan simply increased the quantity of everything and is expected to be adopted by businesses and organizations.
Shorby doesn't have a free plan, however, you do receive a free 5-day trial to evaluate the service and determine whether it is worth it.
Shorby was previously available on AppSumo as a one-time offer, but that deal has since expired.
Final Note
Shorby is an excellent tool with a plethora of useful features for anyone looking to leverage Instagram's massive traffic. Its primary disadvantage is that it is relatively expensive in comparison to LinkTree and some other Instagram bio tools similar to Linktree.
However, I believe that is a small price to pay for a more comprehensive link-in-bio tool than its competitors. The likelihood is that the benefits will quickly outweigh the costs.
And if you would like to use one of Shorby's alternatives instead, I strongly recommend you go for Pallyy, because it's the only Shorby alternative that offers you a plethora of essential social media marketing functions.